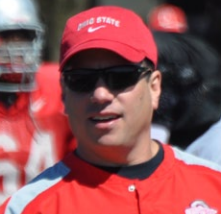 Nationality

United States

Current Team

Ohio State
College: West Liberty State, 1987 (BS), Ohio State, 1988 (MS), West Virginia, 1990 (MS)
OSU Coaching History:
2012-23: Assistant AD for Football Sports Performance
2012 Media Guide: Mickey Marotti is in his first season as the assistant athletic director for football sports performance at Ohio State. He is the one person Ohio State head coach Urban Meyer trusts in
the critical area of strength and conditioning training and overseeing sports performance, and he
is an individual Meyer has worked with or hired four times now.
"There are times in the year when the strength staff has more contact with the team than the coaching staff," Meyer said, "and I have complete trust in Mickey Marotti's abilities to prepare our student-athletes to be the strongest, fastest and mentally toughest football players they can be."
Marotti, called a "master" of motivation and mental preparation by Meyer when the two were paired at Florida, first worked with Meyer when the two were graduate assistants at Ohio State, in 1987. Marotti, who also worked as Grove City High School's strength coach that year, earned a master's of arts degree in strength and conditioning from Ohio State before moving on to the University of West Virginia to be a strength assistant. He graduated from WVU in two years with a master's of science degree in sports medicine.
From there he went on to the University of Cincinnati, where he spent seven seasons (1990-97) as head strength and conditioning coach for UC's 20-sport program. He also worked in the areas of diet analysis and planning and assisted in student-athlete rehabilitation from injuries. Midway through Meyer's five-year run as an assistant coach at Notre Dame, Marotti had the opportunity to work with him again when he was named Notre Dame's director of strength and conditioning in 1998. He spent seven seasons in South Bend, coordinating all aspects of the strength and conditioning program for the 26-sport department, including developing a year-round program for the football team, coordinating camps, clinics and special events, and developing policies and regulations.
Marotti was then one of Meyer's first hires when he took over as head coach of Florida in early 2005. And for the last seven years Marotti has overseen the complete strength and conditioning programs for all of Florida's intercollegiate sports. He also served as the director of the football athletic performance team.
Unique in the fact he is one of only 100 strength trainers to hold a Master of Strength and Conditioning – the highest honor in his profession – certification, Marotti is also atypical in the things he has his players do – haul rocks; flip tires, midnight workouts, etc. – that all lead to developing a mental and physical edge.
"I believe the strength staffs that Mickey has led have been the best staffs in college football," Meyer said. "He is the best there is at developing physically and mentally tough football players."
Marotti's talents have helped Florida develop 22 All-Americans and eight first-round NFL draft choices during his seven years in Gainesville. And there is no disputing the team accomplishments the Gators have achieved: two national championships, two Southeastern Conference championships and three 13-win seasons.
A native of Ambridge, Pa., Marotti was a four-year letterwinner as a fullback for West Liberty (W.Va.) University, serving as a team tri-captain in 1986 and winning first team NAIA All-Academic honors in 1987. He is a 1987 graduate with a degree in exercise physiology.
Marotti and his wife, the former Susan Laffey, have a teenage son and daughter, Mitchell and Madison.