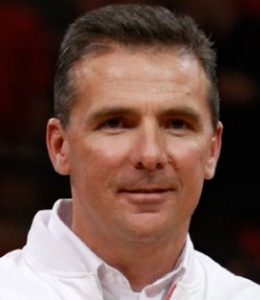 Nationality

United States

Past Teams

Ohio State
Birthday: July 10, 1964
OSU Coaching History:
2012-2018: Head Coach
1986-87: Graduate Assistant
2015 Media Guide: Ohio State head coach Urban Meyer is building the kind of resume – THREE NATIONAL CHAMPIONSHIPS and an 11-VICTORY PER YEAR PACE for his entire 13-year career – that has him positioned among the best collegiate coaches. EVER. His winning ways and his team's
achievements are at or near the top of all the major collegiate coaching records. Consider:
In leading Ohio State to the 2014 national championship for his third national title – he won titles in 2006 and 2008 at Florida – Meyer became part of an elite group of two coaches in history to win national titles at two different schools;
He is the only coach to win national championships in two different conferences;
He has the highest winning percentage – .845; 142-26 – among active FBS coaches with at least 10 years of experience as a Division I coach;
He has the fourth-highest winning percentage all-time among FBS college coaches;
He has the eighth-highest winning percentage all-time among all coaches with at least 10 seasons at a Division I school with only two other Power Five school coaches – Notre Dame's Knute Rockne and Frank Leahy – ahead of him.
In addition to his impressive career mark of 142-26, Urban Meyer enters the 2015 season with a 38-3 record as coach at Ohio State. His 2014 Ohio State Buckeyes captured the eighth national championship in school history to cap its 125th season of football. Led by eight senior starters, the Buckeyes won their final 13 games to win the first College Football Playoff national championship while tying the NCAA record for wins in a season with 14.
A youthful 2014 team that featured four new starters on the offensive line, a freshman quarterback, a new running back and a defense that improved every week took each game one at a time and dismantled its opponent week after week by an average margin of victory of 23 points.
The Buckeyes stayed perfect in Big Ten play under Meyer by winning all eight games to extend their
conference record-winning streak to 24 games. Then with Cardale Jones replacing the injured J.T. Barrett, who replaced the injured Braxton Miller at quarterback, the Buckeyes defeated Wisconsin, 59-0, to win the Big Ten Conference championship; a win so convincing the team earned one of four positions in the first College Football Playoff.
In the CFP semifinals at the Allstate Sugar Bowl, Ohio State came back from 21-6 deficit behind outstanding defense and 230 rushing yards from Ezekiel Elliott to defeat No. 1 Alabama, 42-35, and claim the Sugar Bowl championship and a date in the national championship game vs. No. 2 Oregon.
And 11 days later in the CFP National Championship game at Reliant Stadium in Arlington, Texas, the Ohio State defense was again dominant and Elliott led an offensive charge with 246 rushing yards and four touchdowns in the 42-20 victory.
Meyer's Ohio State Buckeyes are the 2014 national champions, and Meyer was named the Rawlings 2014 Football Bowl Subdivision Coach of the Year, The Dispatch Ohio College Coach of the Year and the Phil Steele Coach of the Year.
2014 Media Guide: Urban Meyer, the two-time national champion coach who has the highest winning
percentage – .837; 128-25 – of any active coach with at least 10 years of experience, is 24-2 overall and 16-0 in Big Ten Conference games as coach at Ohio State University. His Buckeyes have set a school record with a 24-game winning streak (fourth-longest in Big Ten history) while Meyer became the first coach in major college history to win 20-or more consecutive games on three different occasions. His teams have finished atop the Leaders Division in the Big Ten in each of the past two seasons.
2013 Media Guide:  Urban Meyer made history in his first season as Ohio State coach, guiding the
Scarlet and Gray to only the sixth undefeated and untied season in school history with a 12-0 record
and also to a Big Ten Conference Leaders Division championship. He was named a finalist for four national Coach of the Year Awards – the FWAA's Eddie Robinson Award, the Liberty Mutual Coach of the Year, the Paul "Bear" Bryant and the Bobby Bowden Coach of the Year awards – for his (and his staff's) efforts to turn a team that had no chance at a post-season into an Associated Press Top 3 team.
Meyer and staff built this unbeaten team that led the Big Ten in scoring and ranked second in rushing by convincing the players the most important thing they could do was win the next game; practice hard, prepare well and simply find ways to win, and by winning the team would realize its 2012 rewards. And by winning it would honor a senior class that included 13 scholarship players who could have left and played for any bowl-eligible team in the country. And by winning it would reinforce Meyer's abilities to build a championship caliber team, of which he has done multiple times before, even after taking a year off from coaching.
Win is what Meyer's Ohio State team did. It won dominantly: 63-38 over Legends Division champion Nebraska; 52-22 over Illinois and 56-10 over Miami. It won close: 17-16 at No. 20 Michigan State. It won by good fortune: 29-22 in overtime over Purdue behind backup quarterback Kenny Guiton. It won ugly: 52-49 at Indiana after leading 52-34 with less than seven minutes to play. And it won the big one…three of them, in fact: 35-23 at Penn State; 21-14 in overtime at Wisconsin; and 26-21 over Michigan.
2012 Media Guide: Sometime during the morning of November 28, 2011, Ohio native Urban Meyer returned home. It was at that time when the 47-year-old Meyer, born in Toledo, raised in Ashtabula and with degrees from the University of Cincinnati and The Ohio State University, signed a six-year agreement to become the 24th head coach in the storied history of Ohio State football.
The only candidate interviewed by a five-member search committee of senior Ohio State leaders, headed by President E. Gordon Gee and Director of Athletics Gene Smith, Meyer, now 48, returns to collegiate coaching after sitting out the past year to devote time to his family – wife Shelley, college-age daughters Nicole and Gisele and 13-year-old son Nathan – and to work as an analyst for ESPN.
"In Urban Meyer we have found an exemplary person and remarkable coach to lead the University's football program into the future," Gee said. "As an alumnus, he understands and believes in the core academic mission of the University. As an Ohioan, he shares our common values and sense of purpose."
Smith said that Meyer is "known not only as one of the nation's most successful coaches, but also as a leader and mentor who cares deeply about the young men who are his student-athletes. He brings with him an understanding of the University – both the important traditions of its football program and the excellence of the institution."
It's easy to see why he was the No. 1 choice of the search committee.
Through 10 full seasons as a head coach, Meyer has the tenth-best winning percentage in major college football history with a winning rate of .814 (104-23). He will leap all the way to No. 2 among current major college coaches with that percentage, trailing only the .926 percentage owned by Boise State's Chris Peterson.
Meyer has already won two national championships – in 2006 and 2008 with the University of Florida – and no less than three national coach of the year honors, including The Sporting News honor in 2003 and the Eddie Robinson and Home Depot Coach of the Year awards, respectively, in 2004.
Meyer has not only won big at each of his three previous head coaching positions, but he has won immediately. He led Bowling Green to the best turnaround season in the nation in 2001 with an 8-3 record and he went 9-3 in Year 2. He was 22-2 in two seasons at Utah, including a 16-game winning streak and a 12-0 campaign in 2004 when he led the first-ever non-Bowl Championship Season program into a BCS game.
He was 65-15 in his six seasons at Florida with the two national titles, two Southeastern Conference championships and three 13-win seasons, including consecutive 13-win seasons in 2008 and 2009 to become the first coach ever to accomplish that feat.
And now he brings his coaching talents home to Ohio, the state where he has lived for 25 of his 47 years and where he met his wife, the former Shelley Mather, who grew up in Frankfort, Ohio.
"I am honored and humbled by the opportunity to return to Ohio State," said Meyer. "This University and the state of Ohio have enormous meaning to me. My duty is to ensure that Ohio State's football program reflects and enhances the academic mission of the institution. I am part of it, I believe in it, and I will live
it."
After graduating from Saint John High School in Ashtabula, Meyer was a 13th-round MLB draft pick of the Atlanta Braves and spent two years in minor league baseball. He matriculated to Cincinnati and played defensive back for the football program, graduating in 1986 with his bachelor's degree in psychology.
Meyer's first football coaching experience was as an intern at St. Xavier High School in Cincinnati in 1986. The following year, he joined Coach Earle Bruce's staff at Ohio State and spent two years as a graduate assistant – coaching tight ends in 1986 and receivers in 1987 – while pursuing his master's degree in sports administration.
It was during his time as a Buckeye – Ohio State won a Big Ten title in 1986 and 1987 was Bruce's final season as coach – that he forged a relationship with Bruce that has only been strengthened through the tests of time and change.
"My relationship with him [Earle] is extremely close, second only to my father," Meyer said during the news conference to announce his hiring at Ohio State…17 days after his father, Bud, passed away.
"Every step of my career, every part of my family life, Coach Bruce has always been there. So close that he was gracious enough to speak at my father's funeral just last Friday."
Meyer, as every young coach who aspires to be a head coach and who thirsts for knowledge, then moved on to a series of assistant coaching positions – Illinois State for two years under Jim Heacock, Colorado State for six years under Sonny Lubick and Bruce, and Notre Dame for one year under Lou Holtz and five years under Bob Davie – before getting his first head coaching assignment at Bowling Green.
Taking over a team that was 2-9 in 2000 and that had not had a winning season seven years, Meyer guided the Falcons to the top turnaround in the nation in 2001 with a six-win improvement and an 8-3 record that included wins over Missouri, Northwestern and BGSU's rival to its north, Toledo. He was named Mid-American Conference Coach of the Year.
He followed that first year with a 9-3 record in his second year with the Falcons, including another win over Missouri. After BG opened the season with eight consecutive wins, the program cracked both the Associated Press and ESPN/USA Today Top 25 polls for the first time in school history, peaking with an
all-time school best No. 16 national ranking by ESPN/USA Today.
Meyer's BGSU teams were anything but one-dimensional. His 2002 team led the nation in red zone production with 61 scores in 63 trips inside the 20 (.968) and were ninth in total offense (448.9 yards per game). Defensively, his 2001 team ranked first in the MAC in scoring, rushing and total defense and his teams led the MAC both years in turnover margin.
Josh Harris, who became a starter at quarterback in the ninth game of the 2001 season and reeled off 11 consecutive wins as a starter, told Plain Dealer reporter Elton Alexander that his former coach simply made players believe they were as good as any other team.
"One thing for sure, when coach Meyer believes in a guy, he might even believe in him more than the guy believes in himself," Harris said. "There was a time when I had to get my belief in Josh Harris up to where Urban Meyer believed that Josh Harris was. That really propelled me, and my game, to new
levels.
"That's one of the things he did for me that I will always be thankful for."
Meyer moved on the University of Utah following the 2002 season and in two seasons led the Utes to a 22-2 record. He was named national Coach of the Year in 2003 by The Sporting News and in 2004 he was named the Football Writers Association of America's Eddie Robinson Coach of the Year and the Home Depot Coach of the Year.
In his first season in Salt Lake City, Meyer coached the Utes to their first outright conference championship since 1957, a 17-0 Liberty Bowl win over Southern Mississippi, and a final national ranking of No. 21. In addition to his national coach of the year honor by The Sporting News, Meyer was named Mountain West Conference coach of the year and thus became the first coach in Utah's 111-year football history to earn such an honor in his first year.
Utah then enjoyed the finest season in program history in 2004. The 12-0 record was the first 12-0 season in 75 years and a second-consecutive outright MWC championship was the first in conference history.
The Utah offense was unstoppable, finishing in the Top 5 in six categories, including No. 3 in scoring (45.3), total offense (499.7) and turnover margin (1.25). The team also led the MWC in 11 statistical categories and was No. 2 in passing, scoring and total defense.
Following Utah's 16th consecutive win, a 35-7 pummeling of Pitt in the Fiesta Bowl, Meyer's record was a sterling 39-7 as a head coach and the University of Florida was in need of a coach.
"Urban's accomplishments speak for themselves," Florida Athletics Director Jeremy Foley said. And this was before Meyer had even begun to blow his previous coaching accomplishments out of the water with the even-greater success he would experience coaching the Gators.
Meyer coached Florida to a 9-3 record in his initial season, a record that included wins over four nationally ranked opponents, making Meyer the first first-year coach in UF history to accomplish the feat.
Meyer's Year 2 success – he was a combined 21-3 in his second season at Bowling Green and Utah – continued in Gainesville as he led the Gators to a school-record 13 wins, and SEC and national championships against the toughest schedule in the nation. Florida played six ranked teams and 11 of its opponents went to bowl games. The BCS Championship game win: 41-14 over No. 1 ranked Ohio State in Glendale, Ariz. Meyer was named national Coach of the Year by the All-American Foundation at the conclusion of the season.
The 2007 Gator team went 9-3 and featured a Heisman Trophy-winning Tim Tebow and ranked third nationally with an average of 42.5 points per game.
Consecutive 13-win seasons followed in 2008 and 2009, a first in major college history. The 2008 team was the most prolific offensive unit in SEC history with 611 points scored against the nation's second-toughest schedule. Meyer won a second national championship this season, with Florida defeating Oklahoma, 24-14, in the BCS Championship game in Miami, Fla.
The only blemish on an otherwise spectacular 13-1 2009 season was to eventual national champion Alabama in the SEC championship game. This team's senior class departed with the best record for a class in SEC history: 48-7.
Meyer, who took a brief leave of absence from coaching following the 2009 season, coached his last Florida team to an 8-5 record. His last game as Florida coach was 37-24 win over Penn State in the Outback Bowl, in Tampa, Fla.
On Wednesday, Nov. 23, Ohio State Director of Athletics Gene Smith first talked to Meyer about returning to coaching after spending the year in an ESPN analyst booth. On Sunday, Nov. 27, Smith presented Meyer with terms for a six-year contract. Less than 24 hours later Meyer was a Buckeye.