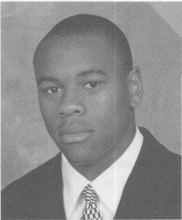 Nationality

United States

Position

DB, ST, WR

Birthday

4/12/1985

Hometown

Cleveland, OH

High School

Glenville

Height

6'0"

Weight

180

Current Team

Ohio State

Seasons

2004, 2005, 2006
Post-OSU Update: Ted Ginn Jr. was selected with the ninth overall pick of the 2007 NFL Draft by the Miami Dolphins. Ginn enjoyed a long NFL career, playing 193 games across 14 seasons with six teams. He finished with 412 catches for 5,742 yards (13.9 avg) and 33 receiving touchdowns. Ginn added seven combined kick and punt return touchdowns, averaging 10.0 yards per punt return for his career and 22.5 on kickoffs. (updated: Mar. 2023)
Major: Human Development & Family Science (2006)
Weight: 180 (2006), 175 (2005), 170 (2004)
2006 Media Guide: A Heisman Trophy and Biletnikoff Award candidate in 2006 and arguably the most exciting player in college football … will be in his third year as the Buckeyes' starting flanker and return specialist … has Olympic speed and dazzling quickness … has terrific hands, and catches everything that comes his way … especially dangerous when he turns the corner and shifts into passing gear … was the Buckeyes' second leading receiver last year with 51 receptions for 803 yards and four touchdowns, all career-highs … turned in eye-popping performances against Michigan and Notre Dame, snagging 17 receptions for 256 yards and a touchdown in those two games … had a career-high nine receptions at Michigan and a career-best 167 receiving yards against Notre Dame … has five career touchdowns on punt returns and heads into the year tied with former Iowa standout Tim Dwight as the Big Ten's career leader in that category.
2005: Started all 12 games and had 51 receptions, second only to Santonio Holmes' 53 … averaged 10 yards per punt return on 25 chances … topped the team in all-purpose yards with an average of 139.0 yards per game … in addition to four touchdown receptions, he scored on a 100-yard kick return against Minnesota, a 62-yard punt return against Indiana and a 68-yard run against Notre Dame … also had two returns for touchdowns negated due to penalties … his 68-yard TD gallop in the Fiesta Bowl was the Buckeyes' longest run from scrimmage of the year … his 532 yards in kick returns (18 attempts) is the second-highest one-season total in OSU history, surpassed only by Ken-Yon Rambo's 653 yards in 1999 (31 attempts).
2005 Media Guide: Electrifying young player, who is a threat to score each time he touches the football … coming off a sensational true freshman year in which he began the season as a defensive back, but wound up playing offense and garnering national attention with his explosive scoring ability as both a receiver and a punt return specialist … further demonstrated his versatility in the Alamo Bowl by subbing at quarterback when the Buckeyes were down to one experienced signal caller … heads into his sophomore season regarded as one of the most dangerous weapons in college football … scored eight touchdowns on 59 touches in 2004 – four via punt returns and two each on runs and pass receptions … his four punt returns for scores set a school and Big Ten single-season record and tied the NCAA one-season mark (later broken by Hawaii's Chad Owens with 5) … additionally, he is already the school's career leader in punt returns for touchdowns, breaking the old mark of three that had been shared by Garcia Lane (1981-83) and Jeff Graham (1989-90) … has incredible speed, is sure-handed and is blessed with great instincts and tremendous vision … was used sparingly on kickoff returns last year, but could see more action there this year in an attempt to get him more touches … he would like to also play cornerback, but that is not expected to happen this year unless an emergency arises … was named to several freshman All-America teams last year and was a third-team pick on the Associated Press All-America squad … named to several preseason All-America teams and will certainly be a candidate for post-season honors in 2005.
2004: Averaged 25.6 yards per punt return, leading the nation and setting an Ohio State single-season record in that department … scored on punt returns of 65 yards (Wisconsin), 67 yards (Penn State), 60 yards (Michigan State) and 82 yards (Michigan) … the latter broke the game open and was one of the most spectacular runs in Ohio State history … scored three touchdowns at Michigan State, tallying a 17-yard reverse and a 58-yard reception in addition to his punt return … finished second on the team in receiving with 25 receptions for 359 yards … had a career-best five catches for 87 yards against Michigan and followed that up with six receptions against Oklahoma State in the bowl game … longest reception of the year was a 59-yard TD grab against Indiana … was used sparingly early in the year as he learned the system, but was a key factor in the Buckeyes' late-season success … caught passes in the last seven games of the season and had 18 receptions in the last four games.
High School: The latest in a recent string of outstanding student-athletes from Glenville who have decided to wear scarlet and gray … perhaps the most sought after defensive back prospect in the nation last year … is expected to vie immediately for playing time, either at cornerback or with the special teams … has great cover skills and outstanding speed … played for his father, Ted Ginn Sr., in high school and is well schooled in every aspect of the game … was selected as the USA Today Defensive Player of the Year … also a 2004 Parade All-American … SuperPrep named him as their 2004 National Defensive Player of the Year … Prep Football Report rated him as the third best overall prospect in the nation and the top defensive prospect … Rivals.com rated him as the top overall prospect in Ohio and the second best player in the country … was named the Most Valuable Player of the U.S. Army All-America game … also played quarterback, wide receiver and running back for Glenville and returned punts and kickoffs … as a senior, picked off eight passes and returned five of them for touchdowns … one of his interceptions went for a state-record 102-yard touchdown, while another went for a 97-yard score … also passed for 932 yards and 12 touchdowns and rushed for 845 yards and 17 touchdowns … named one of Ohio's three 2003 Division I Offensive Players of the Year … returned four punts and one kickoff for touchdowns … the national champion in the 100 high hurdles as a junior and the best time in the nation as a senior when he won the state title for the second consecutive year … has been timed at 10.5 seconds in the 100 meter dash.
Personal: Is the son of Ted Ginn Sr. and Jeanette Ginn … was a teammate at Glenville with current Buckeyes Dareus Hiley, Donte Whitner, Troy Smith and fellow signee Curtis Terry.
Offense
| Season | Team | G | GS | Comp | Pass Att | Pass Yds | Pass TD | Pass Int | Rush Att | Rush Yds | Rush Avg | Rush TD | Tgt | Rec | Rec Yds | Rec Avg | Rec TD | Lng | 2 Pt Conv | Fum | Lost | KR | KR Yds | KR Avg | KR TD | PR | PR Yds | PR Avg | PR TD |
| --- | --- | --- | --- | --- | --- | --- | --- | --- | --- | --- | --- | --- | --- | --- | --- | --- | --- | --- | --- | --- | --- | --- | --- | --- | --- | --- | --- | --- | --- |
| 2004 | Ohio State | 12 | 5 | 0 | 0 | 0 | 0 | 0 | 13 | 113 | 8.7 | 2 | NA | 25 | 359 | 14.4 | 2 | 59 | 0 | NA | NA | 2 | 40 | 20 | 0 | 15 | 384 | 25.6 | 4 |
| 2005 | Ohio State | 12 | 12 | 0 | 0 | 0 | 0 | 0 | 12 | 83 | 6.9 | 1 | NA | 51 | 803 | 15.7 | 4 | 73 | 0 | NA | NA | 18 | 532 | 29.6 | 1 | 25 | 250 | 10.0 | 1 |
| 2006 | Ohio State | 13 | 13 | 1 | 2 | 38 | 1 | 0 | 3 | 17 | 5.7 | 0 | NA | 59 | 781 | 13.2 | 9 | 58 | 0 | NA | NA | 18 | 440 | 24.4 | 1 | 24 | 266 | 11.1 | 1 |
| Total | - | 37 | 30 | 1 | 2 | 38 | 1 | 0 | 28 | 213 | 7.6 | 3 | NA | 135 | 1943 | 14.4 | 15 | 73 | 0 | NA | NA | 38 | 1012 | 26.6 | 2 | 64 | 900 | 14.1 | 6 |
Defense
| Season | Team | G | GS | Tkl | Solo | Asst | KR | KR Yds | KR Avg | KR TD | PR | PR Yds | PR Avg | PR TD |
| --- | --- | --- | --- | --- | --- | --- | --- | --- | --- | --- | --- | --- | --- | --- |
| 2004 | Ohio State | 12 | 5 | 2 | 2 | 0 | 2 | 40 | 20 | 0 | 15 | 384 | 25.6 | 4 |
| 2005 | Ohio State | 12 | 12 | 0 | 0 | 0 | 18 | 532 | 29.6 | 1 | 25 | 250 | 10.0 | 1 |
| 2006 | Ohio State | 13 | 13 | 1 | 1 | 0 | 18 | 440 | 24.4 | 1 | 24 | 266 | 11.1 | 1 |
| Total | - | 37 | 30 | 3 | 3 | 0 | 38 | 1012 | 26.6 | 2 | 64 | 900 | 14.1 | 6 |