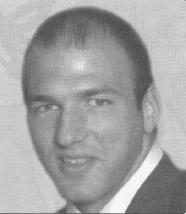 Nationality

United States

Position

DB, WR

Birthday

9/18/1984

Hometown

Cleveland, OH

High School

St. Ignatius

Height

6'0"

Weight

190

Current Team

Ohio State

Seasons

2003, 2004, 2005, 2006
Major: Philosophy (2005-06), Undeclared (2003-04)
Weight: 195 (2005-06), 200 (2004), 190 (2003)
2006 Media Guide: Sure-handed, speedy receiver who specializes in clutch catches … teamed with Santonio Holmes and Ted Ginn last year to give the Buckeyes three big-play receivers on what was one of the most explosive offenses in the country … will take on an increased role in 2006 with the departure of Holmes for the NFL … will line up at split end when the Buckeyes employ two wideouts, and in the slot when they go to a third receiver … has excellent hands, runs pure routes and is deceptively fast … also a fine blocker … will be used to return punts when the Buckeyes go with two return men … finished the 2005 campaign with 28 receptions for 373 yards and three touchdowns, all personal bests … had single-game highs in receptions (6) and receiving yards (90) in last year's win over Iowa … his acrobatic 26-yard catch at Michigan last year set up the game-winning score with 37 seconds to play … hopes to be a Rhodes scholar candidate … is a three-time OSU scholar-athlete.
2005: Played in all 12 games and finished the season as the Buckeyes' third-leading receiver with 28 catches … had at least one reception in nine games and two or more seven times … tallied two of his three touchdowns against Iowa, opening the scoring with an eight-yard reception and capping off the day with a 29-yard catch that put OSU up 31-6 with 6:36 to play in the game … his catch at Michigan gave the Buckeyes the ball on the Michigan 4-yard line with 37 seconds to play … Antonio Pittman scored the game winner two plays later to put the Buckeyes in position for a third Fiesta Bowl bid in four years.
2005 Media Guide: Came on late last year to give the Buckeyes a third big-play receiver alongside Santonio Holmes and Ted Ginn … has excellent speed and can run by a defender and deliver the home run … did so against both Michigan and Oklahoma State in the final two games of the 2004 campaign, scoring on a 68-yard strike from Troy Smith in the former and on a 23-yard aerial from Justin Zwick in the latter … each score staked the Buckeyes to a 7-0 lead on their opening possession … began showing what he could do in the 2004 spring game when he had five receptions for 63 yards … saw only limited action early last year and did not catch his first pass until he hauled in a 9-yard reception at Iowa … finished the year with eight receptions and averaged 22.4 yards per catch … had two touchdown receptions … has good size and excellent hands … should be an important ingredient in the Ohio State attack this year … could also return kickoffs … is an OSU scholar-athlete.
2004: Played in a total of eight games and earned his first varsity letter as a redshirt freshman … started the Purdue, Michigan and Oklahoma State games … all eight of his catches came in the last half of the season … his biggest play of the year was the 68-yard TD grab against Michigan on the Buckeyes' fifth play from scrimmage … also had a clutch 38-yard reception at Purdue to set up the tying touchdown late in the fourth quarter … his diving TD catch in the Alamo Bowl game was his only catch against Oklahoma State, but clearly set the tone for the rest of the evening in a convincing 33-7 Ohio State victory … his TD catch in the latter came on the Buckeyes' third play from scrimmage … two catches against both Michigan and Indiana were his top performances.
2004 Media Guide: Is deceptively quick and catches the ball naturally … could also see action returning kickoffs … looks to make an impact as a redshirt freshman for the Buckeyes offense in 2004 … helped lead the Scarlet squad to victory in the 2004 spring game, totaling five catches for 63 yards … slowed by nagging hamstring injuries during 2004 spring practice, but is high on the coaches' list of up-and-coming players … an OSU Scholar-Athlete.
2003: Redshirted and did not see any game action, but was impressive on the offensive scout team … named the offensive scout team player of the week following the Penn State game.
High School: Excelled on both offense and defense … has excellent speed and an exceptional burst that allows him to separate from defenders and close on receivers, depending on which side of the ball he is playing on … won first-team All-Ohio honors as a senior and was named co-defensive player of the year by the Associated Press and sole Cleveland Plain Dealer defensive Player of the Year … ranked as the nation's 16th best cornerback by Rivals.com … PrepStar All-American … led St. Ignatius to the Division I state title as a junior, earning MVP honors … 53 tackles and six interceptions as a junior … also had 42 receptions for 1,012 yards and 10 touchdowns … enjoyed an equally spectacular senior campaign in which he had 50 tackles and four interceptions on defense and 33 receptions for 900 yards and 11 touchdowns on offense … 71 catches for 1,873 yards and 21 TDs in his career … 107 career tackles and nine career INTs, one of which was returned for a touchdown … owns school record for 27.3 average yards per reception in a single season (senior) … part of a school record 14-consecutive playoff appearances … a fine student … high school coach was Chuck Kyle … also a four-year letterwinner in track … would like to travel the world upon graduation … enjoys playing and watching all sports … biggest sports thrill to date is winning the 2001 Ohio Football State Championship … a National Football Foundation Scholar-Athlete Award winner.
Personal: Parents are Eduardo and Jenna Gonzalez … father is a steelworker and mother is a teacher … an older brother, Joe, plays football at Indiana … LeCharles Bentley (Saints), Chris Hovan (Vikings), Dave Ragone (Houston) and Dan O'Leary (Giants) all hail from St. Ignatius … favorite pro sports team is the Cleveland Cavaliers.
Offense
| Season | Team | G | GS | Rush Att | Rush Yds | Rush TD | Tgt | Rec | Rec Yds | Rec Avg | Rec TD | Lng | 2 Pt Conv | Fum | Lost | KR | KR Yds | KR Avg | KR TD | PR | PR Yds | PR TD |
| --- | --- | --- | --- | --- | --- | --- | --- | --- | --- | --- | --- | --- | --- | --- | --- | --- | --- | --- | --- | --- | --- | --- |
| 2004 | Ohio State | 8 | 2 | 0 | 0 | 0 | NA | 8 | 179 | 22.4 | 2 | 68 | 0 | NA | NA | 0 | 0 | 0 | 0 | 0 | 0 | 0 |
| 2005 | Ohio State | 12 | 7 | 1 | 8 | 0 | NA | 28 | 373 | 13.3 | 3 | 29 | 0 | NA | NA | 5 | 50 | 0 | 10.0 | 1 | 0 | 0 |
| 2006 | Ohio State | 13 | NA | 2 | 28 | 0 | NA | 51 | 734 | 14.4 | 8 | 33 | 0 | NA | NA | 0 | 0 | 14.2 | 0 | 2 | 24 | 0 |
| Total | - | 33 | 9 | 3 | 36 | 0 | 0 | 87 | 1286 | 0 | 13 | 68 | 0 | 0 | 0 | 5 | 50 | 0 | 10 | 3 | 24 | 0 |
Defense
| Season | Team | G | GS | Tkl | Solo | Asst | KR | KR Yds | KR Avg | KR TD | PR | PR Yds | PR TD |
| --- | --- | --- | --- | --- | --- | --- | --- | --- | --- | --- | --- | --- | --- |
| 2004 | Ohio State | 8 | 2 | 0 | 0 | 0 | 0 | 0 | 0 | 0 | 0 | 0 | 0 |
| 2005 | Ohio State | 12 | 7 | 1 | 1 | 0 | 5 | 50 | 0 | 10.0 | 1 | 0 | 0 |
| 2006 | Ohio State | 13 | NA | 0 | 0 | 0 | 0 | 0 | 14.2 | 0 | 2 | 24 | 0 |
| Total | - | 33 | 9 | 1 | 1 | 0 | 5 | 50 | 0 | 10 | 3 | 24 | 0 |