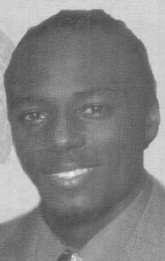 Nationality

United States

Position

FL, WR

Height

5'11"

Weight

183

Birthday

3/3/1984

Hometown

Belle Glade, FL

High School

Glades Central

Current Team

Ohio State

Seasons

2002, 2003, 2004, 2005
Major: Family Resource Management (2004-05), Undeclared (2002-03)
Jersey #: 4 (2003-05), 17 (2002)
Weight: 190 (2005), 185 (2004), 183 (2003), 170 (2002)
2005 Media Guide: Will be in his second year as a full-time starter and is one of the most dangerous receivers in the Big Ten … excels at separating from a defender and is difficult to cover because of his combination of speed, quickness and precise routes … teams with Ted Ginn to give the Buckeyes one of the top receiving tandems in college football … should be a leading candidate for postseason honors in 2005, including the Biletnikoff Award … had a stellar year in 2004, leading the Buckeyes in receptions, receiving yardage and touchdown catches … has caught passes in 18 consecutive games and has 87 career receptions for 1,318 yards and 14 touchdowns … had 10 receptions against both Marshall and Northwestern last year, joining David Boston as the only Ohio State receiver to reach double figures in catches twice in the same season (Boston did it three times in 1998) … also returns punts and kickoffs.
2004: Won second-team All-Big Ten honors … recorded personal highs in receptions (55) and receiving yardage (769), and had seven touchdown receptions to pace the team in all three categories … his top game in terms of sheer numbers came against Marshall when he pulled down a career-best 10 receptions for 224 yards, including an 80-yard touchdown pass from Justin Zwick … the 224 yards against the Thundering Herd ranks as the second highest total in Ohio State history and is the highest ever by a Buckeye in Ohio Stadium … also had 10 receptions for 99 yards at Northwestern, including a 21-yard touchdown catch that sent the game into overtime … had a 63-yard punt return for a touchdown at Northwestern to record the fifth multiple touchdown game of his career … best grab of the year might have been a 30-yard layout at Purdue for a TD … his 12-yard TD reception against Michigan put OSU on top 34-14 near the end of the third quarter … averaged 23.2 yards per kick return and led the team in all-purpose yardage with an average of 99 yards per game.
2004 Media Guide: Is a true playmaker and a threat to score anytime he touches the ball .. is Ohio State's leading returning receiver and will be one of the focal points of the Buckeye offense in 2004 … was the first player chosen by the seniors in the 2004 spring game draft … is among the quickest and most athletic players on the squad … will also be counted on to return punts in 2004.
2003: Emerged as one of Ohio State's big-play receivers … averaged a team-best 17.2 yards per catch … stepped into the starting lineup following Drew Carter's season-ending injury suffered Oct. 25 at Indiana … against Indiana, caught six passes for a career-high 153 yards and two touchdowns, including a 47-yard TD that stands as his career-long reception … made his first start a week later at Penn State and caught five passes for a game-high 78 yards … started the last five games of the season, during that span catching 23 passes for 344 yards and five touchdowns … totaled career-high eight catches for 121 yards and two touchdowns at Michigan, including a sensational diving TD grab in the back of the end zone in the third quarter … caught two more touchdowns vs. Kansas State in the Fiesta Bowl, which tied the Ohio State record for TD catches in a bowl game … finished the season with 32 receptions (third on the team) for 549 yards (second on team) … his seven touchdown receptions tied Michael Jenkins for the team lead and his 42 points scored ranked fourth on the squad.
2003 Media Guide: Santonio Holmes gave the 57,200 fans on hand at the spring game a preview of things to come by totaling 200 all-purpose yards and scoring a pair of touchdowns – one on an electrifying 79-yard punt return and the other on a 23-yard pass reception … is quick and elusive and gives the Buckeyes yet another game-breaker to add to their offensive arsenal … heads into fall as the backup to Chris Gamble at flanker … his emergence will allow the Buckeyes to rest Gamble on offense from time to time without missing a beat in terms of putting a legitimate offensive weapon on the field … can run away from defenders and turn a short completion into a big gainer … like teammate Roy Hall was redshirted last year but was very impressive as a member of the scout team and had the coaches buzzing with excitement about things to come … four receptions for 65 yards and five kick returns for another 135 in the spring game did nothing to discourage that enthusiasm … will probably back up Gamble on punt returns … one of those players who is a threat to go all the way anytime he touches the ball.
2002: Redshirted.
High School: Helped lead his high school team to a 12-1 record as a senior, snaring 33 receptions for 970 yards and 10 touchdowns … averaged 29.3 yards per catch as a senior … really got everyone's attention in the Outback Steakhouse All-Star Game, hauling in six catches for 121 yards and a TD and leading his team to a convincing 19-3 victory … was the MVP of that game …Rivals.com ranks him 38th nationally … burner, who was a member of the state championship 4×100 relay team as a junior … A somewhat late, but important commitment to the OSU fold …  high school coach – Willie Bueno.
Personal: Parents are Santonio Holmes and Patricia Brown … siblings are Kenneth, De'Vontae and Ja'Ven … is a second cousin of Jacksonville running back Fred Taylor … also enjoys basketball (the athlete he most admires is Michael Jordan) … favorite pro sports team is the Pittsburgh Steelers … favorite pro sports player is Marvin Harrison of the Colts … favorite sportscaster is ESPN's Stuart Scott … favorite meal is pork chops with gravy … favorite childhood memory is going fishing with his grandparents … born March 3, 1984.
Offense
| Season | Team | G | GS | Rush Att | Rush Yds | Rush Avg | Rush TD | Tgt | Rec | Rec Yds | Rec Avg | Rec TD | Lng | 2 Pt Conv | Fum | Lost | KR | KR Yds | KR Avg | KR TD | PR | PR Yds | PR Avg | PR TD |
| --- | --- | --- | --- | --- | --- | --- | --- | --- | --- | --- | --- | --- | --- | --- | --- | --- | --- | --- | --- | --- | --- | --- | --- | --- |
| 2003 | Ohio State | 12 | 4 | 1 | -1 | -1.0 | 0 | NA | 32 | 549 | 17.2 | 7 | 47 | 0 | NA | NA | 0 | 0 | 0 | 0 | 7 | 30 | 4.3 | 0 |
| 2004 | Ohio State | 12 | 12 | 2 | 19 | 9.5 | 0 | NA | 55 | 769 | 14.0 | 7 | 80 | 0 | NA | NA | 8 | 186 | 23.2 | 0 | 20 | 214 | 10.7 | 1 |
| 2005 | Ohio State | 12 | 12 | 0 | 0 | 0 | 0 | NA | 53 | 977 | 18.4 | 11 | 85 | 0 | NA | NA | 11 | 239 | 21.7 | 0 | 11 | 141 | 12.8 | 0 |
| Total | - | 36 | 28 | 3 | 18 | 0 | 0 | NA | 140 | 2295 | 0 | 25 | 80 | 0 | NA | NA | 19 | 425 | 0 | 0 | 38 | 385 | 0 | 1 |