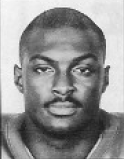 Nationality

United States

Position

ST, CB

Height

5'9"

Weight

180

Birthday

6/24/1977

Hometown

Akron, OH

High School

Garfield

Current Team

Ohio State

Seasons

1995, 1996, 1997, 1998
Post-OSU Update: Antoine Winfield was selected in the first round (23rd) of the 1999 NFL Draft by the Bills. He played 14 seasons in the NFL, making over one thousand tackles and earning three Pro Bowl selections. His son, Antoine Winfield Jr., is a young star safety for the Tampa Bay Buccaneers. (Updated: Feb. 2022)
Major: Communications (1998), Undecided (1995-97)
Weight: 180 (1997-98), 178 (1995-96)
1998 Media Guide: One of the nation's outstanding defensive backs who must be considered as a leading candidate for the Thorpe Award … an All-America last year in his first year as a starter and will certainly be considered for consensus honors this season … blitzes, covers, plays the run … does whatever it takes to win … has 203 career tackles, 14 pass break-ups and three interceptions … tackle figures include 63 solo stops … defensive backs coach Jon Tenuta says Antoine "loves to practice, loves to play and plays hard every down … he makes plays with a vengeance" … a 38-game veteran with 14 starting assignments.
1997: Voted the team's MVP as he blossomed into one of the top cornerbacks in the country, winning first-team All-America honors on the Football Writers and the Football Coaches teams … also won consensus All-Big Ten honors … praised by John Cooper, who said "In all my years of coaching, I have never had a cornerback play his position any better than Antoine in 1997" … one of the nation's biggest surprises, literally coming from out of nowhere to win All-America honors … led the Buckeyes with 100 tackles, including the fifth-highest solo tackle total in school history (82) … also had eight tackles for loss, three of which were sacks … led the team in passes broken up with 12 (nearly twice as many as any other OSU defender) and had two interceptions – one against Wyoming and the other against Illinois … paced the team in tackles six times, with a high of 13 against Missouri … had 10 or more tackles five times, including 10 in the Michigan game … shut down some of the Big Ten's top receivers including Iowa's Tim Dwight, Penn State's Joe Jurevicius and Northwestern's Brian Musso, and played a major role in not allowing Michigan's wide receivers to catch any passes.
1997 Media Guide: Will start at corner, probably the bench, but can play either side … has been a key reserve and sometimes starter the past two years … four starts last year … is a very talented
football player with a knack for making big plays … a terrific cover corner who won't hesitate to take on a much bigger player … also plays on the special teams …is a dynamite football player.
1996: Had 41 tackles, including three for losses … stepped in for Ty Howard on the first series of the Penn State game and finished the game with six tackles … started the following week against Wisconsin and had seven tackles and his lone interception of the year.
1996 Media Guide: Exciting young defensive back who makes things happen … backed up Shawn Springs at field comer last year as a true freshman … started the Purdue game when Springs was out with an ankle injury and played 28 minutes against Tennessee after Springs suffered a shoulder injury … played boundary corner last spring and can also play safety … simply too good of a football player to keep out of the lineup and is a good bet to start somewhere in the fall … is a ferocious hitter for his size, forcing three fumbles last year (all against Pittsburgh) … also plays on the special teams.
1995: Wound up his rookie season with 56 tackles, including five tackles for loss … had a team-high 11 tackles in the Purdue game, nine of which were solos … his open-field tackle of Purdue quarterback John Reeves on the OSU two-yard line on the final play of the game preserved the defense's lone shutout of the season.
High School: A four-year letterman and three-year starter who was a first team all-state selection and the Division I Defensive Player of the Year as a senior … had 48 tackles, three interceptions, eight passes broken up and a blocked punt as a senior … also played tailback, and rushed for 1,069 yards on 150 carries (7.1 average) his last year … accounted for nearly 2,000 all-purpose yards … helped his team go 10-1 as a senior and capture the Akron City Series playoff championship for the third time in four years.
Defense
| Season | Team | G | GS | Tkl | Solo | Asst | TFL | TFL Yds | Sacks | Sack Yds | FF | FR | Int | Int Yds | PBU |
| --- | --- | --- | --- | --- | --- | --- | --- | --- | --- | --- | --- | --- | --- | --- | --- |
| 1995 | Ohio State | 13 | 1 | 56 | 45 | 11 | 5 | 19 | 0 | 0 | 3 | 0 | 0 | 0 | 0 |
| 1996 | Ohio State | 12 | 4 | 47 | 36 | 11 | 4 | 9 | 0 | 0 | 0 | 0 | 1 | 27 | 2 |
| 1997 | Ohio State | 13 | 12 | 100 | 82 | 18 | 8 | 40 | 3 | 30 | 1 | 0 | 2 | 25 | 12 |
| 1998 | Ohio State | 12 | 12 | 75 | 61 | 14 | 5 | 34 | 2 | 17 | 1 | 1 | 0 | 0 | 15 |
| Total | - | 50 | 29 | 278 | 224 | 54 | 22 | 102 | 5 | 47 | 5 | 1 | 3 | 52 | 29 |