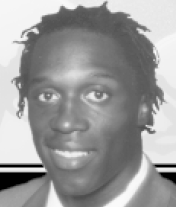 Nationality

United States

Position

ST, WR, CB

Height

6'2"

Weight

194

Birthday

3/11/1983

Hometown

Sunrise, FL

High School

Dillard

Current Team

Ohio State

Seasons

2001, 2002, 2003
Post-OSU Update: Chris Gamble was a first-round pick (28th overall) in the 2004 NFL Draft by the Carolina Panthers. Gamble had a productive nine-year career, all with the Panthers, in which he started 117 games, picked off 27 passes, broke up 98 passes, and made over 500 tackles. (updated: Sep. 2022)
Major: Sport & Leisure Studies (2003)
Jersey #: 7 (2002-03), 83 (2001)
Weight: 194 (2003), 180 (2001-02)
2003 Media Guide: Chris Gamble is certainly the most versatile and arguably the best overall player in college football … starts at flanker AND cornerback for the Buckeyes and excels at both positions … also returns punts and kickoffs … was chosen by his teammates as Co-MVP of last year's team, earned first-team All-Big Ten honors on defense, was a second-team pick on The Sporting News All-America team and a third-team pick by the Associated Press … played 100 or more plays in each of the Buckeyes last four games, including 128 at Illinois … OSU's second-leading receiver with 31 catches for 499 yards, including a 57-yard grab against Miami in the national championship game that set up a 44-yard field goal to give the Buckeyes a 17-7 lead … the latter reception was the longest pass play of the year for the Buckeyes … led the team in interceptions with four, all of which were literally game savers … also had six passes broken up and 24 tackles … began the 2002 season as the starting flanker but wound up starting the last six games at both positions … lack of depth at corner, coupled with his demonstrated athletic ability in defensive drills when the receiver and defensive backs would switch positions, led the coaches to consider playing him on both sides of the ball … first defensive action was against Cincinnati, first defensive start was against Penn State, was a regular the rest of the way on offense and defense … turned in a superb defensive effort in the Fiesta Bowl, holding Miami receive Andre Johnson to four receptions, with three of those coming in the first quarter … never seems to get tired and clearly enjoys playing on both sides of the ball … coaches feel he is just tapping the surface of his enormous potential, especially on offense.
2002 Season: Saw his first defensive action at Cincinnati and intercepted a pass in the end zone on his first play at cornerback … also deflected a pass in the corner of the end zone late in that game when the Bearcats were threatening to score the game-winning touchdown … his second interception came in the end zone at Wisconsin with the Badgers driving late in the game … his third pick, which he returned 40 yards for a touchdown, came against Penn State and was the Buckeyes' only touchdown in a hard-fought 13-7 win … fourth pick came at Purdue and ended the Boilers' final drive in a 10-6 victory … top game as a receiver was six catches for 87 yards against Kent State … had at least three catches three other times including Purdue … at least one reception in every game, including a 48-yard grab at Northwestern that, at the time, represented a career-long … scored his lone offensive touchdown of the year on a 43-yard reverse against Indiana … had a 95-yard touchdown return called back at Cincinnati, but still averaged 23 yards per kick return and 8.4 yards per punt return … his 56-yard kick return to open the second half at Northwestern led to an OSU field goal and a 17-9 Buckeye lead.
2002 Media Guide: Promising up-and-comer with size, speed, hands and moves all working in his favor … has been compared by coach Jim Tressel to a young Cris Carter (Tressel coached Carter for two years while an assistant at Ohio State in 1984 & '85) … gives the Buckeyes an excellent third receiver to go along with returning starters Chris Vance and Michael Jenkins … a big play threat any time he touches the ball … elusive and hard to tackle … has a chance to be something special down the road if he continues to progress … could play cornerback in an emergency.
2001 Season: Played in 11 games (did not play against Wisconsin) and had five receptions, including a crucial 12-yard grab at Michigan … two receptions for 32 yards in the bowl game … had an 11-yard reception in the season opener against Akron and a 17-yard catch at Indiana … averaged 16.4 yards per punt return on five chances.
High School: First-Team All-Florida selection … All-Broward County selection … considered one of the top skilled athletes in the country by the OSU coaching staff … recorded 65 receptions for 1,012 yards and 10 touchdowns as a senior … returned two kicks and one punt for touchdowns … No. 14 overall prospect in the state of Florida and No. 20 receiver prospect in the country by SuperPrep … also returned punts and kicks … team played in the state championship game in 2000 … born March 11, 1983 … son of Latricia Gamble.
Offense
| Season | Team | G | GS | Rush Att | Rush Yds | Rush Avg | Rush TD | Tgt | Rec | Rec Yds | Rec Avg | Rec TD | Lng | 2 Pt Conv | Fum | Lost | FR | Def TD | KR | KR Yds | KR Avg | KR TD | PR | PR Yds | PR Avg | PR TD |
| --- | --- | --- | --- | --- | --- | --- | --- | --- | --- | --- | --- | --- | --- | --- | --- | --- | --- | --- | --- | --- | --- | --- | --- | --- | --- | --- |
| 2001 | Ohio State | 12 | 1 | 0 | 0 | 0 | 0 | 10 | 5 | 72 | 14.4 | 0 | 21 | 0 | 0 | 0 | 0 | 0 | 1 | 16 | 16.0 | 0 | 5 | 82 | 16.4 | 0 |
| 2002 | Ohio State | 14 | 13 | 3 | 49 | 16.3 | 1 | NA | 31 | 499 | 16.1 | 0 | 57 | 0 | NA | NA | 0 | 1 | 11 | 253 | 23.0 | 0 | 35 | 293 | 6.8 | 0 |
| 2003 | Ohio State | 13 | 12 | 0 | 0 | 0 | 0 | NA | 4 | 38 | 9.5 | 0 | 21 | 0 | NA | NA | 0 | 0 | 6 | 115 | 19.2 | 0 | 20 | 92 | 4.6 | 0 |
| Total | - | 39 | 26 | 3 | 49 | 16.3 | 1 | NA | 40 | 609 | 15.2 | 0 | 57 | 0 | 0 | 0 | 0 | 1 | 18 | 384 | 21.3 | 0 | 60 | 467 | 7.8 | 0 |
Defense
| Season | Team | G | GS | Tkl | Solo | Asst | TFL | TFL Yds | Sacks | Sack Yds | FF | FR | Int | Int Yds | PBU | Blk | Def TD | KR | KR Yds | KR Avg | KR TD | PR | PR Yds | PR Avg | PR TD |
| --- | --- | --- | --- | --- | --- | --- | --- | --- | --- | --- | --- | --- | --- | --- | --- | --- | --- | --- | --- | --- | --- | --- | --- | --- | --- |
| 2001 | Ohio State | 12 | 1 | 0 | 0 | 0 | 0 | 0 | 0 | 0 | 0 | 0 | 0 | 0 | 0 | 0 | 0 | 1 | 16 | 16.0 | 0 | 5 | 82 | 16.4 | 0 |
| 2002 | Ohio State | 14 | 13 | 24 | 21 | 3 | 1 | 2 | 0 | 0 | 0 | 0 | 4 | 40 | 6 | 0 | 1 | 11 | 253 | 23.0 | 0 | 35 | 293 | 6.8 | 0 |
| 2003 | Ohio State | 13 | 12 | 41 | 30 | 11 | 2 | 3 | 0 | 0 | 0 | 0 | 3 | 0 | 12 | 0 | 0 | 6 | 115 | 19.2 | 0 | 20 | 92 | 4.6 | 0 |
| Total | - | 39 | 26 | 65 | 51 | 14 | 3 | 5 | 0 | 0 | 0 | 0 | 7 | 40 | 18 | 0 | 1 | 18 | 384 | 21.3 | 0 | 60 | 467 | 7.8 | 0 |