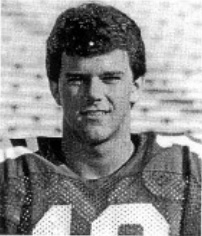 Nationality

United States

Position

P, QB

Height

6'5"

Weight

216

Birthday

2/6/1966

Hometown

Brecksville, OH

High School

Brecksville

Past Teams

Ohio State

Seasons

1984, 1985, 1986, 1987
Post-OSU Update: Tom Tupa was selected in the third round (68th overall) of the 1988 NFL Draft by the Phoenix Cardinals. He was initially tried at QB, making 13 starts with the Cards over three years, going 4-9 and passing for over 3,000 yards. In 1994, Tupa transitioned to full-time punter. When he retired in 2004, he had made 873 punts for a 43.4 yard per kick average. He made the Pro Bowl in 1999. (updated: Nov. 2022)
Pronunciation: TOO-PUH
Major: Communications (1986-87), Business (1984-85)
Weight: 216 (1987), 212 (1985-86), 205 (1984)
1987 Media Guide: After three years of being Ohio State's regular punter and a backup quarterback, Tom Tupa is ready to take over as starter … his ability to scramble adds a dimension to the Buckeye offense … has a strong, accurate arm … a key player for the Buckeyes in 1987 because he is the only quarterback with college experience … the finest punter in Ohio State history, averaging 43.7 yards per punt over three seasons … elected a captain in 1987.
1986: Completed 30 of 49 passes for 398 yards and three touchdowns in 1986.
1986 Media Guide: The top quarterback replacement behind Karsatos … completed seven of 13 passes in 1985 … has good mobility … an outstanding punter who averaged 47.1 yards in 1984 and 41.8 last year … led the nation in net punting as a freshman with an average of 44.1 yards per kick … will be Ohio State's best punt ever if he can maintain his present 44.3 average.
1985 Media Guide: Will challenge Karsatos to start at quarterback … impressive in the two spring games, completing 30 of 46 passes for 317 yards.
1984: Led the nation in net punting in 1984 with an average of 44.1 and was fifth in punting average, 47.1 … in five games he had a punt of 60 yards or more, including a 70-yarder against Wisconsin.
1984 Media Guide: A strong candidate to take over Ohio State's punting duties this fall.
High School: Quarterbacked Brecksville High to a state championship in 1983 … completed 56 passes for 753 yards and eight touchdowns in 1983 … averaged 44.8 yards per punt his senior year … also kicked four of five field goals and 20 of 22 extra points in 1983 … averaged 20.8 points per game and 12 rebounds his senior year in basketball … was a pitcher and shortstop in baseball.
Personal: Hobbies are golf and racquetball.
Offense
| Season | Team | G | GS | Comp | Pass Att | Cmp % | Pass Yds | Pass TD | Pass Int | Skd | Skd Yds | Rush Att | Rush Yds | Rush Avg | Rush TD | Lng | Fum | Lost | FR | TB |
| --- | --- | --- | --- | --- | --- | --- | --- | --- | --- | --- | --- | --- | --- | --- | --- | --- | --- | --- | --- | --- |
| 1984 | Ohio State | 12 | 0 | 0 | 0 | 0 | 0 | 0 | 0 | 0 | 0 | 3 | -23 | -7.3 | 0 | 0 | 0 | 0 | 0 | NA |
| 1985 | Ohio State | 12 | 0 | 7 | 13 | 58.3 | 68 | 0 | 0 | NA | NA | 4 | 11 | 2.8 | 0 | 7 | 0 | 0 | 0 | NA |
| 1986 | Ohio State | 13 | 0 | 30 | 49 | 61.2 | 398 | 3 | 2 | NA | NA | 23 | 18 | 0.8 | 0 | 9 | 0 | 0 | 0 | NA |
| 1987 | Ohio State | 11 | 11 | 134 | 242 | 55.4 | 1786 | 12 | 10 | 19 | -170 | 72 | 45 | 0.6 | 4 | 21 | 5 | 1 | 2 | 10 |
| Total | - | 48 | 11 | 171 | 304 | 56.3 | 2252 | 15 | 12 | NA | NA | 102 | 51 | 0.5 | 4 | 21 | 5 | 1 | 2 | NA |
Defense
| Season | Team | G | GS | Tkl | Solo | Asst | FR | Pt | Pt Yds | Punt Avg | TB | I20 | Pt Blkd |
| --- | --- | --- | --- | --- | --- | --- | --- | --- | --- | --- | --- | --- | --- |
| 1984 | Ohio State | 12 | 0 | 0 | 0 | 0 | 0 | 45 | 2118 | 41.1 | NA | NA | NA |
| 1985 | Ohio State | 12 | 0 | 0 | 0 | 0 | 0 | 50 | 2092 | 41.8 | NA | 17 | 0 |
| 1986 | Ohio State | 13 | 0 | 1 | 1 | 0 | 0 | 56 | 2391 | 42.7 | NA | 18 | 1 |
| 1987 | Ohio State | 11 | 11 | 0 | 0 | 0 | 2 | 63 | 2963 | 47.0 | 10 | 19 | 1 |
| Total | - | 48 | 11 | 1 | 1 | 0 | 2 | 214 | 9564 | 44.7 | NA | NA | NA |