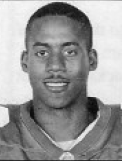 Nationality

United States

Position

CB

Birthday

3/26/1976

Hometown

Wyoming, OH

High School

Wyoming

Height

6'0"

Weight

193

Current Team

Ohio State

Seasons

1995, 1996, 1997, 1998, 1999
Post-OSU Update: Following the 1999 season, Ahmed Plummer was selected in the first round (24th overall) of the 2000 NFL Draft by the 49ers. He played his entire career with San Francisco, starting 68 games over 6 seasons, compiling 12 interceptions. (updated: Mar. 2022)
Major: Business & Human Resources (1998-99), Human Resources (1997), Business (1996), Unknown (1995)
Weight: 193 (1999), 190 (1996-98), 185 (1995)
1999 Media Guide: Ahmed Plummer, a thoughtful and spiritual young man who married his fiancé, Tiffany Cherry, this June, is truly an exception representative of The Ohio State University. He is a four-time OSU Scholar-Athlete, a two-time GTE/CoSIDA District IV academic All-American and a two-time Academic All-Big Ten honoree. He just may be the finest cornerback in all of college football. Already named a 1999 preseason All-American, Plummer will be a legitimate candidate to with the Thorpe Award as the nation's outstanding defensive back, and to be named All-America at the end of the season. "Ahmed is the best cornerback in the country," says secondary coach Jon Tenuta, who has already coached three All-Americans at Ohio State (Shawn Springs, Antoine Winfield and Damon Moore). "He recovers. He is a technician. He knows receivers. He comes to play. He is a guy who came in and dedicated himself to being the kind of player you want to be. Opponents won't throw the ball on him." When opponents have thrown the ball on him, they have usually paid for it. Plummer has intercepted nine passes in his career and broken up 25 others. A strong and physical athlete, he has also recorded 113 career tackles with 90 of those solo stops.
1998: Led the team in interceptions with four and led the team and was fourth in the Big Ten with 17 pass breakups. A 12 game starter, he also recorded 52 tackles and four TFLs totaling 14 yards. Named honorable mention all-Big Ten Conference. Had four pass breakups in the Minnesota game and three apiece against Penn State and Michigan State. Recorded a season-high 10 solo tackles against Texas A&M in the Sugar Bowl and had nine tackles against the Golden Gophers.
1998 Media Guide: A three-time OSU Scholar-Athlete and academic all-Big Ten honoree … extremely talented defensive back who has been in the shadows of some greats, but is fast becoming known as a big-time player … has quietly amassed some impressive statistics in his 23 collegiate appearances with 13 starts … has five interceptions and eight pass break-ups in addition to 51 tackles …defensive backs coach Jon Tenuta says Ahmed "is a student of the game … he studies technique and game films constantly … he is intelligent on the field, and knows what every receiver does regarding splits and anticipation … he is an excellent cover corner and one of the most productive guys in the secondary."
1997: Started all 13 games at cornerback and tied for the team lead in interceptions with five … began the season with a bang, grabbing interceptions in each of the first three games … returned an interception against Illinois 83 yards for a touchdown, the fifth-longest return in school history … also picked off a pass against Florida State in the Nokia Sugar Bowl … finished the season with 42 tackles, including a career-high seven against Iowa … also credited with six passes broken up … showed dramatic improvement over the course of the year … also played on special teams.
1997 Media Guide: Will contend for playing time and possibly a starting spot at cornerback in the fall … excellent cover corner … will play a lot even if he does not start … also plays on the special teams.
1996: Appeared in 10 games for a total of 46 minutes … credited with 19 tackles, including 13 solos, in '96 … recorded a tackle for loss against Rice and passes broken up against Penn State and Purdue … five tackles at Purdue was his season and career high … also had four stops in the Rice game when he logged a career-high 15 minutes of playing time.
1996 Media Guide: Reserve defensive back … expected to play the bench corner … did not see any action last year as a true freshman, but impressed the OSU coaching staff in the spring with his hitting ability … a young player who is still making the adjustment to college football … best chance for playing time this year will probably come with the special teams … the Division IV Defensive Player of the Year as a high school senior … is a good athlete and gets a good break on the ball.
High School: A two-way standout at Wyoming High School as a quarterback and defensive back … accounted for over 2,000 total yards and 18 TDs as a senior on offense, and also picked off seven passes on defense … a first team all-state selection and Division IV Co-Defensive Player of the Year as a senior, when he had 115 tackles … led Wyoming to a 10-2 mark and a spot in the state playoffs last year … set a school record with 17 career interceptions … earned 12 letters – four in football, three each in basketball and baseball and two in track.
Other: Both of his parents are graduates of Cornell … a brother plays football for Miami. Oh. … plans to major in business.
Defense
| Season | Team | G | GS | Tkl | Solo | Asst | TFL | TFL Yds | Sacks | Sack Yds | FF | FR | Int | Int Yds | PBU | Def TD |
| --- | --- | --- | --- | --- | --- | --- | --- | --- | --- | --- | --- | --- | --- | --- | --- | --- |
| 1995 | Ohio State | 0 | 0 | 0 | 0 | 0 | 0 | 0 | 0 | 0 | 0 | 0 | 0 | 0 | 0 | 0 |
| 1996 | Ohio State | 11 | 0 | 19 | 13 | 6 | 1 | 6 | 0 | 0 | 1 | 0 | 0 | 0 | 2 | 0 |
| 1997 | Ohio State | 13 | 13 | 42 | 30 | 12 | 1 | 30 | 1 | 30 | 1 | 0 | 5 | 83 | 6 | 1 |
| 1998 | Ohio State | 12 | 12 | 52 | 47 | 5 | 4 | 14 | 0 | 0 | 0 | 1 | 4 | 2 | 17 | 0 |
| 1999 | Ohio State | 12 | 12 | 55 | 48 | 7 | 0 | 0 | 0 | 0 | 0 | 0 | 5 | 64 | 9 | 0 |
| Total | - | 48 | 37 | 168 | 138 | 30 | 6 | 50 | 1 | 30 | 2 | 1 | 14 | 149 | 34 | 1 |