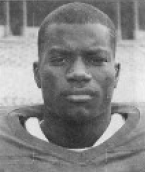 Nationality

United States

Position

SE, WR

Height

5'10"

Weight

170

Birthday

Nov 20, 1971

Hometown

Bellaire, OH

High School

Bellaire

Current Team

Ohio State

Past Teams

Ohio State

Seasons

1990, 1991, 1992, 1993, 1994
Major: Business (1990-94)
Jersey #: 7 (1991-94), 27 (1990)
Weight: 186 (1994), 180 (1992-93), 170 (1990-91)
1994 Media Guide: The Buckeyes' big play threat who is one of the most talented receivers in all of college football … a Heisman Trophy and All-America candidate … has the ability to turn a game around with his speed and elusiveness … besides having a fine pair of hands, has a great burst, making him even more dangerous once he touches the ball… a combination of his skill and the fact OSU lacks a lot of experience in the backfield should mean he will be utilized even more this season … besides handling punt and kickoff return duties, could also line up in the offensive backfield or in the slot, where he may carry the ball more often … may be the only receiver in college who runs a 4.3 forty and bench presses 400 pounds.
1993: Had an outstanding year, earning first team all-Big Ten honors and was third team All-America by Associated Press and the Football News and honorable mention All-America by United Press International … had 47 receptions for 946 yards (20.1 average) and 11 touchdowns, and added two more scores on rushes… led the team in scoring with 78 points, becoming the first Buckeye receiver to lead the team in that department since Robert Grimes tied for the lead in 1952 .. ledthe Big Ten in receiving yards and average yards per reception and was second in touchdowns and receiving yards per game…had five games of 100 yards or more in receptions … top game was nine catches for 186 yards and three TDs vs. Michigan State when he was the co-Big Ten Offensive Player of the Week … also scored three touchdowns at Pittsburgh, where he made perhaps his best reception of the year with an acrobatic nine-yard catch over a defender in the corner of the end zone … longest reception was a 64-yard scoring play against Michigan State … scored at least one TD in each of the first six games and in nine of the 12 overall… tied the school record of 11 TD receptions (with Cris Carter) … reception yardage ranked third at OSU for a single season and receptions placed him sixth… rushed nine times for 58 yards and the two TDs .. . shared the team's Offensive Player of the Year Award with graduated tailback Raymont Harris … was selected to the Academic All-Big Ten team and was a Honda Scholar-Athlete… ran back 18 punts for 97 yards and had a 15-yard kickoff return.
1993 Media Guide: Expected to start at split end for the Buckeyes … though a fourth-year junior, is still relatively young in terms of game experience but has the talent to be a standout … started the first two games last season before torn knee ligaments ended his season, was a backup in 11 games in 1991 and was redshirted in 1990 … caught two passes for 20 yards in the opener against Louisville last season and one for four yards against Bowling Green before suffering a torn anterior cruciate ligament in his right knee in the second quarter during a kickoff return … rehabilitation is going well, and he is expected to be full-go in the fall … did not go through the contact drills during spring practice … when healthy, is a key ingredient in the OSU offense because of his excellent speed, good hands and big play potential.
1992 Media Guide: Will take over at flanker and is expected to be a key ingredient in the OSU offensive mix … played split end last year, but was moved to flanker in the spring, a move designed to afford him more opportunities to handle the football … still learning the position, but an undeniable talent who is being counted on to be the Buckeyes' big play receiver … gave a sneak preview of what he can do in last year's Hall of Fame Bowl, grabbing six passes for 88 yards … has excellent speed, soft hands and fine concentration … also very good at adjusting his route to the ball … has that extra burst of speed that lets him close on a ball that appears uncatchable … sprained an ankle in the first half of the season opener with Arizona and missed the Louisville game the following week … had his first collegiate reception versus Wisconsin, grabbing two passes for 57 yards … his 44-yard TD reception at Illinois tied the score at 7-7 late in the fourth quarter … had catches in a total of seven games, including the final four games of the 1991 campaign, averaging a squad-best 18.2 yards per catch … will be in the hunt for postseason honors this year if he develops as expected.
1991 Media Guide: Promising young receiver who will back up Brian Stablein and figures to get plenty of playing time … one of the Buckeyes' fastest wide receivers … good hands and very good at adjusting his route while the ball is in the air … could also return punts … redshirted last year … Wore No. 27 last year, but switched to 7 (his high school number) in the spring.
1990 Media Guide: One of three wide receivers in this year's freshman class … rated by most of the recruiting experts as the best wide receiver in the state and one of the top in the Midwest … one of those players who has the speed and athletic ability to help at several positions … should be an excellent special teams player … enjoyed an excellent senior year, averaging 19 yards per reception and winning all-Ohio honors … 32 receptions for 608 yards and eight TDs last year … also returned punts and kickoffs, averaging 15.2 and 26.9 yards per return, respectively, as a senior … also an all-Ohio basketball pick and a standout baseball player.
Personal: Hobbies include video games.
Offense
| Season | Team | G | GS | Rush Att | Rush Yds | Rush Avg | Rush TD | Tgt | Rec | Rec Yds | Rec Avg | Rec TD | Lng | Fum | Lost | FR | KR | KR Yds | KR Avg | KR TD | PR | FC | PR Yds | PR Avg | PR TD |
| --- | --- | --- | --- | --- | --- | --- | --- | --- | --- | --- | --- | --- | --- | --- | --- | --- | --- | --- | --- | --- | --- | --- | --- | --- | --- |
| 1990 | Ohio State | 0 | 0 | 0 | 0 | 0 | 0 | 0 | 0 | 0 | 0 | 0 | 0 | 0 | 0 | 0 | 0 | 0 | 0 | 0 | 0 | 0 | 0 | 0 | 0 |
| 1991 | Ohio State | 11 | 0 | 3 | 31 | 10.3 | 0 | 38 | 14 | 255 | 18.2 | 1 | 44 | 0 | 0 | 0 | 0 | 0 | 0 | 0 | 0 | 0 | 0 | 0 | 0 |
| 1992 | Ohio State | 2 | 2 | 1 | 50 | 50 | 1 | 8 | 3 | 24 | 8 | 0 | 50 | 0 | 0 | 0 | 1 | 22 | 0 | 0 | 0 | 0 | 0 | 0 | 0 |
| 1993 | Ohio State | 12 | 12 | 9 | 58 | 6.4 | 2 | 94 | 47 | 946 | 20.1 | 11 | 64 | 1 | 1 | 0 | 1 | 15 | 0 | 0 | 18 | 5 | 97 | 0 | 0 |
| 1994 | Ohio State | 11 | 11 | 12 | 52 | 4.3 | 1 | NA | 44 | 669 | 15.2 | 7 | 69 | NA | NA | 1 | 18 | 462 | 0 | 0 | 15 | 3 | 150 | 0 | 0 |
| Total | - | 36 | 25 | 25 | 191 | 7.6 | 4 | 140 | 108 | 1894 | 17.5 | 19 | 69 | 1 | 1 | 1 | 20 | 499 | 0 | 0 | 33 | 8 | 247 | 0 | 0 |