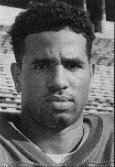 Nationality

United States

Position

QB

Birthday

3/24/1975

Hometown

Paterson, NJ

High School

Catholic

Height

6'1"

Weight

203

Current Team

Ohio State

Seasons

1993, 1994, 1995, 1996, 1997
Major: Sociology (1997), Communication (1995-96), Unknown (1993-94)
Weight: 203 (1995-97), 198 (1994), 186 (1993)
1997 Media Guide: Started 11 games last year (all but Michigan) and played a key role in helping the Buckeyes capture the Big -Ten title and Rose Bowl championship … threw for 1.298 yards and 12 touchdowns in his first year as a starter … also ran for 138 yards and a pair of TDs on 52 carries …a gifted athlete with a strong, resilient arm and quick feet … has the ability to scramble out of harm's way when danger seems imminent … led the Buckeyes to their first touchdown in the Rose Bowl, capping off an 11-play, 83-yard drive in the first-quarter by scrambling out of trouble and firing a nine-yard strike to David Boston on third-and-goal … also had a nifty 19-yard run on that drive … helped get the Buckeyes off on the right foot early in the season, throwing for 324 yards and four touchdowns in back-to-back wins over No. 4 Notre Dame and No. 3 Penn State in weeks three and four … threw for 100 or more yards five times last year, including a career high 265 yards against Wisconsin … also completed 18 of 25 passes against the Badgers … finished third in the Big Ten in passing efficiency with a rating of 140.0 … top game in terms of rushing was 53 yards against Penn State … longest run of the year was 21 yards against Wisconsin … unquestionably one of the team leaders.
1996 Media Guide: Has been the back-up quarterback the past two years and hopes to take over as the starter this year … in order to do so will have to hold off the challenge of junior college transfers Mark Garcia and Joe Germaine … none of the three emerged from spring drills with a decided edge, so fall camp will determine who gets the starting nod … is a tremendous athlete with a strong arm and lethal running ability … really applied himself in the off-season in terms of studying films and gaining a firmer grasp of what a starting quarterback has to do to run Ohio State's versatile offense … appeared briefly in eight games last year for a total of 55 minutes … played his best football against Indiana, coming in for injured starter Bobby Hoying and directing the Buckeyes to three second-half scores and a 42-3 win (he completed all four of his passes and ran four times for 39 yards against the Hoosiers) … wound up the year completing 16 of 25 passes for 202 yards with two touchdowns and one interception … also ran for 41 yards on 23 attempts … touchdown passes came against Pittsburgh (25 yards to Dimitrious Stanley) and Indiana (two yards to Rickey Dudley) … completed seven of eight passes for 118 yards (his first 100-yard game) at Pitt … committed to doing what ever it takes to get the job done.
1995: Backed up Bobby Hoying … had his most impressive outing against Indiana, directing OSU to three second-half touchdowens after Hoying was sidelined with a concussion.
1995 Media Guide: The Buckeyes' No. 2 quarterback … quick, elusive runner with a whip-like arm … exciting open-field runner, who excels at running the option … effective rolling out because of his ability to throw on the run and the danger he poses by tucking the ball away … saw limited action in seven games last year as a backup to Bobby Hoying and completed 10 of 28 passes for 105 yards no touchdowns and no interceptions: … his top game passing was a six-of-13 effort for 76 yards against Houston … actually ran for more yards than he threw for, netting 137 yards rushing on 35 carries … scored his first collegiate touchdown on a six-yard run at Penn State … worked hard last spring to improve his mechanics and his discipline in terms of staying in the pocket … capable of stepping in and directing the OSU attack … is going to be an excellent quarterback.
1994: Had his first 100-yard game against Pittsburgh, completing seven of eight passes for 118 yards … outdueled fellow redshirt freshman Tom Hoying for the backup spot in the fall of '94.
1994 Media Guide: An impressive athlete who will battle for the backup quarterback position this season behind returning starter Bobby Hoying … has all the skills necessary to become a standout, and adds an extra dimension to the game with his running ability … should get his feet wet this season … coaching staff is very excited about his future.
1993: Redshirted … did an outstanding job running the scout team offense.
1993 Media Guide: Regarded as one of the nation's top combination passing-running prep quarterbacks last year … an all-state pick as a senior who also earned All-America honors from USA Today and Blue Chip Illustrated … completed 68 of 146 passes for 1,733 yards, 17 TDs and six interceptions as a senior, and added 620 yards and nine scores on the ground … as a three-year starter, connected on 181 of 401 attempts for +481 yards, 50 TDs and 21 interceptions, and added 1,465 rushing yards and 32 TDs on 159 attempts … a three-year captain … high school coach was Lou Mathis, who played defensive back at Ohio State from 1971-73.
Personal: Talented all-around athlete … enjoys video games and working with his fraternity (Omega Psi Phi) … an honor student who would some day like to become a doctor.
Offense
| Season | Team | G | GS | Comp | Pass Att | Cmp % | Pass Yds | Pass TD | Pass Int | Skd | Skd Yds | Rush Att | Rush Yds | Rush Avg | Rush TD | Lng | 2 Pt Conv | Fum | Lost | FR |
| --- | --- | --- | --- | --- | --- | --- | --- | --- | --- | --- | --- | --- | --- | --- | --- | --- | --- | --- | --- | --- |
| 1994 | Ohio State | 11 | 0 | 10 | 28 | 35.7 | 105 | 0 | 0 | 5 | 33 | 35 | 137 | 3.9 | 1 | 23 | 1 | 0 | 0 | 0 |
| 1995 | Ohio State | 8 | 0 | 16 | 25 | 64.0 | 202 | 2 | 1 | 7 | 45 | 23 | 41 | 1.8 | 0 | 16 | 0 | 3 | 1 | 0 |
| 1996 | Ohio State | 12 | 11 | 87 | 165 | 52.7 | 1298 | 12 | 5 | 14 | 89 | 52 | 138 | 2.7 | 2 | 21 | 0 | 3 | 1 | 0 |
| 1997 | Ohio State | 13 | NA | 81 | 135 | 60.0 | 1055 | 8 | 3 | NA | NA | 81 | 217 | 2.7 | 2 | 41 | NA | NA | NA | NA |
| Total | - | 44 | 11 | 194 | 353 | 55.0 | 2660 | 22 | 9 | 26 | 167 | 191 | 533 | 2.8 | 5 | 101 | 1 | 6 | 2 | 0 |