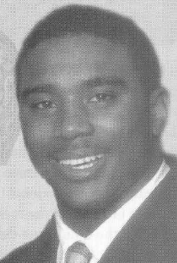 Nationality

United States

Position

QB

Height

6'1"

Weight

215

Birthday

7/20/1984

Hometown

Glenville, OH

High School

Glenville

Current Team

Ohio State

Seasons

2002, 2003, 2004, 2005, 2006
Post-OSU Update: After winning the Heisman Trophy after the 2006 season, Troy Smith was a fifth-round pick (174th overall) in the 2007 NFL Draft by the Baltimore Ravens. Smith played for the Ravens and 49ers in four NFL seasons. He ended his career with a 4-4 record as a starter, passing for 1,734 yards while completing 51.7% of his passes (8 TDs, 5 INTs). After the NFL, Smith played in both the UFL and CFL for several seasons. (updated: Mar. 2023)
Major: Communication (2004-06), Undeclared (2003)
Weight: 215 (2004-06), 210 (2003), 205 (2002)
2006 Media Guide: Arguably the finest all-around quarterback in college football and unquestionably one of the game's dynamic leaders … a preseason favorite for the Heisman Trophy and will almost certainly be in the running for first-team All-America recognition … has a strong, accurate arm, is a dangerous runner and excels at keeping the play alive … is mentally tough, very competitive and spends countless hours studying film … was the MVP of the Fiesta Bowl, where he threw for a career-high 342 yards and a pair of touchdowns and ran for another 66 yards … his 11 rushing touchdowns in 2005 were three shy of the school record for rushing touchdowns by a quarterback (Les Horvath had 14 in 1944) … now has topped the 300-yard mark five times in total offense, one shy of the school record held by Joe Germaine (1996-98) … is only the second player in Ohio State annals to top the 400-yard mark in total offense in a game (Art Schlichter with 412 against Florida State in 1981 is the other) … has a chance to join Tippy Dye (1934-36) as the only Ohio State quarterbacks to lead their teams to three consecutive wins over Michigan … graduated from Ohio State at the end of Spring Quarter 2006 with a B.A. in Communication.
2005: Sat out the opener against Miami (Ohio) … came off the bench against Texas the following week and made his first start in week three against San Diego State … was the regular from that point on … averaged 263 yards per game in total offense … also averaged 4.5 yards per rushing attempt and was the team's second leading rusher with 611 yards … ran for a season-high 127 yards against Iowa … the Buckeyes converted 49 percent of their third down possibilities with him at the controls … became the first quarterback in OSU annals to run for 500 yards and throw for 2000 yards in the same season … threw just four interceptions on the year … had six 200-yard games passing … threw for two or more touchdowns five times … his 85-yard TD toss to Santonio Holmes in the Fiesta Bowl is the second longest touchdown pass in Ohio State history.
2005 Media Guide: One of three candidates for the starting quarterback spot … started the final five games of the 2004 regular season and led the Buckeyes to a 4-1 record down the stretch, including a dominating 37-21 victory over Michigan in the regular-season finale … turned in an unforgettable performance against the Wolverines with 386 yards in total offense, the third-highest figure in school history and the most yards ever by an Ohio State player in the Michigan game … 145 of those yards came on the ground, leaving him one-yard shy of the school rushing record by a quarterback (the latter mark of 146 belongs to Cornelius Greene and was set against Wisconsin in 1974) … is the first Ohio State quarterback since Rod Gerald in 1977 to rush for 100 or more yards … is the most versatile of the OSU signal callers and his ability to scramble out of danger and turn a potential lost-yardage play into a positive play makes him doubly dangerous … made his first start against Indiana last year and grew more confident with each succeeding start, turning in impressive performances in a come-from-behind win over Michigan State as well as a seven-point loss at Purdue … is an outstanding athlete and competitor.
2004: Began the season as the backup to Justin Zwick, but took over as the starter in week seven after Zwick injured a shoulder the previous week at Iowa … completed 58 of 107 passes for 791 yards and six touchdowns and ran for 325 yards and a pair of touchdowns in his five starts … finished the season with 896 yards passing and 339 yards rushing … was the Buckeyes' third leading rusher and averaged 4.1 yards per carry … hooked up with Anthony Gonzalez on a 68-yard scoring pass on the Buckeyes' fifth play from scrimmage in the Michigan game to give OSU an early 7-0 lead … accounted for three touchdowns against Michigan – two passing and one rushing … completed his first college pass against Cincinnati, hooking up with Santonio Holmes on a 23-yard fourth-quarter touchdown strike … made a brief appearance the following week against Marshall, but did not see any extended action again until replacing Zwick at Iowa … connected with Ted Ginn on a 58-yard scoring pass at Michigan State to give OSU a 23-19 lead with 1:37 to play, then made it a six-point lead by scoring on a two-point conversion … almost pulled out a win at Purdue, rallying OSU from a 17-3 deficit to a 17-17 tie by throwing for one touchdown and rushing for another in what turned out to be a 24-17 loss … eight touchdown passes and three interceptions on the year with all three coming of the latter coming at Purdue in his lone loss as a starter.
2004 Media Guide: One of three scholarship quarterbacks on the OSU roster and one of the most exciting athletes on the squad … will vie with fellow sophomore Justin Zwick for the starting position, replacing graduated two-year starter Craig Krenzel … has an extremely strong arm and is an accurate passer … also a gifted runner who can be especially dangerous when forced out of the pocket … capable of turning a busted play into a touchdown … has spent countless hours studying film in an effort to better understand what it takes to be a Division I quarterback … appeared in 10 games last year, but was used primarily as a "slash" back and as a kick returner and has yet to throw a pass on the collegiate level … did rush for 14 yards on three carries and averaged 16.6 yards per attempt on six kickoff returns in 2003 … was recruited as an "athlete" but has projected himself into the quarterback picture through hard work and a competitive desire to excel … coming off a good spring.
2003 Season: Made his collegiate debut in the season opener against Washington and carried the ball once for a 2-yard gain … also had two carries against Northwestern, including an 8-yard run … was used as a kick-return specialist the last half of the season … longest runback was 18 yards at Indiana.
2003 Media Guide: Troy Smith is a rifle-armed young quarterback with tremendous all-around athletic ability … was redshirted last year, but continually impressed onlookers with his strong arm and accuracy … is a dual threat because of his ability to scramble out of harms way and pick up additional yardage … an intelligent and hard-working player … solid showing in the spring culminated with 211 yards and a touchdown pass in the spring game … completed 18 of 36 passes in that game and also rushed for 21 yards on 12 carries … joins senior Scott McMullen and fellow redshirt freshman Justin Zwick to give the Buckeyes three solid backups behind incumbent starter Craig Krenzel … was one of the last players to sign with the Buckeyes in 2002 and was recruited as "an athlete".
2002 Season: Redshirted and did not see any game action … repeatedly gave the OSU defense an authentic look as the scout team quarterback.
High School: Solid all-around athlete … played at Lakewood St. Edward as a sophomore and junior, but transferred to Glenville at the start of his senior year … threw for 969 yards and 12
touchdowns as a senior … also ran for 329 yards and four scores, helping Glenville to a 9-2 record and a berth in the Division 1 playoffs … has run a 4.1 time in the 40 and is rated by Rivals.com as the nation's 13th best dual threat quarterback … had a solid junior year at St. Eds, throwing for 1,400 yards and rushing for 500 more … the Ohio State coaches really like his athletic ability … high school coach – Ted Ginn.
Personal: Parents are Tracy Smith and Kenneth Delaney … has a sister, Brittany, who attends Cleveland State and is a registered nurse … an older brother, Rod, played guard at Ohio State in the early 1990s, and another brother, Andre, played at Bowling Green … a third sibling, Irwin White, played at Walsh College … lists Michael Vick and Donovan McNabb as two of his favorite football players … enjoys video games and shopping … born July 20, 1984.
Offense
| Season | Team | G | GS | Comp | Pass Att | Cmp % | Pass Yds | Pass TD | Pass Int | Skd | Skd Yds | Rush Att | Rush Yds | Rush Avg | Rush TD | Lng | 2 Pt Conv | Fum | Lost | PR | PR Yds | PR TD |
| --- | --- | --- | --- | --- | --- | --- | --- | --- | --- | --- | --- | --- | --- | --- | --- | --- | --- | --- | --- | --- | --- | --- |
| 2003 | Ohio State | 10 | 0 | 0 | 0 | 0 | 0 | 0 | 0 | 0 | 0 | 3 | 14 | 4.7 | 0 | 8 | 0 | NA | NA | 5 | 83 | 0 |
| 2004 | Ohio State | 8 | 4 | 68 | 122 | 55.7 | 896 | 8 | 3 | NA | NA | 82 | 339 | 4.1 | 2 | 46 | 1 | NA | NA | 0 | 0 | 0 |
| 2005 | Ohio State | 11 | 10 | 149 | 237 | 62.9 | 2282 | 16 | 4 | NA | NA | 136 | 611 | 4.5 | 11 | 28 | NA | NA | NA | 0 | 0 | 0 |
| 2006 | Ohio State | 13 | 13 | 203 | 311 | 65.3 | 2542 | 30 | 6 | NA | NA | 72 | 204 | 2.8 | 1 | 34 | 0 | NA | NA | 0 | 0 | 0 |
| Total | - | 42 | 27 | 420 | 670 | 62.7 | 5720 | 54 | 13 | NA | NA | 293 | 1168 | 4.0 | 14 | 46 | 1 | 0 | 0 | 5 | 83 | 0 |