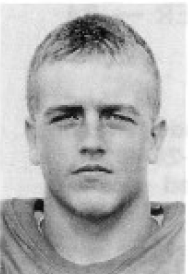 Nationality

United States

Position

H, QB

Birthday

8/19/1969

Hometown

Centerville, OH

High School

Centerville

Height

6'2"

Weight

212

Past Teams

Ohio State

Seasons

1988, 1989, 1990, 1991, 1992
Post-OSU Update: After graduating Ohio State in 1993, Kirk Herbstreit joined ESPN in 1996 as a college football analyst. He is a color commentator for ABC/ESPN college football broadcasts and, starting in 2022, announces Thursday night NFL games for Amazon. (updated: Nov. 2022)
Major: Marketing (1991-92), Business (1989-90)
Weight: 212 (1992), 213 (1991), 212 (1988-90)
1992 Media Guide: Kirk Herbstreit nailed down the No. 1 spot in the spring and will be the starter in the fall … chosen as a co-captain following spring ball … appeared in all 12 games last year with starts against Washington State and Syracuse … completed eight of 13 passes for 158 yards and a touchdown against Washington State (his first collegiate start) and threw for 174 yards against Syracuse in the Hall of Fame Bowl … a long-time Ohio State fan who grew up dreaming of someday starting for the Buckeyes … an exciting athlete who has demonstrated a knack for scrambling out of trouble and turning apparent losses into big gainers … very popular with the players and a natural leader … logged a total of 125 minutes of playing time in 1991, with 49 of those minutes coming in his two starts … came off the bench at Illinois and again at Michigan to engineer impressive second-half drives … completed eight of 11 passes for 82 yards against Michigan … OSU's sixth-leading rusher last year with 153 yards on 31 carries, an average of 4.9 yards per carry … spectacular 32-yard TD run against Wisconsin last year was surpassed only by an even more spectacular 72-yard scoring jaunt at Minnesota … also the Buckeyes' holder for field goals and extra points … has a good understanding of the OSU offense.
1991 Media Guide: Played well enough in the spring to make the battle for the starting quarterback's position an on-going contest … option-type QB who has improved as a passer … good scrambler, who often gets something out of nothing … very competitive player … only pass last year was after a botched extra point attempt … only game action at quarterback was against Boston College … the Buckeyes' holder on placements … played on the kick coverage squad last year.
1990 Media Guide: One of two extremely capable backup quarterbacks in the Buckeye camp … improved his stock tremendously in the spring, especially as a passer … excellent athlete and the most agile of the OSU quarterbacks … ran a wishbone in high school and is a good scrambler … has had to learn to stay in the pocket at OSU … a winner … highly recruited in high school, but always wanted to play at Ohio State, where his father, Jim, both played and coached … committed to OSU on Dec. 31, 1987, shortly after John Cooper was announced as the Buckeyes' new head coach.
1989: Backed up Greg Frey, but played a total of just 27 minutes in the six games he appeared in … completed four of nine passes for 48 yards.
1989 Media Guide: One of three redshirt freshman vying to back up Greg Frey … excellent runner … ran a wishbone attack in high school, but has a good arm and throws particularly well on the move … good ball handler with excellent fakes … has the athletic ability to scramble out of trouble … very highly recruited in high school.
1988: Redshirted.
HIGH SCHOOL: A Parade All-American and the Ohio Player-of-the-Year as a senior … threw for 1,298 yards and 10 TDs as a senior … also rushed for 576 yards and 16 TDs his final year … career totals of 55 TDs and 4,258 yards in total offense in two years as a starter … led Centerville to a 10-0 record as a junior … all-league in baseball.
PERSONAL: Enjoys all sports … his father, Jim, played for the Buckeyes during the 1958, 59 and '60 seasons and was on the OSU coaching staff in 1961 and '62 … the first player to commit to John Cooper, announcing December 31, 1987, the day Cooper was hired … strong Cincinnati Reds fan … hobbies are watching sports on TV, fishing and video games … nicknamed "Street" … is considering a major in business.
Offense
| Season | Team | G | GS | Comp | Pass Att | Cmp % | Pass Yds | Pass TD | Pass Int | Skd | Skd Yds | Rush Att | Rush Yds | Rush Avg | Rush TD | Lng | Fum | Lost | FR | KR | KR Yds | KR TD |
| --- | --- | --- | --- | --- | --- | --- | --- | --- | --- | --- | --- | --- | --- | --- | --- | --- | --- | --- | --- | --- | --- | --- |
| 1989 | Ohio State | 6 | 0 | 4 | 9 | 44.4 | 48 | 0 | 1 | 2 | -12 | 10 | 6 | 0.6 | 0 | 8 | 0 | 0 | 0 | 0 | 0 | 0 |
| 1990 | Ohio State | 10 | 0 | 0 | 1 | 0.0 | 0 | 0 | 1 | 0 | 0 | 1 | 10 | 10 | 0 | 10 | 0 | 0 | 0 | 1 | 18 | 0 |
| 1991 | Ohio State | 12 | 3 | 38 | 75 | 50.7 | 485 | 1 | 3 | 8 | -45 | 31 | 155 | 5.0 | 2 | 72 | 1 | 0 | 0 | 0 | 0 | 0 |
| 1992 | Ohio State | 12 | 12 | 155 | 264 | 58.7 | 1904 | 4 | 6 | 27 | -168 | 75 | -18 | -0.2 | 0 | 24 | 2 | 1 | 0 | 0 | 0 | 0 |
| Total | - | 40 | 15 | 197 | 349 | 56.4 | 2437 | 5 | 11 | 37 | -225 | 117 | 153 | 1.3 | 2 | 72 | 3 | 1 | 0 | 1 | 18 | 0 |
Defense
| Season | Team | G | GS | Tkl | Solo | Asst | FR | KR | KR Yds | KR TD |
| --- | --- | --- | --- | --- | --- | --- | --- | --- | --- | --- |
| 1989 | Ohio State | 6 | 0 | 0 | 0 | 0 | 0 | 0 | 0 | 0 |
| 1990 | Ohio State | 10 | 0 | 1 | 1 | 0 | 0 | 1 | 18 | 0 |
| 1991 | Ohio State | 12 | 3 | 1 | 1 | 0 | 0 | 0 | 0 | 0 |
| 1992 | Ohio State | 12 | 12 | 0 | 0 | 0 | 0 | 0 | 0 | 0 |
| Total | - | 40 | 15 | 2 | 2 | 0 | 0 | 1 | 18 | 0 |