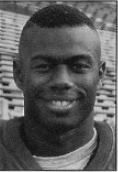 Nationality

United States

Position

FL, TB

Birthday

9/19/1974

Hometown

Worthington, OH

High School

Thomas Worthington

Height

5'10"

Weight

181

Current Team

Ohio State

Seasons

1993, 1994, 1995, 1996
Major: Communication (1995-96), Unknown (1993-94)
Jersey #: 3 (1994-96), 86 (1993)
Weight: 181 (1994-96), 180 (1993)
1996: Started all 12 games and led the Buckeyes in receiving with a career-high 43 catches, good for 829 yards and eight touchdowns — all team bests … his 43 catches rank as the 12th best one-season total in Ohio State receiving annals … honorable mention all-Big Ten … twice Big Ten Player of the Week … had career best of 10 receptions and 199 yards in the Wisconsin game, scoring the winning TD on a 48-yard catch-and-run … his yardage total against the Badgers ranks as the third best single-game figure in OSU history … five catches in the Rose Bowl, including a 72-yard TD and three grabs on the dramatic game-winning drive … his 85-yard runback on the opening kickoff at Notre Dame was one of the key plays of that game and of the season … led the nation in kick returns much of the season and wound up averaging 24.8 yards per return on 12 attempts.
1996 Media Guide: Played behind All-America Terry Glenn last year and hopes to take over as the starter this year … spent time at both flanker and split end in the spring and will probably play both in the fall … runs precise routes, adjusts well to the ball, has good hands and quickness and is an elusive runner after he catches the ball.
1995: Caught 13 passes for 177 yards and four touchdowns in 1995 … his TD grab just before halftime against Notre Dame (on which he made a great adjustment while the ball was in the air) ranks as one of the most memorable plays of the season and gave Ohio State a shot of adrenaline going into the locker room … made an equally important, but much less publicized, play at Penn State when he fielded a punt on the dead run and returned it eight yards to set up the Buckeyes' winning touchdown (had he let the ball bounce, the Buckeyes would have started from deep in their own territory instead of the OSU 42) … started the Illinois game and played extensively against Minnesota, Iowa and Indiana while Glenn was nursing a sore shoulder … averaged 8.0 yards per punt return and 18.0 yards per kick return last year.
1995 Media Guide: Has played both tailback and wide receiver during his two-year stay at Ohio State, but appears to have settled in at flanker and should figure in the rotation this year behind Terry Glenn … exciting athlete with speed, quickness, hands and the ability to make defenders miss him … ideally suited for the short passing game that the Buckeyes plan to utilize this year.
1994: Played in 12 games (every game but Northwestern) and had 40 yards on 12 carries as a backup tailback … top game was 26 yards against Fresno State in the Pigskin Classic … came to OSU as a running back, but was switched to split end as a freshman and had six receptions for 86 yards and a touchdown in eight games … moved back of running back last fall, but then switched to his present position last spring
1994 Media Guide: A talented player who can help the team in a number of ways … was a backup flanker last season, but spent most of his time at tailback in spring drills … coaches like his versatility and believe he will be a contributor … has excellent hands … a dedicated worker… can also help the team as a return specialist.
1993: Played in eight games for a total of 41 minutes … longest appearance was nine minutes at Purdue … caught six passes for 86 yards( 14.3 average) … moved up to second team late in the season when Terry Glenn had arthroscopic knee surgery … scored a nine-yard touchdown against Rice on his first collegiate reception. ..also had a 23-yard grab in that game and caught one for the same distance against Northwestern … caught one pass at Purdue and two at Michigan … the leading rusher in the spring game, gaining 63 yards and scoring a touchdown for the victorious Gray squad.
High School: A first team Division I all-Ohio selection at running back who is expected to be tried at flanker with the Buckeyes … started for four years at tailback and free safety as a prepster … rushed for 1,537 yards on 246 attempts (6.2 average) and 16 touchdowns as a senior and had eight interceptions … also had seven receptions for 104 yards … rushed for 1,158 yards as a junior … high school coach was Terry Lichtenberg.
Personal: His father, Wayne, was an assistant coach at Ohio State between 1979 and 1983 for Earle Bruce, and also played for Bruce at Iowa State … hobbies include collecting shoes.
Offense
| Season | Team | G | GS | Rush Att | Rush Yds | Rush Avg | Rush TD | Tgt | Rec | Rec Yds | Rec Avg | Rec TD | Lng | Fum | Lost | KR | KR Yds | KR TD | PR | FC | PR Yds | PR TD |
| --- | --- | --- | --- | --- | --- | --- | --- | --- | --- | --- | --- | --- | --- | --- | --- | --- | --- | --- | --- | --- | --- | --- |
| 1993 | Ohio State | 6 | 0 | 0 | 0 | 0 | 0 | 11 | 6 | 86 | 14.3 | 1 | 23 | 1 | 0 | 0 | 0 | 0 | 0 | 0 | 0 | 0 |
| 1994 | Ohio State | 12 | NA | 12 | 40 | 3.3 | 0 | NA | 1 | 44 | 44 | 0 | 44 | NA | NA | 9 | 171 | 0 | 0 | 0 | 0 | 0 |
| 1995 | Ohio State | 13 | 1 | 2 | 7 | 3.5 | 0 | 20 | 13 | 177 | 13.6 | 4 | 25 | 2 | 1 | 9 | 162 | 0 | 35 | 4 | 264 | 0 |
| 1996 | Ohio State | 12 | 12 | 0 | 0 | 0 | 0 | 85 | 43 | 829 | 19.3 | 8 | 72 | 1 | 1 | 12 | 298 | 0 | 1 | 0 | 7 | 0 |
| Total | - | 43 | 13 | 14 | 47 | 3.4 | 0 | 116 | 63 | 1136 | 18.0 | 13 | 72 | 4 | 2 | 30 | 631 | 0 | 36 | 4 | 271 | 0 |