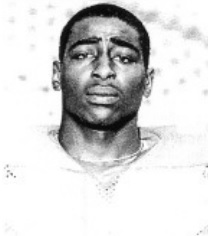 Nationality

United States

Position

SE, ST

Height

6'3"

Weight

194

Birthday

11/25/1965

Hometown

Middletown, OH

High School

Middletown

Past Teams

Ohio State

Seasons

1984, 1985, 1986
Post-OSU Update: Cris Carter intended to return to Ohio State for his season year in 1987, but was ruled ineligible after it was determined he signed a deal with sports agent Norby Walters. Carter was selected in the fourth round of the 1987 supplemental draft by the Philadelphia Eagles. He showed flashes of with the Eagles, but was ultimately released due to drug and alcohol issues. His career took off with the Vikings, making eight Pro Bowls in 12 seasons. He ended his NFL career with 1,101 catches for 13,899 yards and 130 receiving touchdowns. Carter was elected to the NFL Hall of Fame in 2013. He is a sports media personality, working for ESPN, Fox, and most recently, NFL Network. (updated: Apr. 2023)
Major: Communications (1986), Business (1984)
Weight: 194 (1986), 192 (1985), 184 (1984)
1986 Media Guide: Cris Carter is regarded as the finest pass receiver in Ohio State's history … caught 41 passes as a freshman in 1984 and a school-record 58 in 1985 … caught 8 touchdown passes each season … has exceptional hands and a rare ability to out-jump defenders … has caught at least one pass in 23 of 24 games for Ohio State.
1985 Media Guide: Has the ability to become one of the top pass receivers in OSU history … his great timing and unusual spring enable him to catch passes when he appears to be well covered defensively … one of the top receivers in college football.
1984: Caught 41 passes for 648 yards as a freshman in 1984 … his eight touchdown passes set a school single-season mark … caught nine passes for 172 yards in the Rose Bowl … the 172 yards broke a record by the immortal Don Hutson of Alabama in 1935.
High School: A two-time all-Ohio end at Middletown High and a 1983 Parade All-American … caught 80 career passes in high school for over 2,000 yards … played defense one full season and intercepted ten passes … also scored 1,600 points in basketball over a three-year period.
Personal: From a family of seven … a younger brother of Butch, who played basketball at Indiana and now plays with Indianapolis in the NBA.
Offense
| Season | Team | G | GS | Comp | Pass Att | Pass Yds | Pass TD | Pass Int | Rush Att | Rush Yds | Rush Avg | Rush TD | Rec | Rec Yds | Rec Avg | Rec TD | Lng | Fum | Lost | FR | KR | KR Yds | KR Avg |
| --- | --- | --- | --- | --- | --- | --- | --- | --- | --- | --- | --- | --- | --- | --- | --- | --- | --- | --- | --- | --- | --- | --- | --- |
| 1984 | Ohio State | 12 | 8 | 0 | 0 | 0 | 0 | 0 | 0 | 0 | 0 | 0 | 41 | 648 | 15.8 | 8 | 44 | 0 | 0 | 0 | 2 | 23 | 11.5 |
| 1985 | Ohio State | 12 | 12 | 1 | 2 | 26 | 1 | 0 | 1 | 1 | 1.0 | 0 | 58 | 950 | 16.4 | 8 | 52 | 0 | 0 | 0 | 0 | 0 | 0 |
| 1986 | Ohio State | 13 | 13 | 0 | 0 | 0 | 0 | 0 | 1 | 6 | 6.0 | 0 | 69 | 1127 | 16.3 | 11 | 72 | 0 | 0 | 3 | 1 | 0 | 0 |
| Total | - | 37 | 33 | 1 | 2 | 26 | 1 | 0 | 2 | 7 | 3.5 | 0 | 168 | 2725 | 16.2 | 27 | 72 | 0 | 0 | 3 | 3 | 23 | 7.7 |
Defense
| Season | Team | G | GS | Tkl | Solo | Asst | FR | KR | KR Yds | KR Avg |
| --- | --- | --- | --- | --- | --- | --- | --- | --- | --- | --- |
| 1984 | Ohio State | 12 | 8 | 0 | 0 | 0 | 0 | 2 | 23 | 11.5 |
| 1985 | Ohio State | 12 | 12 | 3 | 2 | 1 | 0 | 0 | 0 | 0 |
| 1986 | Ohio State | 13 | 13 | 2 | 2 | 0 | 3 | 1 | 0 | 0 |
| Total | - | 37 | 33 | 5 | 4 | 1 | 3 | 3 | 23 | 7.7 |