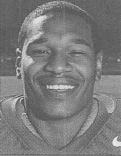 Nationality

United States

Position

TB

Birthday

1/15/1978

Hometown

Spring Valley, CA

High School

Monte Vista

Height

6'0"

Weight

195

Current Team

Ohio State

Seasons

1996, 1997, 1998, 1999
Major: Sociology (1998-99), Undecided (1996-97)
Weight: 195 (1998-99), 190 (1997), 180 (1996)
1999 Media Guide: Michael Wiley, called "The Buckeye Blur" by his hometown San Diego Union Tribune, is a "talented and gifted and elusive and special running back," position coach Tim Spencer said. He also is a legitimate candidate for All-America honors and major awards during the 1999 season. An electrifying performer since his first game as a Buckeye, Wiley has accumulated 2,975 all-purpose yards (10th all-time at Ohio State), including 1,999 rushing yards, in a career that includes just one year as a starter. The owner of a 100-yard kickoff return, a 76-yard run and a 60-yard reception, Wiley has averaged 7.7 yards each time he touches the football. He is a threat to go all the way any time the football is in his hands. He has averaged an impressive 6.1 yards per rush on 326 attempts.
1998: In his first year as a starter, Wiley was named first-team all-Big Ten Conference by the coaches and media. Rushed for 1,235 yards and 10 touchdowns, ranking second in the Big Ten and 23rd nationally. Rushed for 140 yards in his first start, vs. West Virginia. Named the Chevrolet Player of the Game and Big Ten Offensive Player of the Week following the Missouri game. A 53-yard burst against Michigan for a touchdown opened OSU's scoring and provided the spark for a terrific 120-yard day off 12 carries. His 1,578 all-purpose yards (131.5 per game) ranked fourth in the Big Ten and 35th nationally.
1998 Media Guide: Michael Wiley is an electrifying young tailback who is a threat to go all the way any time he touches the ball … exceptional speed and quickness and cutting ability … in line to assume the starting tailback position after backing up Pepe Pearson last year … running backs coach Tim Spencer says Michael is "a great back .,. talented and gifted and elusive and special … he makes excellent decisions and quick decisions … he will make things happen for us when given the opportunity to run like all running backs want" … averages 8.9 yards every time he touches the ball with 1,397 all-purpose yards off 157 touches with 11 touchdowns.
1997: The back-up tailback … second to Pearson in rushing with 588 yards on 105 carries … averaged a team best 5.6 yards per carry … recorded his first 100-yard game against Wyoming, carrying the ball 10 times off the bench for 121 yards … followed that effort up by amassing 226 all-purpose yards against Bowling Green the next week, highlighted by a 100-yard kickoff return … rushed for six touchdowns on the year, including two in the win over Iowa … also completed three of four passes, one of those an eight-yard TD strike to Steve Wisniewski against Indiana … had nine receptions for 83 yards … averaged 26.5 yards per kick return on 13 attempts, but did not have enough attempts to qualify nationally.
1997 Media Guide: An electrifying athlete who makes things happen … played in 10 games last year as a true freshman … was tried at running back and defensive back before settling in at flanker … moved back to tailback after Joe Montgomery was hurt in the Minnesota game on Nov. 2 … has elected to stay at tailback, much to the chagrin of wide receivers coach Chuck Stobart and defensive secondary coach Jon Tenuta, both of whom would love to have him in their charge … has excellent speed and is difficult to tackle because of his shiftiness.
1996: Rushed for 176 yards on 23 carries last year, an average of 7.7 yards per attempt … also had six receptions for 194 yards (32.3 ypc) and three TDs …made a spectacular debut in the season opener with Rice, scoring all three times he touched the ball (a 49-yard reverse and receptions of 51 and 60 yards) … also scored against Minnesota on a 28-yard pass from Tommy Hoying, making him the only OSU receiver to catch a TD pass from all three quarterbacks … moved to running back the following week and darted through the Illinois defense for 88 yards on 12 carries.
High School: Rushed for 1,901 yards and 23 touchdowns as a senior at Monte Vista High School … had 49 tackles, two sacks and two interceptions as a senior … also caught 10 passes for 240 yards and two TDs … for his career, rushed for 3,417 yards and 38 TDs … Captured the East county rushing title and set the county scoring record … set single-game rushing record with 271 yards on 19 carries versus Carlsbad … All-America selection by Bluechip Illustrated, National Bluechips Recruiting, SuperPrep, The National Recruiting Advisor, Tom Lemming and G & W … first team all-state selection … rated the second best running back in the country by Bluechip Illustrated and the best running back in the West Region … rated the fourth best running back in the country by SuperPrep and the third best player in the West … rated the fifth best running back in the country by The National Recruiting Advisor … rated the 12th best player in the West region by Prep Football Report … was named San Diego Section's Offensive Player of the Year and the area's top defensive player … captured San Diego rushing title … East County and Grossmont League Offensive and Defensive Player of the Year … named first team in Best of the West by the Long Beach Press-Telegram (joined on the first team by fellow signee linebacker Na'il Diggs) … Helped Monte Vista to the CIF Division II championship and a No. 2 ranking in the state … Three-year record of 27-8 … three-year starter and letterwinner in football and earned four letters in track and three in basketball … first team all-league in track and basketball … Played in the annual California-Texas Shrine all-star game … was named an Academic All-American by Student Sports, a National Football Foundation and College Hall of Fame Scholar-Leader-Athlete, a three-time Golden Pyramid Scholar and a Union Tribune all-academic selection in football, track and basketball … high school coach is Ed Carberry.
Personal: Chose Ohio State because "of its all-around excellence" … Plans to major in physical therapy … Full name is Michael DeShawn Wiley.
Offense
| Season | Team | G | GS | Comp | Pass Att | Pass Yds | Pass TD | Pass Int | Rush Att | Rush Yds | Rush Avg | Rush TD | Tgt | Rec | Rec Yds | Rec Avg | Rec TD | Lng | Fum | Lost | FR | KR | KR Yds | KR TD |
| --- | --- | --- | --- | --- | --- | --- | --- | --- | --- | --- | --- | --- | --- | --- | --- | --- | --- | --- | --- | --- | --- | --- | --- | --- |
| 1996 | Ohio State | 10 | 0 | 0 | 0 | 0 | 0 | 0 | 23 | 176 | 7.7 | 1 | 12 | 6 | 194 | 32.3 | 3 | 60 | NA | NA | 0 | 0 | 0 | 0 |
| 1997 | Ohio State | 13 | 0 | 3 | 4 | 69 | 1 | 0 | 105 | 588 | 5.6 | 6 | NA | 9 | 83 | 9.2 | 0 | 32 | NA | NA | 0 | 13 | 344 | 1 |
| 1998 | Ohio State | 12 | 11 | 2 | 2 | 33 | 0 | 0 | 198 | 1235 | 6.2 | 10 | NA | 27 | 200 | 7.4 | 1 | 76 | NA | NA | 0 | 6 | 143 | 0 |
| 1999 | Ohio State | 12 | 12 | 5 | 5 | 123 | 1 | 0 | 183 | 952 | 5.2 | 10 | 21 | 14 | 153 | 10.9 | 1 | 69 | 5 | 4 | 1 | 8 | 114 | 0 |
| Total | - | 47 | 23 | 10 | 11 | 225 | 2 | 0 | 509 | 2951 | 5.8 | 27 | 33 | 56 | 630 | 11.3 | 5 | 76 | 5 | 4 | 1 | 27 | 601 | 1 |