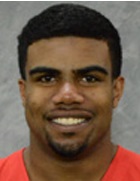 Nationality

United States

Position

TB

Height

6'0"

Weight

225

Birthday

7/22/1995

Hometown

St. Louis, MO

High School

John Burroughs

Past Teams

Ohio State

Seasons

2013, 2014, 2015
Major: Marketing (2015), Undeclared (2014)
Weight: 225 (2014-15), 210 (2013)
2015 Media Guide: Ezekiel Elliott enters the 2015 season as one of the best, if not the best, running back in college football and he is considered by many as the favorite to win the 2015 Heisman Trophy … he is the nation's leading returning rusher (in terms of yards gained), coming off an 1,878-yard rushing season with 18 touchdowns … those totals included 52 rushes of 10-or-more yards which ranked second nationally in 2014, and 10 touchdowns of 10-or-more yards … he also was tied for first in most 80-plus yard runs (two) and his five 50-plus yard runs ranked sixth … his three 200-yard rushing games rank third nationally among active players … Elliott's talent is considerable, and it came clear on the national stage during Ohio State's three-game post-season run last year … his efforts in helping Ohio State win college football's first College Football Playoff national championship, including earning offensive MVP honors in both the Sugar Bowl and College Football Playoff national championship game, helped Elliott win the 85th James E. Sullivan Award as America's top amateur athlete in April … personable to all who approach him, Elliott is a fan favorite and really quick with a smile … he had a neat dialogue with President Obama about his "crop-top" jersey, when Ohio State visited the White House in April … threw out the first pitch for his hometown St. Louis Cardinals in May … Elliott is also a terrific student, earning Academic All-Big Ten honors last season and twice being named an OSU Scholar-Athlete.
2014: Elliott had a fine regular season campaign, rushing for 1,182 yards and 10 touchdowns to earn honorable mention all-Big Ten honors in a league stacked with outstanding running backs … and then he was a star among numerous stars in Ohio State's three-game run to win the College Football Playoff national championship with 696 yards rushing and eight touchdowns in the three games … he rushed
for a Big Ten championship game record 220 yards and scored two touchdowns, including a championship game record 81-yard rush, in Ohio State's 59-0 win over Wisconsin in the Big Ten title game … in the Allstate Sugar Bowl, he sparked the Buckeyes to a 42-35 win over No. 1 Alabama with 230 rushing yards and two touchdowns, including a Sugar Bowl and Ohio State bowl game-record 85-yard rush to cap the scoring and earn offensive MVP honors … in the College Football Playoff National Championship game, he led an offensive charge with an Ohio State bowl game-record 246 rushing yards and four touchdowns in the 42-20 victory to again earn game offensive MVP honors … he finished the season with 1,878 yards rushing, the second-highest single-season total in school history next to Eddie George's 1,927 yards in 1995 … he also became the first Buckeye back ever to have consecutive 200-yard rushing games, a record that is current at three games … topped 100 yards nine times and has a current streak of five consecutive 100-yard games … scored at least one touchdown in the final five games of the season (11 total) … a fine receiver out of the backfield, Elliott caught 28 passes for 228 yards … became only the third Buckeye to top 2,000 all-purpose yards in a season with 2,114, trailing only the totals of Keith Byars (2,441 in 1984) and Eddie George (2,344 in 1995).
2014 Media Guide: Ezekiel Elliott, although just a sophomore, is among a handful of running backs, including three upperclassmen, who are competing to replace Carlos Hyde in Ohio State's starting backfield … Elliott is coming off a fine freshman campaign in 2013 when he saw backfield action in nine games and played in 11 … he carried the football 30 times for 262 yards and an impressive 8.7 yards per carry average … most of his work as a rusher came in the Florida A&M game when he rushed 14 times for 162 yards in a little more than one quarter and scored twice: off runs of 16 and 13 yards … he also had a rush of 57 yards in the game … Elliott also had three receptions for 23 yards and one score last season, with all of those stats coming in the Purdue game … he is an OSU Scholar Athlete.
2013 Media Guide: Elliott is a consensus four-star prospect (ESPN, Rivals, Scout, 247Sports) and one of the Top 100 prospects nationally with overall rankings of No. 47 by Scout, No. 70 by 247Sports, No. 84 by Rivals and No. 109 by ESPN … also ranked fourth, ninth, 11th and 12th among running backs by 247Sports, Scout, ESPN and Rivals, respectively … named to the U.S. Army All-American game.
High School: The St. Louis Post-Dispatch offensive player of the year in 2012, Elliott put up huge statistics with 3,061 all-purpose yards and 50 touchdowns, including 2,155 rush yards and 40 rushing touchdowns for the 13-1 Class 3 state runner-up … also had 16 receptions for 383 yards … rushed for 1,802 yards and 34 touchdowns and caught 23 passes for 401 yards and six touchdowns as a junior
… Burroughs, coached by Gus Frerotte, has been state runner-up three consecutive years.
Personal: Ezekiel's father, Stacy, and mother, Dawn, were each student-athletes at and are graduates of the University of Missouri with Stacy a football player and Dawn a member of the track and field team … Elliott capped his high school career by winning four state championships at the Missouri Class 3 state championships in 2-1/2 hours (in the 100-meter dash, 200, 110 high hurdles and 300 hurdles).
Offense
| Season | Team | G | GS | Rush Att | Rush Yds | Rush Avg | Rush TD | Tgt | Rec | Rec Yds | Rec Avg | Rec TD | Lng | 2 Pt Conv | Fum | Lost | KR | KR Yds | KR Avg | KR TD |
| --- | --- | --- | --- | --- | --- | --- | --- | --- | --- | --- | --- | --- | --- | --- | --- | --- | --- | --- | --- | --- |
| 2013 | Ohio State | 11 | 0 | 30 | 262 | 8.7 | 2 | NA | 3 | 23 | 7.7 | 1 | 57 | 0 | NA | NA | 0 | 0 | 0 | 0 |
| 2014 | Ohio State | 15 | 14 | 273 | 1878 | 6.9 | 18 | NA | 28 | 220 | 7.9 | 0 | 85 | 0 | 2 | 1 | 1 | 16 | 16.0 | 0 |
| Total | - | 26 | 14 | 303 | 2140 | 0 | 20 | 0 | 31 | 243 | 0 | 1 | 85 | 0 | 2 | 1 | 1 | 16 | 0 | 0 |