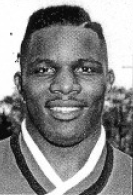 Nationality

United States

Position

TB

Height

5'9"

Weight

200

Birthday

10/24/1968

Hometown

Cincinnati, OH

High School

CAPE

Current Team

Ohio State

Seasons

1987, 1988, 1989, 1991
Major: Sociology (1991), Communications (1988-89), Business Management (1987)
Weight: 200 (1991), 194 (1987)
1991 Media Guide: Underwent surgery to remove a benign tumor from his hip in the spring of 1990 and missed all of last season … practiced this past spring and showed flashes of his old form … healthy, he is as good as they come … extremely quick, very strong for his size, explosive and knows how to get into the end zone … led Ohio State in rushing in 1988 and again in 1989 … has 2,146 career yards and ranks ninth on the all-time Ohio State rushing list with that total … second in career kickoff return yardage at Ohio State with 979 yards and needs just six yards to move around Howard Cassady (1952-55) into first.
1989: Ran for 990 yards and 11 touchdowns, both of which led the team … topped the 100-yard mark four times with a high of 149 at Purdue … also led the team in scoring (12 touchdowns) … did not play against Michigan because of a sore knee.
1988: Rushed for 775 yards, including a career-high 170 against Michigan … led the Big Ten in kick return yardage, and had a 100-yard runback at Pittsburgh … 58-yard run against Purdue is the longest of his collegiate career.
1988 Media Guide: An electrifying runner … has tremendous power, explosive speed and great balance … capable of breaking a game wide open … Ohio State's second-leading rusher last year with 381 yards on 99 carries … also OSU's second-leading scorer with six touchdowns (four rushing and two receiving) … celebrated his 19th birthday by scoring four touchdowns against Minnesota (three rushing and one receiving).
1987: Played in nine games and started the last three … biggest play of the year was a 70-yard TD reception and run at Michigan that keyed OSU's comeback win.
High School: Scored 108 touchdowns during his prep career, including 31 his senior year … led CAPE to a 35-3 record and two state titles … rushed for 7,586 yards in high school and averaged 16.2 yards per carry and scored 31 rushing touchdowns as a senior … runs a 4.4 40-yard dash … lettered on his high school gymnastics team … top football thrill came when his CAPE High teams won consecutive Ohio championships.
Personal: Likes to get away from it all by listening to music … enjoys movies, especially horror films … favorite actor is Bill Cosby … has worked hard to rehab his leg … wants to prove he can still play.
Offense
| Season | Team | G | GS | Rush Att | Rush Yds | Rush Avg | Rush TD | Tgt | Rec | Rec Yds | Rec Avg | Rec TD | Lng | Fum | Lost | FR | KR | KR Yds | KR Avg | KR TD | PR | FC | PR Yds | PR TD |
| --- | --- | --- | --- | --- | --- | --- | --- | --- | --- | --- | --- | --- | --- | --- | --- | --- | --- | --- | --- | --- | --- | --- | --- | --- |
| 1987 | Ohio State | 9 | 3 | 99 | 381 | 3.8 | 4 | NA | 9 | 172 | 19.1 | 2 | 70 | 9 | 5 | 3 | 13 | 206 | 15.8 | 0 | 0 | 0 | 0 | 0 |
| 1988 | Ohio State | 10 | 6 | 152 | 775 | 5.1 | 6 | NA | 9 | 83 | 9.2 | 0 | 58 | 7 | 6 | 2 | 19 | 513 | 27.0 | 1 | 0 | 0 | 0 | 0 |
| 1989 | Ohio State | 11 | 11 | 190 | 990 | 5.2 | 11 | NA | 16 | 184 | 11.5 | 2 | 30 | 7 | 5 | 2 | 9 | 260 | 28.9 | 0 | 0 | 0 | 0 | 0 |
| 1991 | Ohio State | 12 | 7 | 172 | 828 | 4.8 | 9 | 13 | 12 | 58 | 4.8 | 0 | 39 | 2 | 2 | 0 | 16 | 384 | 24.0 | 0 | 1 | 0 | 17 | 0 |
| Total | - | 42 | 27 | 613 | 2974 | 4.9 | 30 | NA | 46 | 497 | 10.8 | 4 | 70 | 25 | 18 | 7 | 57 | 1363 | 23.9 | 1 | 1 | 0 | 17 | 0 |