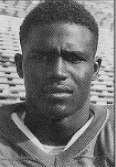 Nationality

United States

Position

ST, CB

Birthday

3/11/1975

Hometown

Silver Spring, MD

High School

Silverbrook

Height

5'11"

Weight

180

Current Team

Ohio State

Seasons

1993, 1994, 1995, 1996
Post-OSU Update: Shawn Springs was selected third overall in the 1997 NFL Draft. He started for 13 seasons in the NFL, making one Pro Bowl and collecting 33 interceptions. After his playing days, Springs became CEO of Windpact, a company born out of the vision of making football safer, but now also tackles non-football impact and energy dissipation challenges. (Update: 2022)
Major: Sociology (1996), Unknown (1995), Business Law (1994), Unknown (1993)
Weight: 190 (1996), 185 (1995), 181 (1994), 180 (1993)
1996: Named to a first-team berth on the Walter Camp, Football Coaches, Sporting News and Football News All-America teams … selected by the conference head coaches as the Big Ten Defensive Player of the Year … finished the season with 39 tackles and a team-high 15 passes broken up … played brilliantly all year long and was particularly outstanding in the Rose Bowl, limiting Arizona State standout Keith Poole to one catch for 10 yards … had five tackles and four passes broken up against ASU … most teams simply chose not to test him … also returned 17 punts for 190 yards, and ran back kicks … charged week-in and week-out with shutting down the other team's best receiver, and always responded to the challenge … left OSU after his junior year and was the third player taken in the NFL draft.
1996 Media Guide: One of the most talented all-around defensive backs in college football and a leading candidate for postseason honors in 1996, including the Thorpe Award as the top DB in the nation … won first-team all-Big Ten honors last year and has been named to several preseason All-America teams heading into the current season … will be in his third year as a starter … played the boundary in 1994, but was moved to the open side last year to take better advantage of his coverage ability … responded by leading the team in interceptions with five, including a spectacular one-handed theft at Michigan … also had a key interception and a season-high eight tackles in the win over Notre Dame … finished the season with 52 tackles … also returns punts and kickoffs … scored two touchdowns last year the first on a 97-vard kickoff return against Boston College. and the second on a 60-yard interception return against Iowa… suffered a badly sprained left ankle at Penn State, but played the following week at Wisconsin and then sat out the Purdue game the next week … fractured his left scapula on the opening series of the Tennessee game and missed the rest of that contest … was held out of contact drills in the spring, but will be 100 percent in the fall … an outstanding student, who has been named to the Big Ten's All-Academic team each of the past two years … timed at 4.4 in the forty and has a 38-inch vertical leap.
1995 Media Guide: A third-year sophomore who started for the first time last year and led the team in playing time with 351 minutes … played the boundary side in 1994, but will move to field corner this fall … had 61 tackles last season and tied for the team lead in passes broken up with seven … also had three tackles for loss, a sack and an interception … one of the most talented one-on-one defenders at OSU in many years … by mid-season last year most teams were throwing away from him … timed at 4.40 in the forty, has a 38-inch vertical leap and bench presses 350 pounds … will also return punts.
1994 Media Guide: Redshirt freshman who is expected to take over the starting boundary corner spot vacated by the departure of senior Timmy Walton … tremendously talented young player, who can run, cover, hit and has a great nose for the ball … constantly attracted attention with his play in practice last fall and was even better in the spring … has a chance to be something special … should be fun to watch develop this year and down the road … Jack Tatum in 1968 was the last defensive back to generate so much interest at OSU.
High School: Rushed for 713 yards and 14 touchdowns as a senior tailback and was also a standout defensive back who made 81 stops, had two interceptions and 29 passes broken up … an excellent receiver out of the backfield … earned All-America honors on defense from SuperPrep magazine and was an all-state selection … rushed for over 600 yards as a junior … team was 7-3 last season and won the state tithe his sophomore year with a 12-1 record … also a standout in track who participated in the sprints, relays and long jump.
Personal: The son of former Ohio State running back Ron Springs, who rushed for 2,140 yards from 1976-78 and was a co-captain his senior season … Ron played professionally for Dallas and became running backs coach at Howard University in 1991 … high school coach was John Haberman … earned the Rodney P. Savoy and Jesse Owens student-athlete awards … admires Deion Sanders and Michael Jordan … has not chosen an area of study … … hobbies include collecting playing cards of the top defensive backs (a Deion Sanders card is his favorite).
Defense
| Season | Team | G | GS | Tkl | Solo | Asst | TFL | TFL Yds | Sacks | Sack Yds | FF | FR | Int | Int Yds | PBU | Def TD | KR | KR Yds | KR TD | PR | FC | PR Yds | PR TD |
| --- | --- | --- | --- | --- | --- | --- | --- | --- | --- | --- | --- | --- | --- | --- | --- | --- | --- | --- | --- | --- | --- | --- | --- |
| 1994 | Ohio State | 13 | 13 | 58 | 39 | 19 | 3 | 24 | 1 | 12 | 0 | 0 | 1 | 0 | 5 | 0 | 7 | 161 | 0 | 3 | 0 | 22 | 0 |
| 1995 | Ohio State | 12 | 12 | 50 | 38 | 12 | 2 | 2 | 0 | 0 | 0 | 0 | 5 | 60 | 2 | 1 | 10 | 261 | 1 | 3 | 0 | 45 | 0 |
| 1996 | Ohio State | 12 | 12 | 36 | 28 | 8 | 0 | 0 | 0 | 0 | 0 | 2 | 0 | 0 | 14 | 0 | 2 | 48 | 0 | 17 | 0 | 190 | 0 |
| Total | - | 37 | 37 | 144 | 105 | 39 | 5 | 26 | 1 | 12 | 0 | 2 | 6 | 60 | 21 | 1 | 19 | 470 | 1 | 23 | 0 | 257 | 0 |