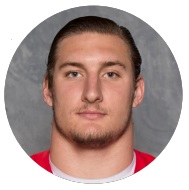 Nationality

United States

Position

DE

Height

6'5"

Weight

275

Birthday

7/11/1995

Hometown

Fort Lauderdale, FL

High School

St. Thomas Aquinas

Past Teams

Ohio State

Seasons

2013, 2014, 2015
Major: Communications (2015), Undeclared (2014)
Weight: 275 (2015), 285 (2014), 270 (2013)
2015 Media Guide: Joey Bosa enters his junior campaign highly regarded, one of the best players in the country and a contender for all of the major awards in 2015 after being a finalist for three last year … physically imposing and exceptionally talented, Bosa is the 27th unanimous All-American in school history as all five of the major All-American teams – Associated Press, the Walter Camp Football Foundation, the American Football Coaches Association, Football Writers Association of America and The Sporting News – named him to their first team in 2014 … he was also named the Big Ten Conference's defensive player of the year and its defensive lineman of the year to join Buckeye greats John Simon (2012), Will Smith (2003) and Dan Wilkinson (1993) as OSU defensive linemen to earn both awards in the same season … Bosa is a 25-game starter who is already 14th at Ohio State in career
tackles-for-loss (34.5), ninth in TFL yards (187), seventh in quarterback sacks (21.0) and sixth in QB sack yards (154) … has 99 career tackles, four forced fumbles and two fumble recoveries, both for touchdowns (vs. Northwestern in 2013 and vs. Wisconsin in 2014) … his FFs and FRs have led to 44 Ohio State points the past two seasons … humble and low-key, yet he had fun exchanging "shrugs" with President Obama during the team's White House visit in April.
2014:  Dominant play and spectacular plays earned Bosa unanimous All-America honors, distinction as the Big Ten's Nagurski-Woodson Defensive Player of the Year and its Smith-Brown Defensive Lineman of the Year, and "finalist" honors by three of the major national awards: the Rotary Lombardi Award, the Outland Trophy and the Ted Hendricks Award … he led the Big Ten in tackles-for-loss (21.0 for 116 yards in losses), quarterback sacks (13.5) and "shrugs" … ranked 14th nationally in TFLs and 10th in sacks … tied an Ohio State record held by linebackers Ryan Shazier and Andy Katzenmoyer with a TFL in 14 consecutive games … recorded possibly the first "walk-off" sack in the history of the game – has there been another one? – when he overpowered a Penn State back on a fourth-and-5 play in the second overtime, knocking him backward and toppling quarterback Christian Hackenberg for a game-ending sack to clinch Ohio State's 31-24 double overtime victory … it was part of a six-tackle and 2.5-sack game for Bosa, who was named Athlon's national defensive player of the week as well as the Big Ten's defensive player of the week for his efforts … had sacks in five consecutive games at one point and multi-sack games six times … had a personal best 3.0 TFLs vs. Illinois … tied for Big Ten lead with four forced fumbles which, coupled with his fumble recovery in the Big Ten title game vs. Wisconsin, led directly or indirectly, but mostly directly, to 37 Ohio State points.
2014 Media Guide: Joey Bosa is a physical and talented performer who started 10 times as a true freshman in 2013 … he was named a freshman All-American by The Sporting News and College Football News … he registered 44 tackles for the Buckeyes, including 13.5 tackles-for-losses totaling 71 yards … he ranked third on the team in TFLs and quarterback sacks (7.5), and he had a team-high total of six quarterback hurries … he ranked sixth in the Big Ten in sacks and 11th in TFLs … he was tied for third (with teammate Noah Spence) with 5.5 quarterback sacks in Big Ten Conference games … Bosa was named the Big Ten freshman of the week after his two-quarterback sack (-14 yards) game vs. Northwestern that included his recovering a fumble for a touchdown in the end zone on the last play of the game (a 40-30 Ohio State win) … he had two TFLs, including a quarterback sack, and three quarterback pressures in the loss to Michigan State in the Big Ten championship game … named honorable mention all-Big Ten Conference … enters the 2014 season with at least one tackle-for loss in six consecutive games (9.5 total TFLs in that time; -55 yards) and with at least one quarterback sack in five consecutive games.
2013 Media Guide: Joey Bosa is one of the premier football prospects in the Class of 2013 with impressive national rankings of No. 38 (Scout), No. 47 (Rivals), No. 56 (ESPN) and No. 53 (247Sports) … a Scout five-start prospect, Bosa earned the No. 4 overall ranking at his position – strong side defensive end – by both Scout and Rivals … an Under Armour All-American and second-team all-USA Today pick.
High School: The leader of a St. Thomas Aquinas defense that allowed approximately 12 points a game … Aquinas defeated Tallahassee Lincoln, 41-25, to cap a 13-2 season and win the Florida Class 7A state championship in 2012, the school's seventh state title and first for second-year coach Rocco Casullo … a two-time Associated Press first-team all-state selection, Bosa totaled 51 tackles-for-loss
in his last two seasons and 19 quarterback sacks, including 27 TFLs and 9.5 sacks as a senior.
Personal: Father, John, was a first-round NFL Draft pick by the Miami Dolphins in 1987 out of Boston College and played three years in the league … Mom, Cheryl, is an Ohio State graduate and an uncle, Eric Kumerow, was a star linebacker for the Buckeyes between 1984-87 and a 1987 co-captain.
Defense
| Season | Team | G | GS | Tkl | Solo | Asst | TFL | TFL Yds | Sacks | Sack Yds | FF | FR | Int | Int Yds | PBU | Blk | Def TD |
| --- | --- | --- | --- | --- | --- | --- | --- | --- | --- | --- | --- | --- | --- | --- | --- | --- | --- |
| 2013 | Ohio State | 14 | 10 | 44 | 29 | 15 | 13.5 | 71 | 7.5 | 58 | 0 | 1 | 0 | 0 | 1 | 0 | 0 |
| 2014 | Ohio State | 15 | 15 | 55 | 39 | 16 | 21.0 | 116 | 13.5 | 96 | 4 | 1 | 0 | 0 | 1 | 0 | 0 |
| Total | - | 29 | 25 | 99 | 68 | 31 | 34.5 | 187 | 21 | 154 | 4 | 2 | 0 | 0 | 2 | 0 | 0 |