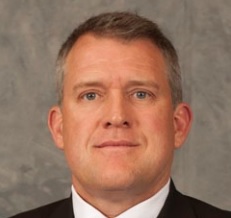 Nationality

United States

Past Teams

Ohio State
College: Mount Union, 1984 (BS), Akron, 1985 (MS)
OSU Coaching History:
2015: Offensive Coordinator / Offensive Line
2012-14: Co-Offensive Coordinator / Offensive Line
2015 Media Guide: Ed Warinner was promoted to offensive coordinator by Ohio State coach Urban Meyer in January 2015.
"Ed Warinner is certainly deserving, experienced and well-qualified for the offensive coordinator position," Meyer said. "I'm pleased to be able to promote from within our program and I believe he is going to be an excellent coordinator for us."
Warinner, co-offensive coordinator the past three years in addition to his offensive line duties, has been instrumental in Ohio State's record-setting offenses that have set dozens of school and Big Ten records, including season marks – twice – for points (672 in 2014 after scoring 637 in 2013) and touchdowns (90 in 2014 after 87 in 2013), a Big Ten record for rushing yards (4,321 in 2013) and school records for passing yards (3,707 in 2014) and passing touchdowns (42 in 2014).
Ohio State has averaged 37.2, 45.5 and 44.8 points per game the past three seasons and the team's
offense has been among the best in the nation each year. Behind an offensive line coached by Warinner that has produced four NFL players in the last three seasons, including three rookie starters in 2014 – Corey Linsley for Green Bay; Jack Mewhort with Indianapolis; and Andrew Norwell at Carolina – the Buckeyes have ranked in the Top 10 nationally in rushing in each of the past three seasons.
2014 Media Guide:  Ed Warinner has worked with four offenses that have led the nation in rushing. And he has helped Ohio State to average 37.2 and 45.5 points per game the last two seasons with an offense that has been among the best in the nation each year. In 2013 Ohio State ranked third nationally in scoring and fifth nationally in rushing (308.6 yards per game). And in 2012 the Buckeyes ranked 10th nationally in rushing (242.2) and 21st in scoring.
The efforts of Warinner's offensive line are the foundation of some impressive rushing stats the last two seasons as well: Ohio State has had 10 300-plus rushing games (and two 400-yard games) in the last 26 games. The team broke the previous per carry record for a season by over a yard with a 6.8 yards-per-carry average last season. And the Buckeyes have scored 82 rushing touchdowns.
2012 Media Guide: Ohio native and coaching veteran Ed Warinner, who has worked with four offenses during his career that have led the nation in rushing, is in his first season as Ohio State's co-offensive
coordinator and offensive line coach. Warinner will coordinate the Buckeyes' running game in this position.
Warinner, the offensive line coach the past two years at Notre Dame and who had the added responsibility of run game coordinator this past season, will coach his 29th collegiate season in 2012. He was a finalist this past season for the FootballScoop Offensive Line Coach of the Year. He has nine years of experience in a coordinator position, including three years as offensive coordinator at Kansas when the Jayhawks averaged 445.5 total yards per game and 35.3 points during that three-year period.
"I really wanted to hire a coach with coordinator experience," Ohio State head coach Urban Meyer said. "That was very important to me. Ed has that experience. His offenses at Kansas were not only impressive, but they were some of the top offenses in the country."
Warinner has coached at seven different schools: Akron, Michigan State, Army, Air Force, Kansas, Illinois and Notre Dame. In addition to his nine years in coordinator positions, he has spent 15 of the past 20 seasons coaching the offensive line. Earlier this season Rivals.com named Warinner one of the Top 20 "hottest assistant coaches" in the nation.
After opening his coaching career in 1984 at Akron (running backs), Warinner was linebackers and secondary coach at Michigan State in 1985-86.
Then came a 13-year run at Army, a period when he coached along the offensive line for seven years and became a coordinator – offensive – for the first time (1998-99). While Warinner was at Army the Cadets led the nation in rushing three times.
He left Army to join Fisher DeBerry's staff at Air Force. He spent three years there as the offensive line coach and the Falcons led the nation in rushing in 2002 (307.8 yards per game).
The first of two terms at Kansas – 2003-04 – ensued for Warinner, working as offensive line coach/run game coordinator, before a two-year run with Illinois in the same capacity. In his second season with the Illini, his rushing attack netted 188.3 yards per game which was the best by an Illinois team since 1973.
Warinner's talents as an offensive coordinator then took center stage from 2007-09 while at Kansas. The Jayhawks posted the three best offenses in terms of total yards and passing yards in those years and also had three of the top seven scoring seasons in school history as well.
His 2007 Jayhawks were the nation's second-highest scoring team (42.8 points per game) and set a school record by averaging 479.8 yards per game, two huge reasons that Kansas went 12-1 that year with a 24-21 FedEx Orange Bowl victory over Virginia Tech.
The 2008 Jayhawks averaged 432.4 yards and 33.4 points per game, respectively, and his final Jayhawk offense averaged 422.4 offensive yards, including a school-record 310.3 passing yards. Warinner was a finalist for the American Football Coaches Association's National Assistant Coach of the Year award following the 2009 campaign.
He then joined Kelly's staff at Notre Dame, where he helped the Irish to consecutive bowl games the past two years; the 2010 Hyundai Sun Bowl and the 2011 Champs Sports Bowl. In 2010 Notre Dame had its best per carry rushing average since 2003 (4.0), a figure that improved to 4.8 in 2011. The Irish offensive line allowed just 17 sacks this past season and only 20 in 2010.
Warinner was a football and baseball letterman at Mount Union from 1979-83. He has a bachelor's degree in physical education from Mount Union (1984) and a master's in education from Akron (1985). He and his wife, Mary Beth, have three children: daughters Madisyn and Merideth, and a son, Edward.