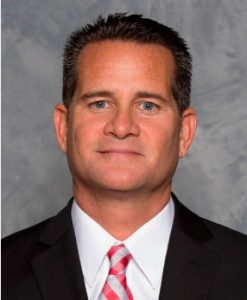 Nationality

United States

Past Teams

Ohio State
College: Central Florida B.S. (1988) / Kansas State M.S. (1992)
OSU Coaching History:
2015: Co-Offensive Coordinator / Quarterbacks
2015 Media Guide: Tim Beck, offensive coordinator and quarterbacks coach at Nebraska the past four years, joined the Ohio State coaching staff in early January 2015 as co-offensive coordinator/
quarterbacks coach. Beck has a 26-year coaching resume that includes 16 seasons in the collegiate ranks and another 10 seasons in high school coaching, including nine years as a high school head coach.
"I have known Tim for several years and have also watched and competed against him," Ohio State coach Urban Meyer said. "I have always respected his knowledge of the game and he is respected in the profession. I always look for coordinators and co-coordinators who will mesh with our staff, our style and can make us better. I believe Tim will do just that."
"I am extremely excited to be joining the Ohio State coaching staff," Beck said. "It's quite an honor, being an Ohio guy and growing up here and now having the opportunity to work at The Ohio State University.
Words can't explain it. I'm just really excited and I'm looking forward to working with coach Meyer, and to
learn from him and to help the coaches there continue with the successes they have already started."
Beck's Nebraska offenses the past four years (2011-14) have ranked fifth, first, sixth and fourth in the Big Ten Conference, respectively, and his passing attack has amassed more than 10,000 yards during that time with 86 touchdowns. Beck directed Nebraska's passing to two of the Top 6 single season totals in school history and he has coached two of the four Nebraska quarterbacks who have topped 3,000 yards of total offense in a single season.
During this time, quarterback Taylor Martinez developed into a record-setting quarterback for the Cornhuskers and was the league coaches' choice as the all-Big Ten Conference quarterback following the 2012 regular season. Nebraska players broke more than 50 individual records in Beck's four seasons running the offense and the quarterbacks, including:
• Career passing yards;
• Career passing completions;
• Career passing touchdowns;
• Career yards from scrimmage; and
• Career total offense.
A two-time nominee for the Broyles Award as the nation's top assistant coach (2012 and 2013), Beck has worked on the Nebraska staff, under Bo Pelini, for the past seven years. His first three seasons there he was the Cornhuskers' running backs coach. Nebraska never won fewer than nine games during his seven seasons on staff, advanced to the 2012 Big Ten title game and played in seven bowl games. The Cornhuskers played in the Big 12 championship game in 2010 and the Big Ten championship game in 2012.
Another Ohio native on the Buckeye staff, Beck is a graduate of Cardinal Mooney High School which has produced no less than five major college head coaches recently, including Bob Stoops (Oklahoma), Bo Pelini (former Nebraska coach now at Youngstown State), Mark Stoops (Kentucky), Mike Stoops (former Arizona coach now at Oklahoma) and Carl Pelini (former Florida Atlantic coach).
After graduating from Mooney, Beck played one year of football at Central Florida (1985) and he graduated from there in 1988 with a degree in liberal studies. He also has a master's in counseling and guidance from Kansas State University (1992).
Beck started his coaching career as an assistant coach at Miramar (Fla.) High School for the 1988 and
1989 seasons and then moved to Illinois State as outside linebackers and punters coach in 1990.
He then spent two seasons on Bill Snyder's Kansas State staff (1991-92) as a graduate assistant.
Beck was a high school head coach in nine of the next 12 seasons, positions that were sandwiched
around a three-year stay at Missouri State where he was offensive coordinator between 1996-98. He was head coach at Saguaro H.S., in Scottsdale, Ariz., from 1993-95; at R.L. Turner High School in Carrollton, Texas from 1999-2001, and at Mansfield (Texas) Summit H.S. from 2002-04.
His high school accomplishments included leading Summit to the state playoffs, Carrollton to back-to-back playoff appearances for the first time in 35 years, and Saguaro to the 1995 4A state championship. He was the 2003 Dallas Fort Worth District coach of the year while at Summit and the 2000 district coach of the year while at Turner.
Beck then moved on to the University of Kansas. He was the Jayhawks' receivers coach each of his
three seasons in Lawrence, and he was promoted to pass game coordinator in February of 2007 where
he worked under current Ohio State co-offensive coordinator/offensive line coach Ed Warinner. Kansas
finished second nationally in scoring offense in 2007 (42.8 ppg), eighth in total offense (479.8 ypg) and
17th in passing (291.0 ypg) and went 12-1 with a 24-21 victory over Virginia Tech in the Fed Ex Orange
Bowl and a final national ranking of No. 7.
In 2008, Beck was hired at Nebraska.
Beck and his wife, Tamara, have two children: a son, Jordan, and a daughter, Haylie Marie. Beck has
family throughout Ohio: parents in Hudson; a sister in Macedonia; a brother in Youngstown; and aunts,
uncles, nieces and nephews scattered around the state.