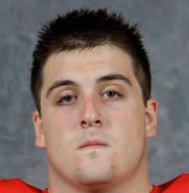 Nationality

United States

Position

C, OG

Hometown

Youngstown, OH

High School

Boardman

Height

6'4"

Weight

292

Past Teams

Ohio State

Seasons

2009, 2010, 2011, 2012
Major: Economics (2012), Pre-Medicine (2010-11)
Weight: 292 (2012), 310 (2011), 298 (2010), 275 (2009)
2012 Media Guide: Corey, a fourth year junior who has earned two varsity letters, is in line to make a significant impact on the line of scrimmage in 2011 … a reserve at multiple line positions that last two years, he pushed and prided himself to get better through winter workouts and it paid off as he ultimately took control of the center position this spring with the departure of All-American and 49-game starter Mike Brewster … he came out of those drills solidly as the team's starting center and someone Coach Urban Meyer cited as being one of the most improved players on the team … consistently recognized as one of the strongest players on the team, Corey benches over 500 pounds … he has played in 16 games, mostly as a reserve right guard or tackle … he saw limited action in 2010 (six games) and came back to appear in 10 games in 2011 for the Buckeyes.
2011 Media Guide: Worked this spring at both center and right guard.
2010: Backed up Mike Brewster at center … first-year letterman.
2010 Media Guide: Explosive offensive lineman with impressive ability … will work this spring at right guard behind veteran Bryant Browning.
2009: Redshirted for the Rose Bowl and Big Ten champions.
High School: Explosive offensive lineman with impressive ability … team captain for Coach D.J.
Ogilvie's Spartans … first team all-Federal League, all-NEO … second team all-Ohio … Big 33 team … Super Prep Midwest Top 30 … Rivals 250 … also the regional and league champion and a state medalist in shot put.
Personal: son of Laurie and James Linsley.