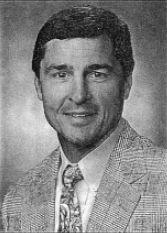 Nationality

United States

Past Teams

Ohio State
College: Pacific, 1968
OSU Coaching History:
1995-96: Quarterbacks Coach
1996 Media Guide: Walt Harris is in his second year as quarterbacks couch at Ohio State. Last year, Harris was the mastermind behind an electrifying OSU passing game that enabled senior quarterback Bobby Hoying to throw for a school-record 3,269 yards and 29 touchdowns.
1995 Media Guide: Walt Harris is in his first year as quarterbacks coach at Ohio State, but the highly respected Harris is certainly no stranger to the quarterback position.
Harms, who joined the OSU staff on March 1, has an extensive background that includes spending the past three years as quarterbacks coach tor the New York Jets. Additionally, the 48-year-old
Harris has been assistant head coach and offensive coordinator at 'Tennessee, quarterbacks coach at Illinois, linebackers coach at Michigan State and Cal and head couch at Pacific.
During his career. Harris has helped develop a number of college quarterbacks who would later go on to become starters in the National Football League. Those players include Tony Eason, Dave Wilson and Jack Trudeau, all of whom played for Harris at Illinois. For the past two years, he played a key role in the resurgence of Jets signal caller Boomer Esiason.
Born in Modesto, but raised in South San Francisco, Harris graduated from Pacific in 1968 and received his master's from UOP a year later. While at Pacific, he played defensive back under Buddy Ryan, who was defensive coordinator at the time.
After coaching high school ball at El Camino High School and serving as a graduate assistant at Pacific, Harris became Pacific's secondary coach in 1970. In that role. the first player he recruited was Pete Carroll, who would later become head coach of the Jets.
Harris left Pacific after the 1973 season to become linebackers couch at Cal. He spent four years there (1974-77) before moving to Michigan State in 1978.
Harris took over the Illinois quarterbacks in 1980. He left the Big Ten after the 1982 season to become assistant head coach and offensive coordinator at Tennessee. During his six years with the Vols (1983-88), Tennessee won four of five bowl appearances.
Harris returned to his alma mater in 1989 as head coach. In 1991, Pacific ranked second nationally in total offense (511.3 yards per game) and third nationally in passing offense (342.9 yards per game).
Following the 1991 season, he went to work for Bruce Coslet and then Carroll, both with the Jets.
Walt and his wife, Nancy, have two children: Scott (13) and Summer (12).