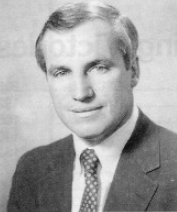 Nationality

United States

Past Teams

Ohio State
OSU Coaching History:
1984: Defensive Backs Coach
1986-87: Defensive Coordinator
1990: Inside Linebackers Coach
1990 Media Guide: Gary Blackney is in his seventh year as a member of the Ohio State football staff. He coaches the inside linebackers.
Blackney joined the Buckeye staff in 1984 as defensive backfield coach. From 1985 through 1987, he served as defensive coordinator. His 1986 defense led the Big Ten in scoring defense and was fourth nationally in turnover margin.
Blackney is a 1967 graduate of Connecticut, where he was an Academic All-American. He began his coaching career at UConn in 1967, remaining there until 1970 when he became defensive coordinator at Brown. During his stay at Brown (1970-72) he also coached the defensive backs.
Blackney moved to Rhode Island in 1973 as coach of the quarterbacks and running backs. He stayed there two years, leaving in 1975 to join the staff at the University of Wisconsin. He spent three years with the Badgers (1975-77), the first two coaching the secondary and the third as defensive coordinator.
Blackney's next move was to the Pac-10, where he coached the UCLA secondary in 1978 and '79. He left UCLA in 1980 to return to his native New York as the secondary coach at Syracuse, where he also served as recruiting coordinator. He came to Ohio State in 1984.
Gary and his wife, Lauretta, have four children, Deborah, David, Kyle and Gary Jr.