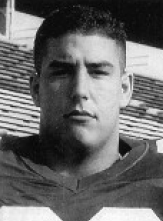 Nationality

United States

Position

NG, DE

Height

6'4"

Weight

260

Birthday

8/18/1973

Hometown

Westerville, OH

High School

Westerville

Past Teams

Ohio State

Seasons

1992, 1993, 1994, 1995, 1996
Pronunciation: FICK-uhl
As a Player:
Major: Optometry (1995-96), Pre-Med (1994), Unknown (1992-93)
Weight: 270 (1996), 260 (1994-95), 255 (1992-93)
1996: Started all 12 games, stretching his string of consecutive starts to a school record 50 … started the Rose Bowl (and played the entire game) even though he completely tore the pectoral muscle in his left shoulder four days before the game … was a rock in the middle and one of the unsung heroes on one of the best defenses in Ohio State history … finished the season with 50 tackles — eighth on the team … tackle total included eight tackles for loss and two sacks … eight tackles against Wisconsin and seven against Michigan were his top games.
1996 Media Guide: Will be in his fourth vear as the Buckeyes" starting nose guard … has started 38 consecutive games and has 39 career starts to his credit … assuming he is able to stay healthy and start every game this year, his 51 starts will be a school record … named to a second-team spot on the all-Big Ten team last your and will be in the running for postseason honors again this year … a solid, dependable football player who has been overshadowed by the likes of Dan Wilkinson, Matt Finkes and Mike Vrabel throughout his career … is the classic "Blue Collar" type of player who always gives it his all and enjoys battling it out in the trenches, even though he is constantly double teamed … finished the 1995 campaign with a career-high 61 tackles, including 36 solos (also a career best) … totals included nine tackles for loss (third on the team) and a sack … three of those tackles for loss (and the sack) came against Indiana … recorded a season-best 10 tackles against Notre Dame and had eight stops against both Boston College and Illinois … selected by the OSU coaching staff as Defensive Player of the Week following the Notre Dame, Wisconsin and Illinois games … had five tackles and a fumble caused at Penn State.
1995 Media Guide: Will be in his third year as the starter at nose guard … tough, dependable performer, whose steady play in the middle allows the OSU linebackers the freedom to roam from side to side and make plays … finished last year with a career high 52 tackles, including five tackles for loss and two sacks … also credited with six passes broken up (second on the team behind
cornerback Shawn Springs) … made probably the biggest play of the 1994 season in the fourth quarter of the Michigan game, blocking a pass at the line of scrimmage and then intercepting it to set up Ohio State's final touchdown in a 22-6 victory … seven tackles against both Fresno State and Michigan State were his top efforts in 1994 … also recorded six stops against Wisconsin … strong player with excellent footwork and leverage.
1994 Media Guide: Will be in his second year as a starter at nose guard … entered last fall as one of three candidates to succeed all-Big Ten performer Greg Smith, and won the starting job with his steady play … started all 12 games and was in on 46 tackles, including four for losses … Was named to a first-team berth on the Football News Freshman All-America Team … blue collar football player who just keeps coming after you … has the size, strength and determination necessary to fight off the double team … also possesses excellent footwork and pets great leverage … both of the latter qualities are carry overs from his high school wrestling days, when he won three state heavyweight titles at DeSales and was considered one of the top prep wrestlers in the country … seemed to improve with each game last year and should have an excellent sophomore campaign in 1994.
1993 Media Guide: Another of the contenders for the vacant nose guard spot … will see a lot of action, cither as a starter or key reserve … tough, intelligent player with a good work ethic …
moved from tackle to nose guard in the spring and appears to be well suited for the latter because of his excellent leverage, balance and agility … played six minutes and had three tackles in the season opener with Louisville last year, but suffered a knee injury the following Monday and missed the rest of the season after undergoing surgery… coaches would like to see him add 10 pounds for additional strength … coming off a good spring.
1992 Media Guide: The Ohio Division III Lineman of the Year and a first team all-state selection on defense … also named honorable mention All-American by USA Today and Street & Smith's … The Columbus Dispatch/Agonis Club Central Ohio Co-Lineman of the Year along with Buckeye freshman Jayson Gwinn … had 76 tackles, 10 quarterback sacks and caused four fumbles as a senior … played tight end most of his career on offense but saw extensive time at center as a senior … earned all-state honors on offense as a junior … helped team go 11-3 as a junior and finish as state runner-up, and 9-4 in 1991 and advance to the state playoff semi-finals … also a standout wrestler who won state titles as a sophomore, junior and senior, going undefeated all three seasons … a two-time Junior National freestyle wrestling champ … high school coach was Bob Jacoby … a four-year honor student … hopes to major in pre-medicine … born 8-18-73.
As a coach:
OSU Coaching History:
2012-15: Defensive Coordinator / Linebackers
2011: Head Coach
2005-10: Co-Defensive Coordinator / Linebackers
2004: Linebackers coach
2002-03: Special Teams Coordinator
2015 Media Guide: Last season the Buckeyes cracked the Top 20 in total defense behind a unit that continued to improve each week until, by season's end, it had returned to its "silver bullets" status. The unit recorded the first shutout in Power Five conference history in a conference championship game during a 59-0 victory over Wisconsin. The team limited Heisman Trophy finalist Melvin Gordon to 2.9
yards per carry with a long run of 13 yards and the team to just 258 total yards.
In the College Football Playoff semifinal win over No. 1 Alabama, the defense forced seven Alabama punts and had three interceptions in the last 18 minutes of the game.
And finally, in the national championship game vs. Oregon and Heisman Trophy-winning quarterback
Marcus Mariota, the defense held the Ducks 100 yards below its total offense average and allowed just 10 points off four Ohio State turnovers.
2012 Media Guide: Luke Fickell will coach his 11th season at his alma mater in 2012 in the position of defensive coordinator and linebackers coach. Ohio State head coach Urban Meyer announced Nov. 28,
2011 – the day he was hired – that Fickell would be a part of his Ohio State coaching staff.
Fickell was the team's head coach in 2011, a position he accepted on May 30, 2011 without demands, without questions and without any prior head coaching experience. He was asked to step forward and take over a program in need of a steadying influence, and he was just that through a 6-6 regular season and a season-ending 24-17 loss to Florida in the TaxSlayer.com Gator Bowl.
"Coach Fick" was much more than a just a steadying influence, though. He was an accomplished leader through one of the most difficult times in Ohio State athletics history. He kept the team focused on the controllable – always – and despite 53 games missed by starters, the constant molding of two first-year quarterbacks, and inexperience and youth up and down the lineup, he had the Buckeyes in control of their Big Ten championship destiny until the last three weeks of the season.
2011 Media Guide: On May 30, 2011, Luke Fickell was promoted to the position of head coach of the Ohio State football team. The team's former assistant head coach, co-defensive coordinator and linebackers coach thus becomes the 23rd head coach in 121 years of Buckeye football. Fickell is only
the fifth Ohio State head coach in the last 60 years, after Woody Hayes (28 seasons; 1951-78), Earle Bruce (nine seasons; 1979-87), John Cooper (13 seasons; 1988-2000) and Jim Tressel (10 seasons; 2001-10).
"We look forward to refocusing the football program on doing what we do best – representing this extraordinary University and its values on the field, in the classroom, and in life," Director of Athletics Gene Smith said in naming Fickell to the position. "We look forward to supporting Luke Fickell in his role as our football coach. We have full confidence in his ability to lead our football program."
The 2011 season will be Fickell's 10th on the Ohio State football staff. Prior to Fickell's appointment to head coach he was promoted to assistant head coach in March 2011. He also coached the Buckeye linebackers and served as co-defensive coordinator. He was named to the latter position in April 2005. In that role, he was actively involved in game planning and strategy.
2004 Media Guide: Luke Fickell is in his third year on the Ohio State coaching staff. After serving as special teams coordinator his first two years and also assisting with the defensive front last year, he moves to linebacker coach in 2004 as the successor to Mark Snyder who has been elevated to defensive coordinator for the Buckeyes.
2003 Media Guide: Luke Fickell is the newest member of the Ohio State football coaching staff. The 27-year-old Fickell, who joined Jim Tressel's staff in April of 2002, serves as the Buckeyes' special teams coordinator and assists defensive line coach Jim Heacock in tutoring the Buckeyes' front four.
Fickell took over the duties vacated by Ken Conatser, who resigned following the 2001 season to accept a coaching position at the University of Kansas.
Two of Fickell's proteges in 2002, punter Andy Groom and kicker Mike Nugent, won first-team All-America honors. Nugent is the first Buckeye place-kicker to win first-team All-America recognition. Last year also marks the first time that Ohio State has had a first-team All-America punter and place-kicker in the same year.
Fickell came to Ohio State from the University of Akron where he spent two years as defensive line coach for Lee Owens, himself a former Ohio State assistant coach.
Defense
| Season | Team | G | GS | Tkl | Solo | Asst | TFL | TFL Yds | Sacks | Sack Yds | FF | FR | Int | Int Yds | PBU | Blk |
| --- | --- | --- | --- | --- | --- | --- | --- | --- | --- | --- | --- | --- | --- | --- | --- | --- |
| 1992 | Ohio State | 1 | 0 | 3 | 0 | 3 | 0 | 0 | 0 | 0 | 0 | 0 | 0 | 0 | 0 | 0 |
| 1993 | Ohio State | 12 | 10 | 46 | 27 | 19 | 4 | 18 | 1 | 10 | 0 | 1 | 0 | 0 | 2 | 0 |
| 1994 | Ohio State | 13 | 13 | 48 | 28 | 20 | 5 | 9 | 2 | 5 | 0 | 0 | 1 | 13 | 6 | 0 |
| 1995 | Ohio State | 13 | 13 | 61 | 36 | 25 | 9 | 30 | 1 | 10 | 1 | 0 | 1 | 0 | 4 | 0 |
| 1996 | Ohio State | 12 | 12 | 48 | 30 | 18 | 8 | 28 | 2 | 13 | 0 | 0 | 0 | 0 | 1 | 1 |
| Total | - | 51 | 48 | 206 | 121 | 85 | 26 | 85 | 6 | 38 | 1 | 1 | 2 | 13 | 13 | 1 |