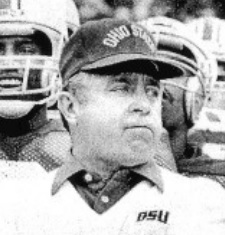 Nationality

United States

Past Teams

Ohio State
OSU Coaching History:
1979-87: Head Coach
1987 Media Guide: Earl Bruce is in his ninth year as head football coach at Ohio State. His overall record of 75-22 is the best in the Big Ten during the past eight seasons, both in terms of number of victories and in winning percentage. Earle had led Ohio State to four Big Ten championships and all eight of his Buckeye teams have played in bowl games.
Ohio State and Nebraska are the only Division I schools in the nation to win nine or more games each of the past eight years, a tribute to the success and consistency of the two coaches, Earle Bruce and Tom Osborne.
Each of Earle's Ohio State teams has had a powerful offense, characterized by an unusual balance between running and passing. Over the eight seasons, his Ohio State teams have averaged over 31 points per game and five of his teams have led the Big Ten in scoring.
As coach of the Buckeyes, Earle has coached eight first team All-Americans and 49 Ohio State players who have won all-Big Ten honors.
Bruce's players have enjoyed unusual success in the classroom as well. Since he has been coach, Ohio State has had 25 players named to the Big Ten all-Academic team and there have been seven first-team Academic All-American selections. In four consecutive years, Ohio State has had a player win the prestigious National Football Foundation and Hall of Fame Scholarship, awarded annually to the 11 top student-athletes in college football. In 1985, Ohio State's Mike Lanese was chosen to be a Rhodes Scholar, perhaps the top academic honor that can be won by a college student, irrespective of athletics.
Bruce was born in Pittsburgh and grew up in Cumberland, Maryland. An outstanding high school football player, he enrolled at Ohio State in the fall of 1949. A knee injury ended his football playing career. At this point, he turned to coaching at the urging of his college mentor, Woody Hayes.
Bruce graduated from Ohio State in 1953 and began his coaching career the following fall as an assistant at Mansfield High School.
Bruce's first head coaching opportunity came in 1956 at Salem High School. He spent four years there, four at Sandusky and two at Massillon in a ten-year stint that saw him win Ohio High School Coach of the Year honors three times. His combined record at those three schools was 82-12-3, including a 20-0 mark at Massillon, and he closed out his prep career with a 42-game winning streak.
Bruce returned to his alma mater in 1966 as an assistant to Hayes. He spent a total of six years with the Buckeyes, the first two as coach of the secondary and the last four as offensive line coach. During that time OSU won three Big Ten titles, a national championship, played in two Rose Bowls and won 43 of 57 games.
In 1972, Bruce departed for the University of Tampa. He spent one year at the Florida school, notching a 10-2 mark and directing Tampa to a win in the Tangerine Bowl.
Bruce went to Iowa State in 1973, inheriting a program that had enjoyed just two winning seasons in ten years. Bruce's first three teams all finished with 4-7 marks, but his next three had winning seasons with eight victories each year. His Iowa State teams went to bowl games the last two years. Bruce twice was named Big Eight Coach of the Year with the Cyclones.
After directing Iowa State to the Peach Bowl in 1978, Bruce returned to Ohio State in 1979, succeeding the man he had both played for and coached under, Woody Hayes.
Bruce's first OSU team posted a brilliant 11-1 record. The only loss that year was a one point setback in the Rose Bowl that cost the Buckeyes the national championship. Following the 1979 season Bruce was name the Big Ten and National Coach of the Year.
In the eight seasons as coach of Ohio State, Bruce has taken Buckeye teams to the Rose Bowl and the Fiesta Bowl two times each, and has made single appearances in the Cotton, Citrus, Holiday and Liberty bowls.
Bruce is in his 16th year as a head coach on the collegiate level. His career record of 121-56 ranks him in the top 15 nationally among active major college coaches both in victories and in winning percentage.
Earle and his wife, Jean, have four daughters, Lynn, Michele, Aimee and Noel.