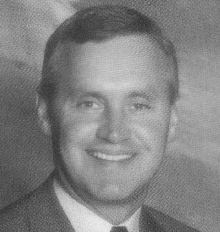 Nationality

United States

Current Team

Ohio State
Birthday: Dec. 5, 1952
OSU Coaching History:
Head Coach: 2001
2001 Media Guide: Jim Tressel's selection this past January as Ohio State's new head football coach almost seemed preordained. After all, his father, Lee Tressel, played, albeit briefly, at Ohio State before his promising collegiate career was cut short by World War II. And Jim grew up shagging balls for Cleveland Browns' great Lou "The Toe" Groza, who, of course, also attended Ohio State. Both the elder Tresel, who would go on to become a coaching legend at Baldwin Wallace College in northern Ohio, and Groza, a family friend and neighbor, were lifelong Ohio State fans.
Those scarlet and gray ties grew even stronger in 1983 when Jim, in the infancy of his own coaching career, was named quarterbacks and receivers coach at Ohio State. During a memorable three-year stay in Columbus, the Buckeyes won 27 games, captured the 1984 Big Ten championship and played in the Fiesta, Rose and Citrus bowls. If he didn't know the words to "Carmen Ohio" as a youngster, he certainly learned them during his stay as an assistant coach.
Following the 1985 season, Tressel, at age 33, left Ohio State to become the head coach at Youngstown State. In 15 years there, he built the YSU program into one of the most successful and respected in the nation, posting an impressive 135-57-2 record and winning four Division I-AA National Championships.
In addition to capturing four national titles, the Penguins also appeared in two other championship games and qualified for the Division I-AA playoffs an astonishing 10 times. Five of Tressel's teams won 12 or more games in a season, including his 1994 championship squad, which fashioned a 14-0-1 record. His 1991, '92, '93 and '94 teams all played in the National Championship tilt, becoming just the second ever Division I-AA school to make four consecutive appearances in the title game.
Tressel was selected as National Coach of the Year in 1991, '93, '94 and '97. When he left Youngstown State, he was the second most successful coach in school history, trailing only Dwight "Deke" Beede, who amassed 147 wins in a 32-year span.
But Tressel's won-lost record, as extraordinary as it is, was only part of the reason for his appeal in the Ohio State search process. Equally impressive was the showing of the Youngstown State football team in the classroom, where during the past two years a total of 67 players achieved a grade point average of 3.00 or better during the fall semester.
Tressel was also deeply involved in the Youngstown community, taking an active leadership role in a number of key civic issues and working extensively with Ronald McDonald's Children's Charities and the Salvation Army. His genuine concern for the people of Youngstown and the Mahoning Valley area made him a community icon.
"What impressed me most in the interview process was Jim Tressel as a person," Director of Athletics Andy Geiger said on Jan. 18, the date Tressel was formally introduced as Ohio State's new coach. "As impeccable as his coaching record is, it is the other things that he does that make me believe he is the ideal person for this job."
Thus, the 48-year old Tressel becomes the 22nd head football coach in Ohio State history. He does so humbly.
"It is with tremendous excitement and humility that I accept the position of head football coach at The Ohio State University," Tressel said. "Our goal will be to uphold and to build upon the great tradition that is Ohio State, and to develop each of our student-athletes to their fullest potential both on and off the field.
"We will stress academics, athletics and community responsibility. The two greatest days in our student-athletes' lives should be the day they walk across the stage to receive their diploma and the day they slip a championship ring on their finger."
Upon accepting the Ohio State job, Tressel immediately hit the recruiting trail, literally going coast-to-coast in an effort to tie up any loose ends that might have resulted from the Buckeyes not having a head coach for 17 days. The result was a consensus Top 20 class that featured 10 players from Ohio, four from Florida and one each from California, Indiana and Kentucky.
Next Tressel tackled the task of putting his staff together, ultimately deciding to bring in six new assistants and retain three members of the previous staff. Eight of his nine assistants are from Ohio and the ninth has coached in the Buckeye State. It is a diverse group that brings NFL, SEC, Pac-10 and Conference USA experience to Ohio State.
Tressel was born in Mentor, Ohio, where his father reeled off 34 consecutive wins as a high school coach before becoming the head coach at Massillon. But he spent most of his childhood in Berea, more often than not accompanying his father to football practices and games at Baldwin Wallace.
Tressel graduated from Berea High School in 1971. He played for his father at Baldwin Wallace, earning four letters at quarterback and winning all-conference honors as a senior in 1974. He graduated cum laude in 1975 with a degree in education.
Following his father's footsteps, Jim embarked upon his coaching career in the fall of 1975 as a graduate assistant at Akron. He remained at Akron through the 1978 season, serving in a full-time capacity his last three years as coach of the quarterbacks, receivers and running backs. While at Akron, he was awarded his master's degree.
Tressel spent the 1979 and '80 seasons as quarterbacks and receivers coach at Miami of Ohio. He left the "Cradle of Coaches" in 1981 to become the quarterbacks coach at Syracuse, where he remained for two years before returning to his home state in 1983 as a member of Earle Bruce's Ohio State staff.
In Tressel's first year at Ohio State, the Buckeyes posted a 9-3 record and defeated Pittsburgh in the Fiesta Bowl. OSU scored the winning touchdown on a 39-yard pass from quarterback Mike Tomczak to split end Thad Jemison with 39 seconds left in the game. Not a bad way for the Buckeyes' new quarterbacks and receivers coach to begin his stay in Columbus.
In 1984 and '85, Tressel was given the added responsibility of coaching the Buckeyes' running backs. The '84 team won the Big Ten and played in the Rose Bowl, and Tressel protégé, junior tailback Keith Byars, finished second in the Heisman Trophy voting. In 1985, the Buckeyes defeated BYU in the Florida Citrus Bowl.
Tressel's departure for Youngstown State at the end of the 1985 campaign came as no surprise. Widely regarded as one of the up-and-coming young assistant coaches in college football, he had paid his dues and was ready for the next step.
Still, the transition to head coach was not easy. Tressel's first team lost its first four games and finished with a 2-9 record. His first win as a college coach came against Tennessee Tech on Oct. 11, in Youngstown. The score was 30-6.
But from that humble beginning, Tressel built a powerhouse.
In 1987, the second-year coach guided the Penguins to an 8-4 record and their first-ever appearance in the Division I-AA playoffs. YSU won the Ohio Valley Conference title that year and Tressel was named OVC Coach of the Year.
In 1989, the Penguins began an incredible run of six consecutive playoff appearances, winning three National Championships and playing in four consecutive title games between 1991 and 1994.
Tressel's first national crown came in 1991, when the Penguins defeated Marshall, 25-17, in the title game. As a result of the victory, Jim and his dad (who is now deceased) became the only father-and-son combo in college football to win national championships (Lee Tressel won the 1978 Division III championship at Baldwin Wallace).
The Penguins lost a rematch with Marshall the following year, but won the rubber match with the Thundering Herd in 1992 for their second I-AA title in three years. They then made it three-out-of-four in 1994 with a 28-14 win over Boise State.
Tressel's fourth national title came in 1997, when the Penguins defeated McNeese State, 10-9, in the championship game. Youngstown State also played for the title in 1999, this time losing to Georgia Southern in the finals.
During the decade of the 1990s, Youngstown State had a combined record of 103-27-2, the most wins by any Division I-AA team and the fourth most of any I-A or I-AA program.
In 2000, Tressel kicked off the millennium on a successful note by guiding his team to a 9-3 record and its 10th appearance in the playoffs. As it turned out, that was his last season at Youngstown State. But because of the positive impact he had on the school and community, his many fans in Youngstown will continue to follow his career at Ohio State.
Tressel's list of accolades includes being selected as the Chevrolet National Coach of the Year in 1993, '94 and '97; the American Football Coaches Association National Coach of the Year in 1991 and '94; and the Eddie Robinson National Coach of the Year in 1994. He also was the AFCA's Regional Coach of the Year in 1987 and '93 and a six-time pick as Ohio Coach of the Year.
In a career filled with highlights, Tressel recorded his 100th career victory against Indiana State in 1997. He is the third member of his family to reach that plateau, joining his father and his older brother, Dick, who coached at Hamline University in Minnesota. As a family, Lee, Jim and Dick have won over 400 games.
Jim is actively involved with the American Football Coaches Association, the Fellowship of Christian Athletes and Outstanding Young Men of America. He and his wife, Ellen, who is a graduate of Youngstown State, live in nearby Upper Arlington. They have four children: Zak (22), Carlee (18), Eric (17) and Whitney (16).