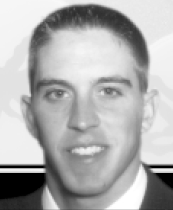 Nationality

United States

Position

K

Height

5'10"

Weight

180

Birthday

3/2/1982

Hometown

Centerville, OH

High School

Centerville

Current Team

Ohio State

Seasons

2001, 2002, 2003, 2004
Major: Marketing/Logistics (2004), Transportation & Logistics (2003)
Weight: 180 (2004), 170 (2001-03)
2004 Media Guide: One of the nation's best kickers … handles all the kickoff and place-kicking duties for the Buckeyes … has earned consideration for the Lou Groza Award, given annually to football's best collegiate kicker … in three seasons has scored 254 points at Ohio State, which includes 48 field goals made and 110 converted extra points … owns 12 school records, including the record for most field goals of 40 yards or more with 17 (he is 17-for-22 for 40 yards out) … won first-team All-America honors as a sophomore … has made 48-of-61 field goals during his career … lifetime 110-of-113 in the PAT department and has made his last 50 (last miss was in San Jose St. game in 2002) … has earned recognition as a three-time OSU Scholar Athlete.
2003 Season: Though he did not repeat as an All-American after a first team appearance as a sophomore, Nugent still enjoyed an outstanding season and was particularly effective down the stretch for the Buckeyes … wound up the year hitting 16-of-19 field goal attempts and was a perfect 38-of-38 in the extra point department for a team-leading 86 points … hit seven of his last eight field goal attempts, including a personal-best four field goals against Michigan State and three-of-four, including the game winner, against Purdue … entered the season with an Ohio Stadium record of 15 consecutive field goals made in the Horseshoe and extended that mark to 17 before missing on his third attempt against San Diego State … was good from 53 yards out against Iowa, the second-longest field goal in Ohio Stadium history and a personal best for Nugent … also hit a 52-yarder against Purdue … both kicks made it with plenty of room to spare.
2003 Media Guide: Mike Nugent is one of the top kickers in college football and a leading candidate for repeat All-America honors in 2003 … named to a first-team berth on the Football Writers, Associated Press and Walter Camp All-America teams last year, becoming the first Buckeye place-kicker ever to capture All-America honors … also one of three finalists for the Lou Groza Award and a first-team All-Big Ten selection … handles all the placekicking duties, including kickoffs, for the Buckeyes … led the team in scoring last season with 120 points, the most ever by an OSU kicker … also led the Big Ten in field goals made with 25 … was 22nd nationally in scoring with an average of 8.6 points per game … hit 25 of 28 field goals last year after making just 7 of 14 in 2001 … wound up the 2002 campaign setting nine school records … one of those records was 15-consecutive made field goals in Ohio Stadium, a record that he will take into the 2003 season … hard worker who is extremely confident in his ability … made a huge PAT in the Fiesta Bowl converting at the end of the first overtime following an illegal procedure penalty on the Buckeyes that backed the ball up to the eight yard line … his 32 career field goals place him sixth on the all-time OSU list and leave him 27 shy of the school record of 59 … wants the opportunity to kick when the game is one the line.
2002 Season: Record-setting performance included most field goals in a season with 25 … also set the single-season record for most field goals of 40 or more yards with nine, including a career-best 51-yard shot against Indiana … began the season by making his first 23 field goals before finally missing at Illinois … wound up the regular season hitting 24 of 26 treys, with both of those misses at Illinois (other miss at Illinois was from 41 yards out) … had three field goals of 40 or more yards in the win over Washington State to tie the school single-game record … kicked at least one field goal in each of the Buckeyes' first 12 games and in 13 of the 14 games overall … 45-of-46 in the PAT department, the lone miss coming on a mishandled snap against San Jose State.
2002 Media Guide: Mike Nugent's solid spring practice showing gives him the edge as the No. 1 field goal kicker heading into the fall … shared those duties with Josh Huston last year as a true freshman … was inconsistent as a rookie, but finished the season on a strong note by nailing a 33-yard field goal at Michigan … also made all four of his extra point attempts against South Carolina in the Outback Bowl … clutch 35-yard field goal at Minnesota gave OSU some much needed breathing room in what turned out to be a 31-28 win … missed his first three attempts and made just four of his first 12, but hit four of his last seven down the stretch … longest kick of the year was a 44-yarder against Northwestern … also will handle the extra point duties and serve as
the backup to Huston on kickoffs.
2001 Season: Made seven of his 14 field goal attempts and 27 of 29 extra point tries for a total of 48 points … nailed a key 35-yarder at Minnesota in a 31-28 win … was good from 33 yards out in the fourth quarter at Michigan giving the Buckeyes a 26-13 lead.
High School: Second-Team Division I Associated Press All-Ohio selection … First-Team Western Ohio League and All-Southwest  Ohio selection … connected on 5-of-7 field goal opportunities … kicked a school-record 52-yard field goal … converted on 13-of-17 field goals in his career … perfect 29-of-29 on PATs in 2000 and set a school record with 165 PATs … totaled 262 points in his four-year career … also played quarterback … threw for three touchdowns and rushed for seven as a senior … team captain and offensive MVP as a senior … member of the National Honor Society.
Personal: Born March 2, 1982 … son of Dan and Carolyn Nugent … his father played football at Wisconsin and later at the University of Dayton … two sisters Katherine and Susan and one brother, Kevin, a sophomore (as of 2003) on the OSU soccer team that last year (2002) advanced to the NCAA tournament … enjoys coaching and working at youth kicking camps.
Offense
| Season | Team | G | GS | XP | XPA | XP % | FG | FGA | FG % |
| --- | --- | --- | --- | --- | --- | --- | --- | --- | --- |
| 2001 | Ohio State | 10 | 0 | 27 | 29 | 93.1 | 7 | 14 | 50.0 |
| 2002 | Ohio State | 14 | 0 | 45 | 46 | 97.8 | 25 | 28 | 89.3 |
| 2003 | Ohio State | 13 | 0 | 38 | 38 | 100.0 | 16 | 19 | 84.2 |
| 2004 | Ohio State | 12 | 0 | 30 | 30 | 100.0 | 24 | 27 | 88.9 |
| Total | - | 49 | 0 | 140 | 143 | 97.9 | 72 | 88 | 81.8 |
Defense
| Season | Team | G | GS | Tkl | Solo | Asst |
| --- | --- | --- | --- | --- | --- | --- |
| 2001 | Ohio State | 10 | 0 | 0 | 0 | 0 |
| 2002 | Ohio State | 14 | 0 | 1 | 1 | 0 |
| 2003 | Ohio State | 13 | 0 | 4 | 4 | 0 |
| 2004 | Ohio State | 12 | 0 | 2 | 2 | 0 |
| Total | - | 49 | 0 | 7 | 7 | 0 |