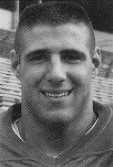 Nationality

United States

Position

DE

Birthday

8/14/1975

Hometown

Stow, OH

High School

Walsh Jesuit

Height

6'4"

Weight

260

Current Team

Ohio State

Seasons

1993, 1994, 1995, 1996
Pronunciation: VRAY-bole
Player Bio:
Major: Exercise Science (1996), Unknown (1995), Health Services (1994), Unknown (1993)
Weight: 260 (1996), 255 (1995), 260 (1993-94)
1996: The Big Ten Conference's Defensive Lineman of the Year for the second straight year … named to first-team berths on the Walter Camp, American Football Coaches Association and Sporting News All-America teams … a consensus All-Big Ten pick … finished the year with 56 tackles, including 18 tackles for loss and nine sacks … nine tackles at Notre Dame was his top effort of the season … played in the East-West Shrine game after the season … closed out his career as OSU's all-time leader in tackles for loss and sacks.
1996 Media Guide: A first-team All-America (Football News) pick and the Big Ten Defensive Lineman of the Year last year … also a consensus all-Big Ten selection and a third-team All-America choice by the Associated Press … has the strength and size to fight off blocks and the quickness and speed to get to the ball carrier … set Ohio State records in 1995 tor tackles for loss (26) and sacks (13), in both cases breaking marks that he had set in 1994 … has moved up to second tn career sacks (27) and career tackles for loss (48) and should break both marks this year (Jason Simmons currently owns both records — 27.5 sacks and 56.5 tackles for loss) … finished the 1995 campaign with 63 tackles, tops among the defensive linemen … played brilliantly all year long. especially in the big games (forced fumble against Notre Dame, seven tackles at Penn State, interception at Michigan, three tackles for loss against Tennessee) … was particularly impressive the last seven weeks of the regular season, collecting 18 tackles for loss and 10 sacks in that span … had a season-high seven solos at Michigan, including three tackles for loss and two sacks … also blocked a punt against Purdue … has improved each season and has greatly increased his strength … named to the Big Ten's All-Academic team the past two years … an exceptional leader… had minor surgery on his right foot in April, but should be fully recovered by the start of fall camp.
1995 Media Guide: The Buckeyes' strong-side defensive end … won first-team All-Big Ten honors last year and was named to an honorable mention berth on U.P.1.'s All-America team … had 68 tackles on the year, fourth best on the team … established a school single-season record with 12 quarterback sacks, including two against Alabama in the Citrus Bowl … he and Matt Finkes each had 20 tackles for loss, eclipsing the previous school record of 18.5 set in 1991 … also had four passes broken up, two fumbles caused and two recoveries … second in the Big Ten in tackles for loss and third in sacks … tied with Finkes and two other players for fourth in career sacks with 14 and, like Finkes, will challenge the school record of 27.5, set by Jason Simmons.
1994 Media Guide: Will take over at defensive end for Jason Simmons (the school's career sacks and tackle for loss leader) … a tremendous athlete who appears to have all the tools to step in and fill Simmons' sizeable shoes … played in all 12 games last year, but saw only limited action behind Simmons … showed signs of being very good when he did play … usually inserted in short-yardage or goal line situations … has good technique and is a very strong player … runs very well for his size (plays on the kickoff and kick return units) … hard worker who could someday challenge the records of the man he is replacing in the Ohio State lineup.
1993: Had nine tackles, including two sacks — one at Pitt and the other at Purdue … longest stint was 14 minutes at Purdue … also played seven minutes at Wisconsin when the game was on the line.
1993 Media Guide: Regarded as the top high school defensive lineman in Ohio last year… earned second team All-America honors from USA Today and earned All-America mention from SuperPrep and Blue Chip Illustrated … a first team Division I all-Ohio selection who was a two-way starter as a senior, playing inside linebacker and end on defense and tight end on offense … named the Ohio Player of the Year by the Columbus Touchdown Club and the District Player of the Year by the Akron Beacon Journal … missed two games due to a sprained ankle … had 86 tackles and 12 sacks on defense and caught 10 passes for 169 yards and graded out at 92 percent in blocking efficiency … served as team captain … was limited to seven games as a junior when he suffered a stress fracture in his back … still had 70 tackles and four sacks that year … also played basketball and threw the discus and shot put in track … placed third in the shot put at the state championships as a junior and fourth as a senior, and was fifth in the discus as a senior … high school coach was Gerry Rardin .. . enjoys golfing in his spare time … won the Pro Football Hall of Fame Scholastic Award … plans to major in health services and would like to some day get into the medical field … father is a high school principal and mother is an assistant high school principal.
Coaching Bio:
OSU Coaching History:
2012: Defensive line
2011: Linebackers
2012 Media Guide: Mike Vrabel, one of the great defensive linemen in the history of the Big Ten Conference, will coach the Ohio State defensive line in 2012 as part of Urban Meyer's first Ohio State coaching staff. Vrabel is in his second season as a collegiate coach after coaching the Ohio State
linebackers in 2011.
2011 Media Guide: Mike Vrabel retired from the National Football League after 14 seasons as a player in July 2011 to join coach Luke Fickell's Ohio State coaching staff. He takes over Fickell's former charges as the team's linebackers coach.
Vrabel, who has his degree from Ohio State in exercise science, was a dominant performer for the Buckeyes, earning two Big Ten Conference Defensive Player of the Year honors (1995 and 1996). He was the first to win the award consecutively and he also earned back-to-back All-America honors those same seasons. Vrabel twice set the single season record for sacks and tackles for loss (TFL) and he still holds school records for career sacks (36) and single season and career TFLs (26 in 1995 and 66).
Defense
| Season | Team | G | GS | Tkl | Solo | Asst | TFL | TFL Yds | Sacks | Sack Yds | FF | FR | Int | Int Yds | PBU | Blk | PR | PR Yds | PR TD |
| --- | --- | --- | --- | --- | --- | --- | --- | --- | --- | --- | --- | --- | --- | --- | --- | --- | --- | --- | --- |
| 1993 | Ohio State | 11 | 1 | 9 | 6 | 3 | 2 | 8 | 2 | 8 | 0 | 0 | 0 | 0 | 0 | 0 | 0 | 0 | 0 |
| 1994 | Ohio State | 13 | 13 | 68 | 43 | 25 | 20 | 101 | 12 | 78 | 1 | 2 | 0 | 0 | 4 | 0 | 0 | 0 | 0 |
| 1995 | Ohio State | 13 | 13 | 63 | 44 | 19 | 26.5 | 134 | 13.5 | 101 | 4 | 0 | 2 | 15 | 1 | 1 | 1 | 18 | 0 |
| 1996 | Ohio State | 12 | 12 | 56 | 37 | 19 | 18 | 107 | 9.5 | 61 | 2 | 1 | 0 | 0 | 2 | 0 | 0 | 0 | 0 |
| Total | - | 49 | 39 | 196 | 130 | 66 | 66.5 | 350 | 37 | 248 | 7 | 3 | 2 | 15 | 7 | 1 | 1 | 18 | 0 |