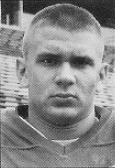 Nationality

United States

Position

NG, DE

Height

6'2"

Weight

258

Birthday

2/12/1975

Hometown

Piqua, OH

High School

Piqua

Current Team

Ohio State

Seasons

1993, 1994, 1995, 1996
Post-OSU Update: Matt Finkes was a 6th-round pick of the Panthers in the 1997 NFL Draft. He played eight games with the Jets that year. He is not the Director of Development at OSU Wexner Medical Center and a franchise owner of Winans Chocolates and Coffees. (updated Jan. 2022)
Major: Economics B.S. (1997), Business (1995-96), Unknown (1993-94)
Weight: 258 (1994-96), 234 (1993)
1996: A first-team All-Big Ten choice by both the league coaches and a panel of media representatives … teamed with Mike Vrabel to give the Buckeyes one of the foremost defensive end tandems in college football … played the weak side and was an exceptional pass rusher because of his quickness and wiry strength … finished fourth on the team in tackles with 71, including 16 tackles for loss and six sacks — both of the latter totals ranked third on the team … had a career-high 12 tackles at Indiana and made one of the most memorable plays of the year when he grabbed an IU fumble out of the air and raced 45 yards for a touchdown, snapping a 10-10 tie and paving the way for a hard-fought 27-17 win that assured the Buckeyes of a Rose Bowl berth … also had two tackles for loss and a sack against the Hoosiers … played in the East-West Shrine and Hula Bowls after the season and was MVP in the former.
1996 Media Guide: In has third year as a starter on the weak side … teams with Mike Vrabel to give the Buckeyes one of the top defensive end tandems in college football … OSU's Defensive MVP in the Citrus Bowl each of the past two years … gets an excellent jump off the ball and is a superb pass rusher … will be in the running for postseason honors again this year (first-team ALL
Big Ten and third-team Associated Press All-America in 1994 and second-team All-Big Ten last year) … instinctive football player … finished the 1995 campaign with 60 tackles, including 19 for loss and five sacks … had at least one tackle for loss in every game but Boston College last sear, including three in the first half of the Iowa game… had a season-high nine tackles, including four for loss and a sack in the Citrus Bowl … had six tackles at both Pittsburgh and Penn State … goes into the 1996 season ranked third in career tackles for loss at Ohio State with 43 and fourth in career sacks with 19) … has blocked two field goals and two punts during his career, both coming in 1994.
1995 Media Guide: Will be in his second year as the starter on the weak side … won first-team All-Big Ten and third-team Associated Press All-America recognition last year … finished the 1994
campaign with 71 total tackles, the third highest figure on the team, and is the Buckeyes' leading returning tackler … had 11 sacks, the second highest one-season total in OSU history … he and Mike Vrabel (the strong-side defensive end) each had a school record 20 tackles for loss, surpassing the old school record of 18.5 set by Jason Simmons in 1991 … also blocked four kicks (two field goals and two punts) and forced a pair of fumbles last year … top game was a career-high 10 tackles at Washington … currently tied for third in career sacks with 14 and will certainly challenge the school record of 27.5.
1994 Media Guide: Was a key backup at nose guard last year, but is expected to start at end this season … one of the most pleasant surprises of 1993, playing in all 12 games for 114 minutes — easily the most playing time of any OSU freshman … has tremendous quickness and tenacity and usually was inserted in passing-down situations … made a number of big plays early and quickly became a favorite of the Ohio State fans … the kind of football player that coaches find a place for in the lineup … should get better and better with experience … replaces Randall Brown, who shifts to tackle.
1993 Media Guide: A first team Division I all-state pick and district lineman of the year as a senior … also was named his conference's player of the year … blossomed his final season and had 90 tackles and 15 quarterback sacks … team finished 10-3 last fall and reached the semi-finals of the state playoffs for the second straight season… team posted a three-year mark of 32-6 … recorded 43 tackles for loss his last two seasons and had 17 sacks as a junior … saw some action at fullback as a senior and scored seven touchdowns … earned All-America mention from USA Today and Blue Chip Illustrated … team captain as a senior… also a standout wrestler (finished third in the state as both a junior and senior) and ran the high hurdles in track … high school coach was Bill Nees .. . a high school honor student who plans to major in computer science.
Defense
| Season | Team | G | GS | Tkl | Solo | Asst | TFL | TFL Yds | Sacks | Sack Yds | FF | FR | PBU | Blk | Def TD | PR | PR Yds |
| --- | --- | --- | --- | --- | --- | --- | --- | --- | --- | --- | --- | --- | --- | --- | --- | --- | --- |
| 1993 | Ohio State | 12 | 2 | 20 | 11 | 9 | 4 | 21 | 3 | 17 | 0 | 1 | 1 | 0 | 1 | 0 | 0 |
| 1994 | Ohio State | 13 | 13 | 66 | 34 | 32 | 17.5 | 98 | 11.5 | 87 | 2 | 0 | 0 | 3 | 0 | 1 | 10 |
| 1995 | Ohio State | 13 | 13 | 60 | 36 | 24 | 19 | 67 | 5 | 31 | 0 | 0 | 0 | 0 | 0 | 0 | 0 |
| 1996 | Ohio State | 12 | 12 | 68 | 39 | 29 | 16 | 77 | 7 | 49 | 0 | 1 | 0 | 0 | 1 | 0 | 0 |
| Total | - | 50 | 40 | 214 | 120 | 94 | 56.5 | 263 | 26.5 | 184 | 2 | 2 | 1 | 3 | 2 | 1 | 10 |