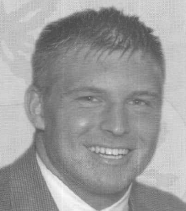 Nationality

United States

Position

OT

Height

6'6"

Weight

280

Birthday

11/4/1984

Hometown

Massillon, OH

High School

Massillon Perry

Past Teams

Ohio State

Seasons

2003, 2004, 2005, 2006, 2007
Major: History (2004-07)
Weight: 310 (2006-07), 325 (2005), 305 (2004), 280 (2003)
2007 Media Guide: All-American candidate in 2007 and one of the top offensive tackles in college football … a fixture for the Buckeyes at right tackle the past three seasons … powerful, explosive run blocker … good pass blocker … a student of the game and makes very few mistakes … improves every outing and has a very bright future.
2006: All-Big Ten as a junior … started all 13 games at right tackle … team's offensive lineman of the week four times … helped the Buckeyes average 229.7 yards passing per game … offensive line allowed just 12 sacks in the regular season.
2006 Media Guide: One of the top offensive tackles in college football and an All-America candidate in 2006 … has become a fixture for the Buckeyes at right tackle the past two seasons … powerful, explosive blocker who plays low and with great intensity … is very good at sustaining his blocks and allowing plays to develop … good pass blocker because of his balance and mobility … has played in 21 of 24 games the past two years, starting the last seven games of 2004 and all nine that he played last year … sprained his knee early against Penn State last year and missed the next three games, returning against Illinois … was full strength against Michigan and Notre Dame and played his best football in those games … is a student of the game and makes very few mistakes … seems to improve with every outing and has a very bright future.
2005: Had his string of 13 consecutive starts interrupted when he injured his knee at Penn State and sat out the next three games … returned against Illinois, but played just six minutes … logged 26 minutes against Michigan and 30 in the bowl game, helping OSU gain more than 1,000 yards in total offense in those two games.
2005 Media Guide: In his third year in the program … big, strong, smart and one of the Buckeyes' most physical players up front … played with increasing confidence during the last half of 2004 … good drive blocker … still young and still learning, but is a student of the game who has a bright future with the Buckeyes.
2004: Played in all 12 games … began the 2004 season as the backup at right tackle, but then started the final seven games of the season, including the Alamo Bowl, at that position … first start was against Iowa … played at least 24 minutes in five of the last seven games.
2004 Media Guide: The X factor in the three-way race at right tackle, where he will be competing with Tim Schafer and T.J. Downing for playing time … probably has the furthest to come after missing all of spring practice with an injury, but has flashed signs of brilliance from time-to-time and is undeniably an immensely talented young player … redshirted last year and then underwent shoulder surgery following the season … returned for the last two weeks of spring practice and whetted the coaches' appetites with three good days of practice, but then sprained an ankle in the jersey scrimmage and missed the remainder of spring drills … should be ready to go in the fall and will definitely be in the hunt … has all the physical tools to be a standout … does an exceptional job of sustaining his block and giving the play time to develop.
2003: Redshirted.
High School: Considered one of the top offensive line prospects in the Midwest … named to a first-team berth on the All-Federal League team and a member of the Akron Beacon Journal's All-Star team … big, strong and talented … played tight end and defensive tackle in high school and won all-district honors … expected to concentrate on offensive tackle at the collegiate level … ranked among the top 100 offensive line prospects in the country … intelligent player and student of the game … coaches like his agility and foot work … also has outstanding academic credentials … will be new to the offensive line, but has unlimited potential … selected to play in the Big 33 and the Ohio North-South All-Star games … being offered a scholarship at Ohio State is his biggest thrill in sports to date … plans to become a teacher and coach … high school coach was Keith Wakefield.
Personal: Mother is Brigette Barton … his father, Kirk Sr., who passed away in 1997, played a year of college football at Ohio University and was a teammate of current Buckeye offensive coordinator Jim Bollman (Bollman was a senior and Barton a freshman) … a sister, Kasondra (Kasey), is a junior at Massillon Perry High School (2004) … goes by "Bart." … nickname is "Muscle Milk" … favorite former Buckeyes include: TJ Downing, Troy Smith, Anthony Gonzalez, and Antonio Pittman.
Offense
| Season | Team | G | GS | FR |
| --- | --- | --- | --- | --- |
| 2004 | Ohio State | 12 | 7 | 0 |
| Total | - | 12 | 7 | 0 |