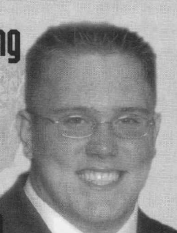 Nationality

United States

Position

OT

Height

6'5"

Weight

305

Birthday

3/6/1984

Hometown

Canton, OH

High School

GlenOak

Current Team

Ohio State

Seasons

2002, 2003, 2004, 2005, 2006
Major: Family Resource Management (2005-06)
Weight: 305 (2004-06), 300 (2003), 280 (2002)
2006 Media Guide: Joins Kirk Barton and Doug Datish as the anchors of this year's offensive line … played an iron-man like 340 minutes last year as the starter at right guard … can also play the left side and could step in at tackle should the need arise … made tremendous strides in 2005, especially during the second half of the season … continued to excel in the spring and has improved in "all aspects of his game" in the view of offensive line coach Jim Bollman … coaches like his competitiveness and fiery spirit … is a hard worker and mentally tough football player … plays quick and has quick hands … has played in 24 games with 15 starts, 13 of which were Ohio State victories.
2005: Started all 12 games and played at least 30 minutes in each of those games with a high of 35 minutes at Penn State … played the best football of his career the second half of the season when OSU put together a seven-game winning streak and was at its best offensively.
2005 Media Guide: One of Ohio State's young lions along the offensive front … got his feet wet for the first time last year … heads into 2005 as the projected starter at left guard, but, depending on how practice shakes down in the fall, could also be in the mix at tackle … is a tough, hard-nosed player … plays quick and has quick hands.
2004: Began the 2004 campaign in a three-way battle for the starter's spot at right tackle, but wound up the season at left guard, starting three of the Buckeyes' last four games there.
2004 Media Guide: Threw his hat into the ring in the spring as a possible starter at right tackle, replacing veteran Shane Olivea … will battle Tim Schafer and Kirk Barton for playing time and a starting position in what should be one of the best battles of the fall, all three are talented … the coaches had planned to work him at guard in the spring, but a lack of depth led to a move that now appears to be permanent … played well throughout the spring and was particularly effective in the spring game … a fierce competitor and a hard worker … plays quick and has quick hands … is still learning to use his upper body … will be a terrific pass protector once everything comes together … has played a total of two career minutes, but that will change in a hurry this year.
2003 Season: Only appearance of the year came against Washington in the season opener.
2003 Media Guide: T.J. Downing hopes to get his feet wet for the first time this year as a member of the Buckeyes' offensive line … coaches like his size and mobility and are anxious to see how he performs in game situations … appears to have settled in at left tackle, one of the Buckeyes' deepest positions … very sound from a technique standpoint and is one of the Buckeyes' best pass blockers … needs experience but should be an outstanding player in he continues to improve.
2002 Season: Redshirted.
2002 Media Guide: Was a first-team Division I Associated Press All-Ohio selection this past season … has tremendous strength (bench presses over 355 pounds) and exceptional pass blocking
technique … was a varsity starter since his sophomore season … played tackle in high school but could also play guard in college … from the same high school as Ohio State sophomore Dustin Fox … is the son of (former Michigan All-American and NFL standout) Walt and Susan Downing … high school coach – Jack Rose … born March 6, 1984.
Offense
| Season | Team | G | GS | FR |
| --- | --- | --- | --- | --- |
| 2003 | Ohio State | 1 | 0 | 0 |
| Total | - | 1 | 0 | 0 |