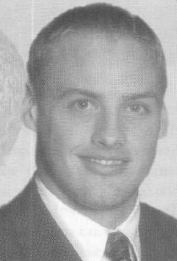 Nationality

United States

Position

QB

Birthday

5/12/1983

Hometown

Massillon, OH

High School

Washington

Height

6'4"

Weight

225

Current Team

Ohio State

Seasons

2002, 2003, 2004, 2005, 2006
Major: Business (2003-06)
Jersey #: 12 (2004-06), 2 (2003), 9 (2002)
Weight: 225 (2004-06), 215 (2002-03)
2006 Media Guide: Veteran signal caller who knows the Ohio State offense and is more than capable of stepping and directing the attack … is a three-year letterman with 18 games and nine starts under his belt … has a 5-4 record as a starter and has thrown for 1,592 yards and seven touchdowns … started the Miami (Ohio) and Texas games last year, but wound up the season as Troy Smith's understudy … has a great touch and an extremely quick, Unitas-like release … seems to see the play develop almost before it happens.
2005: Appeared in seven games, with the vast majority of his playing time coming in the first three games of the season … completed 17 of 23 passes for 155 yards against Miami (Ohio) in the season opener … threw his lone TD pass of the year against the Redhawks, teaming up with Santonio Holmes from 20 yards out for the Buckeyes' first score of the year … also started against Texas, completing 9 of 15 passes for 66 yards and a potential touchdown pass dropped … came off the bench against San Diego State to complete nine of his 10 passes for 47 yards … wound up the year completing 42 of 58 passes for 359 yards and a very respectable 72.4 completion percentage … made brief appearances in the Iowa, Indiana, Illinois and Northwestern games … rushed 25 times for a net of 12 yards.
2005 Media Guide: One of two returning starters at quarterback for the Buckeyes and one of three very talented signal callers on the Ohio State roster … has seven career starts to his credit and is the most experienced of the OSU quarterbacks … outdueled Troy Smith in a battle for the starting job last year and started the first six games … got the Buckeyes off to a 3-0 start with wins over Cincinnati, Marshall and at North Carolina State, but then saw them slip to 3-3 with consecutive losses to Northwestern, Wisconsin and Iowa to open the Big Ten season … injured his left shoulder in the loss to the Hawkeyes and wound up sitting out the remainder of the regular season … received medical clearance to play against Michigan, but did not see game action … was unexpectedly thrust back into the starting role prior to the Alamo Bowl after Smith was declared ineligible … played very well in that game, despite suffering a pulled hamstring in the first quarter, and led the Buckeyes to a convincing 33-7 victory over Oklahoma State … had his second-best passing day of the year against the Cowboys, completing 17 of 27 passes for 189 yards, including a 23-yard touchdown pass to Anthony Gonzalez that put OSU ahead to stay 7-0 with 12:02 to play in the first period … goes into the fall at No. 1 on the depth chart in what should be a very competitive battle.
2004: Threw for 318 yards and three touchdowns in a 24-21 win over Marshall, completing 18 of 30 passes, including an 80-yard touchdown to Santonio Holmes … all were career-highs and the 318 yards was the 11th-highest figure in Ohio State history … the 80-yard touchdown pass tied the third-longest in Ohio State history and was the longest since 1995 … solid effort at North Carolina State in his first road game helped the Buckeyes record a hard-fought 22-14 victory … sent the Northwestern game into overtime with a 21-yard touchdown pass to Santonio Holmes with 1:54 to play … injured his shoulder on the first series in the second half of the Iowa game and did not receive medical clearance until the Michigan game … pulled a hamstring in the first quarter of the Oklahoma State game, but was able to avoid being sacked on any of his 27 pass attempts.
2004 Media Guide: Talented young signal caller who is expected – along with Troy Smith – to compete for the starting quarterback position in the fall … has a lightning quick release and is very accurate … a classic pocket passer blessed with great instincts and a feel for the game … throws a soft, easy to catch, ball … appeared in four games last year and completed four of eight passes for 24 yards (no touchdowns or interceptions).
2003: Watched and waited for his turn behind starter Craig Krenzel and backup Scott McMullen … made his collegiate debut in the season opener against Washington … also saw action against Bowling Green, Northwestern and Indiana … was three-of-seven for 20 yards with a drop in six minutes of playing time in the Northwestern game … had a 13-yard completion to Bam Childress against the Wildcats, his longest career completion.
2003 Media Guide: Justin Zwick is probably the most highly-regarded quarterback to enroll at Ohio State in more than four decades (only Rex Kern in 1967 and Art Schlichter in 1978 were as well publicized) … was a high school phenom in northeastern Ohio, first at Orrville and then at Massillon, throwing for a combined total of 10,500 yards and 112 touchdowns at those two schools … redshirted last year, but enters the fall as one of three talented backups to incumbent Craig Krenzel … has a deft throwing touch and unbelievably quick release to go along with great instincts and a natural feel for the position … lit up the scoreboard in the spring game by completing 17 of 29 passes for 217 yards and four touchdowns, leading his Scarlet team to a 37-29 victory … all four of his TD passes came in the second half in a wild-and-wooly shootout in front of more than 57,000 fans … prefers to stay in the pocket, but can scramble if need be … intelligent player.
2002: Redshirted and did not see any playing time.
High School: First-team all-state and the Division I Associated Press co-Offensive Player of the Year as a senior …Parade All-American … unquestionably the most publicized high school quarterback to sign with the Buckeyes in recent years … threw for 10,500 yards and 112 touchdowns during his high school career, completing 737 of 1,368 (.540) passes during four years as a starter … led Massillon to a 12-2 record as a senior, throwing for 3,821 yards and 40 touchdowns … played his first two years at Orrville, throwing for 4,759 of his yards and 49 of his TDs as a freshman and sophomore … led Orrville to the state title as a freshman … ranked as the nation's third best pro-style quarterback by Rivals.com… high school coach – Rick Shepas.
Personal: Is the son of Bill and Linda Zwick … his father played football and baseball at Eastern Kentucky … his older brother, Jared, played for Coach Jim Tressel at Youngstown State … admires Colts quarterback Peyton Manning because of his work ethic and dedication … born May 12, 1983.
Offense
| Season | Team | G | GS | Comp | Pass Att | Cmp % | Pass Yds | Pass TD | Pass Int | Skd | Skd Yds | Rush Att | Rush Yds | Rush Avg | Rush TD | Lng | Fum | Lost | TB |
| --- | --- | --- | --- | --- | --- | --- | --- | --- | --- | --- | --- | --- | --- | --- | --- | --- | --- | --- | --- |
| 2003 | Ohio State | 3 | 0 | 4 | 8 | 0 | 24 | 0 | 0 | NA | NA | 2 | 0 | 0 | 0 | 2 | NA | NA | 0 |
| 2004 | Ohio State | 7 | 7 | 98 | 187 | 52.4 | 1209 | 6 | 6 | NA | NA | 39 | 32 | 0.8 | 0 | 22 | NA | NA | 0 |
| 2005 | Ohio State | 7 | 2 | 42 | 58 | 72.4 | 359 | 1 | 1 | NA | NA | 12 | 25 | 2.1 | 0 | 12 | NA | NA | 0 |
| 2006 | Ohio State | 7 | 0 | 14 | 23 | 60.9 | 187 | 0 | 0 | NA | NA | 2 | -1 | -0.5 | 1 | 1 | NA | NA | 0 |
| Total | - | 24 | 9 | 158 | 276 | 57.2 | 1779 | 7 | 7 | NA | NA | 55 | 56 | 1.0 | 1 | 22 | NA | NA | 0 |