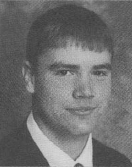 Nationality

United States

Position

QB

Height

6'4"

Weight

215

Birthday

11/18/1980

Hometown

Granville, OH

High School

Granville

Current Team

Ohio State

Seasons

1999, 2000, 2001, 2002, 2003
Post-OSU Update: After not being selected in the 2004 NFL Draft, Scott McMullen spent some time in camp with the Philadelphia Eagles. Cut before the preseason, McMullen played Arena Football in 2005 with the Columbus Destroyers. (updated: Sep. 2022)
Major: Family Resource Management (2003), Turf and Grass Science (2001-02), Undeclared (2000)
Weight: 215 (2001-03), 195 (1999-00)
2003 Media Guide: Scott McMullen is the Buckeyes' No. 2 signal caller and an outstanding player in his own right … has a strong arm, a deft touch and an extremely quick release … like Krenzel, is extremely bright … has seen only limited action throughout his career, but has played extremely well when called upon … overlooked by some outside the program, but certainly not by OSU coaches who are extremely confident in his ability.
2002 Season: Appeared in five games and completed an impressive 80 percent of his passes, connecting on 25 of 31 attempts for 315 yards and two touchdowns … most of his playing time came early in the season … hit 7-of-11 passes against Kent State in his first extensive action of the year … was a perfect 7-for-7 against Indiana, including a 14-yard touchdown strike to Michael Jenkins … best game of the year came against San Jose State, when he completed 8-of-9 passes for 114 yards … only appearance in Big Ten play was against Minnesota … like Krenzel can be a dangerous runner, but prefers to stay in the pocket and read the progression … entered the season having played a total of 38 minutes in eight games.
2002 Media Guide: Scott McMullen currently listed as No. 2 on the depth chart at quarterback, but still in the hunt for playing time and possibly a starting spot, depending on his performance in the fall … entered spring ball slightly behind Craig Krenzel in the battle to replace Steve Bellisari … was essentially in the same place at the end of the 15 spring practices … has the stronger arm of the two upperclassmen, possesses a quick release and doesn't rattle easily … like Krenzel, can be an effective runner … has played in a total of eight games (5 last year and 3 in 2000) for a total of 38 minutes … made his first career start last year against Illinois.
2001 Season: Last-minute starter against Illinois after Steve Bellisari was ruled out the day before the game … completed four-of-13 passes against the Illini, but did throw a 10-yard touchdown pass that tied the score at 7-all … had played in four games for a total of 15 minutes prior to Illinois.
2001 Media Guide: Scott McMullen came out of spring ball as the No. 2 on the depth chart – not far behind Steve Bellisari and not far in front of fellow sophomore Craig Krenzel, meaning all eyes will again be focused on quarterback in the fall … has a strong arm, good poise in the pocket and doesn't rattle easily … earned a reputation in practice last year for being able to "make plays" … likes to stay in the pocket, but is a good athlete who can scramble out of trouble if need be … showed a consistency in the spring he had been lacking … has always been a winner and is a very confident player … threw his first touchdown pass last year in the season opener against Fresno State, hooking up with Ricky Bryant on a beautifully thrown 44-yard scoring strike.
2000 Season: Played in three games for a total of nine minutes … longest stint was five minutes at Iowa … third on the depth chart, occasionally creeping up to No. 2 spot in a seesaw battle that is ongoing.
2000 Media Guide: The statements the Ohio State coaching staff make about local product Scott McMullen are the kind that make people turn their heads and listen. "Scott is a kid that has made more strides from last fall than any other player on the offensive side of the ball," Tim Salem, quarterbacks coach, said. "He finished spring practice on a very good note. He has great poise in the pocket and a strong enough arm that he can reach all parts of the field. We've been really pleased with his progress late in the year." McMullen is in a heated battle with fellow redshirt freshman Craig Krenzel for the No. 2 spot at quarterback. McMullen has gotten visibly stronger since arriving on campus and is noted by the coaching staff for picking up the offense quickly.
1999: Redshirted.
High School: A Top 20 prospect in Ohio by The Ohio Football Recruiting News … threw for 6,100 yards during his career at Granville High with 58 touchdown passes … completed 62 percent of his attempts (118-of-191) as a senior in 1998 while throwing for 2,577 yards (second in the state) and 24 touchdowns with only five interceptions … selected first-team Division IV all-Ohio by the Associated Press as a senior … limited by a back injury as a junior, he still threw for 1,442 yards and 14 touchdowns … passed for 2,081 yards and 20 touchdowns as a sophomore … believed to be first ever OSU football recruit from Granville.
Personal: The son of Judy and Ron McMullen … an avid golfer … lists Deion Sanders as the athlete he most admires.
Offense
| Season | Team | G | GS | Comp | Pass Att | Pass Yds | Pass TD | Pass Int | Skd | Skd Yds | Rush Att | Rush Yds | Rush TD | Rec | Rec Yds | Rec TD | Fum | Lost | FR |
| --- | --- | --- | --- | --- | --- | --- | --- | --- | --- | --- | --- | --- | --- | --- | --- | --- | --- | --- | --- |
| 2000 | Ohio State | 3 | 0 | 5 | 11 | 88 | 1 | 0 | 0 | 0 | 1 | 8 | 0 | 0 | 0 | 0 | 0 | 0 | 0 |
| 2001 | Ohio State | 5 | 1 | 6 | 21 | 85 | 1 | 1 | 1 | 3 | 4 | -2 | 0 | 0 | 0 | 0 | 1 | 1 | 1 |
| 2002 | Ohio State | 5 | 0 | 25 | 31 | 315 | 2 | 0 | NA | NA | 4 | 1 | 1 | 1 | -1 | 0 | NA | NA | 0 |
| 2003 | Ohio State | 7 | 2 | 51 | 78 | 615 | 5 | 3 | NA | NA | 17 | 37 | 0 | 0 | 0 | 0 | NA | NA | 0 |
| Total | - | 20 | 3 | 87 | 141 | 1103 | 9 | 4 | 1 | 3 | 26 | 44 | 1 | 1 | -1 | 0 | 1 | 1 | 1 |