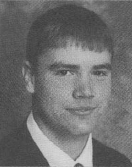 #

15

Name

Scott McMullen

Nationality

United States

Position

QB

Birthday

11/18/1980

Hometown

Granville, OH

High School

Granville

Height

6'4"

Weight

215

Current Team

Ohio State

Seasons

1999, 2000, 2001
Major: Turf and Grass Science (2001), Undeclared (2000)
Weight: 215 (2001), 195 (1999-00)
2001 Media Guide: Scott McMullen came out of spring ball as the No. 2 on the depth chart – not far behind Steve Bellisari and not far in front of fellow sophomore Craig Krenzel, meaning all eyes will again be focused on quarterback in the fall … has a strong arm, good poise in the pocket and doesn't rattle easily … earned a reputation in practice last year for being able to "make plays" … likes to stay in the pocket, but is a good athlete who can scramble out of trouble if need be … showed a consistency in the spring he had been lacking … has always been a winner and is a very confident player … threw his first touchdown pass last year in the season opener against Fresno State, hooking up with Ricky Bryant on a beautifully thrown 44-yard scoring strike.
2000 Season: Played in three games for a total of nine minutes … longest stint was five minutes at Iowa … third on the depth chart, occasionally creeping up to No. 2 spot in a seesaw battle that is ongoing.
2000 Media Guide: The statements the Ohio State coaching staff make about local product Scott McMullen are the kind that make people turn their heads and listen. "Scott is a kid that has made more strides from last fall than any other player on the offensive side of the ball," Tim Salem, quarterbacks coach, said. "He finished spring practice on a very good note. He has great poise in the pocket and a strong enough arm that he can reach all parts of the field. We've been really pleased with his progress late in the year." McMullen is in a heated battle with fellow redshirt freshman Craig Krenzel for the No. 2 spot at quarterback. McMullen has gotten visibly stronger since arriving on campus and is noted by the coaching staff for picking up the offense quickly.
1999: Redshirted.
High School: A Top 20 prospect in Ohio by The Ohio Football Recruiting News … threw for 6,100 yards during his career at Granville High with 58 touchdown passes … completed 62 percent of his attempts (118-of-191) as a senior in 1998 while throwing for 2,577 yards (second in the state) and 24 touchdowns with only five interceptions … selected first-team Division IV all-Ohio by the Associated Press as a senior … limited by a back injury as a junior, he still threw for 1,442 yards and 14 touchdowns … passed for 2,081 yards and 20 touchdowns as a sophomore … believed to be first ever OSU football recruit from Granville … the son of Judy and Ron McMullen.
Offense
| Season | Team | G | GS | Comp | Pass Att | Pass Yds | Pass TD | Pass Int | Skd | Skd Yds | Rush Att | Rush Yds | Rush TD | Fum | Lost | FR |
| --- | --- | --- | --- | --- | --- | --- | --- | --- | --- | --- | --- | --- | --- | --- | --- | --- |
| 2000 | Ohio State | 3 | 0 | 5 | 11 | 88 | 1 | 0 | 0 | 0 | 1 | 8 | 0 | 0 | 0 | 0 |
| 2001 | Ohio State | 5 | 1 | 6 | 21 | 85 | 1 | 1 | 1 | 3 | 4 | -2 | 0 | 1 | 1 | 1 |
| Total | - | 8 | 1 | 11 | 32 | 173 | 2 | 1 | 1 | 3 | 5 | 6 | 0 | 1 | 1 | 1 |