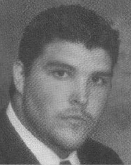 Nationality

United States

Position

OT

Birthday

10/7/1981

Hometown

Cedarhurst, NY

High School

Lawrence

Height

6'5"

Weight

315

Current Team

Ohio State

Seasons

2000, 2001, 2002, 2003
Post-OSU Update: Shane Olivea was selected with the 209th overall pick (7th round) of the 2004 NFL Draft by San Diego. Olivea played four years in the NFL, all with the Chargers. He was a starter each of his four years, compiling 57 starts in 60 games. After his rookie year, Olivea developed an addiction to pain killers, a condition that ultimately led to his release in 2008. After football, Olivea entered drug rehab and successfully beat his addiction. In 2022, Olivea died at the age of 40 due to hypertensive heart disease. His death was ruled natural and tied to obesity. (updated: Oct. 2022)
Jersey #: 71 (2001-03), 62 (2000)
Major: Sport & Leisure Studies (2003), Journalism (2001-02)
Weight: 320 (2003), 310 (2002), 320 (2001), 315 (2000)
2003 Media Guide: Shane Olivea is one of the Buckeyes' top offensive lineman and a potential post-season honors candidate … will be in his third year as the starter at right tackle … has excellent size and mobility and is unbelievably explosive off the line … is a fierce competitor capable of overpowering defenders … excels as a pass blocker because of his exceptional footwork … played his best football last season despite playing much of it with a partially torn rotator cuff … missed the Penn State game due to an emergency appendectomy, but was back in the lineup 10 days later against Minnesota and played virtually every down … has played in 28 games and has 23 starts to his credit … can also play guard if the need arises … rated by The Sporting News as the eighth best offensive tackle in college football heading into the 2003 campaign.
2002 Season: Second-team All-Big Ten pick on both the coaches and the media's teams … missed the San Jose State game with a shoulder injury and the Penn State game after undergoing an appendectomy the previous Tuesday … served as the offensive captain at Wisconsin.
2002 Media Guide: Shane Olivea hopes to return to the form he displayed before suffering a broken ankle in the first half of the Michigan game … was playing his best football before that injury, and is capable of winning all-league honors, and maybe more, this year if he continues to develop at the pace he established last fall … described by offensive coordinator Jim Bollman as having "a unique combination of natural power and quickness" … played right tackle last year, but will probably move to the left side this year … has great feet, is a fine pass blocker and can be punishing as a run blocker … an important cog in the 2002 offensive scheme … sat out spring ball because of his injury but is expected to be ready for the opening of fall camp.
2001 Season: Had developed into one of the Buckeyes best young linemen, before being hurt … began the fall as a likely starter at one of the guard spots, but following a game of musical chairs
designed to get the best five offensive lineman on the field, he was shifted to right tackle where he started all 11 games during the regular season … played an ironman like 311 minutes before being hurt.
2001 Media Guide: Shane Olivea is one of the Buckeyes' top young offensive line prospects … combines size, speed, quickness and agility … lettered last year as a true freshman and was the No. 2 right tackle behind senior Henry Fleming … forced into action sooner than the coaching staff hoped, but the unanticipated loss of Tyson Walter at left tackle created a numbers shortage that made it necessary to play a number of freshman immediately … moved to guard last spring and is expected to start on the right side this fall, succeeding two-year regular Tam Hopkins … is the biggest of the OSU guards … has excellent skills and can be a devastating blocker.
2000 Season: Appeared in four games for a total of 19 minutes … longest stint was nine minutes at Iowa.
High School: Two-time First Team All-New York selection … USA Today Honorable Mention All-America … considered by many as the top offensive line prospect not only in the East but in the nation … rated No. 8 in the nation and the No. 1 offensive line prospect in the East by SuperPrep … ranked No. 33 as an offensive line prospect by Rivals100.com … four-year starter at both offensive and defensive tackles … combines size, speed, quickness and agility.
Personal: His parents are Al and Jean Olivea … born Oct. 7, 1981.
Offense
| Season | Team | G | GS | FR |
| --- | --- | --- | --- | --- |
| 2000 | Ohio State | 4 | 0 | 0 |
| 2001 | Ohio State | 11 | 11 | 1 |
| 2002 | Ohio State | 12 | 12 | 0 |
| 2003 | Ohio State | 13 | 12 | 0 |
| Total | - | 40 | 35 | 1 |