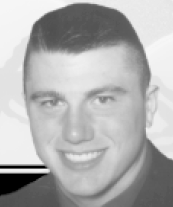 Nationality

United States

Position

FS, ST, CB

Birthday

10/8/1982

Hometown

Canton, OH

High School

GlenOak

Height

6'0"

Weight

190

Current Team

Ohio State

Seasons

2001, 2002, 2003, 2004
Post-OSU Update: Dustin Fox was selected with the 80th pick (3rd round) of the 2005 NFL Draft by Minnesota. Fox broken his arm in his first training camp and never played for the Vikings. He played one game for the Eagles in 2006 and 11 more for the Bills across 2007 and 2008. He finished his NFL career with seven tackles. After football, Fox began a career in sports media. He can be heard as a college football analyst on ESPN and also has a show on Cleveland's 92.3 The Fan. (updated: Oct. 2022)
Major: Communications (2003-04)
Weight: 190 (2004), 195 (2003), 190 (2001-02)
2004 Media Guide: Dustin Fox has played in all 39 games for the Buckeyes since his arrival at Ohio State … has started 28-consecutive games at the boundary corner … was named to a second-team spot on the All-Big Ten team last season, but is still a vastly underrated player … is a true leader and one of the most consistent performers on the team … gives the Buckeyes a rock-solid veteran in the defensive backfield … has seven career interceptions and 185 tackles to his credit … has ranked first and second the last two seasons, respectively, on the team in solo tackles … named to the CoSIDA District IV All-Academic team each of the past two years … is a three-time OSU Scholar-Athlete.
2003 Season: Picked off three passes, which tied Chris Gamble for the team-lead … his three interceptions came against Bowling Green (6-yard return), Wisconsin and Penn State … broke up nine other passes, which ranked second on the team behind Gamble's 12 … forced a fumble vs. Northwestern and blocked a field goal attempt vs. Washington … helped lead Ohio State to a 21-20 win at Penn State with an interception, a pass breakup, a TFL and a team-high nine total stops, including seven solo hits … racked up 365 minutes of playing time, most on the defense and second-most on the team behind offensive tackle Shane Olivea.
2003 Media Guide: Dustin Fox is the Buckeyes' most experienced defensive back and leading returning tackler … has played in all 26 games the past two years and has 16 starts to his credit, including all 14 last year … came to Ohio State as a safety, but was moved to cornerback as a freshman in an attempt to bolster a lack of depth at the position … made the transition easily and started two games as a freshman, including the Outback Bowl after Derek Ross underwent surgery prior to that game … stayed at corner last year and led the team in passes broken up with 14 … his personal preference would be to move back to safety but he is willing to do whatever it takes to help the team and he is too talented to keep out of the lineup … is fast, explosive, and instinctive … has a 40-inch vertical leap and runs a sub 4.4 … finished the 2002 campaign as the team's third-leading tackler with 84 total stops and was second in solos with 67 … had a career-high nine tackles, all solos, against San Jose State last year … was a model of consistency down the stretch, recording seven tackles in five of the last six games … also had three interceptions last year, including a tide-turning 12-yard return against Miami in the second quarter of the national championship game … a standout special teams performer.
2002 Season: Was named to a spot on the honorable All-Big Ten team by both the coaches and media … also selected to the Verizon Academic All-District IV football team … his first interception of the year came against Texas Tech when he picked off Kliff Kingsbury in the end zone on the Red Raiders' opening possession of the second half … his second pick came at Purdue on the Boilermakers' first drive of the game and also was in the end zone … blocked a punt against Indiana that resulted in a touchdown.
2002 Media Guide: A safety by trade, Dustin Fox moved to corner for the Outback Bowl when starter Derek Ross underwent surgery following the Michigan game … remained at corner in the spring and quickly cemented his position as a starter . . . simply too talented to keep out of the lineup … is fast, explosive and instinctive … has a 40-inch vertical and runs a sub 4.4 … a physical player.
2001 Season: Voted by the coaching staff as the Buckeyes' Most Outstanding First-Year Defensive Player … led the freshmen in playing time … saw action at safety and corner … started the
Northwestern game and had six tackles … forced a fumble at Indiana and had his first career interception on the final play of the Michigan game … wound up the year with 28 tackles, including 21
solos … started at corner in the Outback Bowl and was in on six tackles.
High School: First-Team Division I Associated Press All-Ohio selection on defense as a junior and senior … three-time All-Federal League … First Team All-American by SuperPrep … three-year starter at free safety … recorded three interceptions as a senior … 12 interceptions in his career … started as a tailback as a senior … rushed for 1,351 yards and scored 10 touchdowns as a senior … 2,500 rushing yards and 38 touchdowns in his career … played in the inaugural National High School All-Star Game … selected to play in the Big 33 All-Star Game … four-year letter winner in track.
Personal: Born Oct. 8, 1982 … son of Randy and Jean Fox … brother Derek played football at Penn State and for the Indianapolis Colts … uncles Kenny Kuhn, Dick Kuhn, Mark Stier and Tim Fox played football at Ohio State … involved with the Youth Leadership Collaboration for three years … favorite sportscaster is Keith Jackson … in 10 years he would like to be "married, successful
and have a healthy family"… likes to relax by watching movies and playing basketball … his "dream date" would be with his girlfriend.
Defense
| Season | Team | G | GS | Tkl | Solo | Asst | TFL | TFL Yds | Sacks | Sack Yds | FF | FR | Int | Int Yds | PBU | Blk | Def TD | PR | PR Yds | PR TD |
| --- | --- | --- | --- | --- | --- | --- | --- | --- | --- | --- | --- | --- | --- | --- | --- | --- | --- | --- | --- | --- |
| 2001 | Ohio State | 11 | 2 | 28 | 21 | 7 | 0 | 0 | 0 | 0 | 1 | 0 | 1 | 0 | 4 | 0 | 0 | 0 | 0 | 0 |
| 2002 | Ohio State | 14 | 14 | 84 | 67 | 17 | 2.5 | 4 | 0 | 0 | 3 | 1 | 3 | 12 | 14 | 1 | 0 | 1 | 10 | 0 |
| 2003 | Ohio State | 13 | 13 | 77 | 55 | 22 | 3 | 6 | 0 | 0 | 1 | 1 | 3 | 6 | 9 | 0 | 0 | 0 | 0 | 0 |
| 2004 | Ohio State | 9 | 8 | 28 | 22 | 6 | 0 | 0 | 0 | 0 | 1 | 0 | 0 | 0 | 3 | 0 | 0 | 0 | 0 | 0 |
| Total | - | 47 | 37 | 217 | 165 | 52 | 5.5 | 10 | 0 | 0 | 6 | 2 | 7 | 18 | 30 | 1 | 0 | 1 | 10 | 0 |