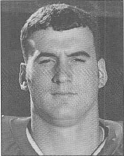 Nationality

United States

Position

TE

Birthday

7/16/1977

Hometown

Timberlake, OH

High School

Eastlake North

Height

6'6"

Weight

265

Current Team

Ohio State

Seasons

1995, 1996, 1997, 1998, 1999
Post-OSU Update: Steve Wisniewski died in 2013 at the age of 36. (Updated: Mar. 2022)
Major: Journalism (1997-99), Undecided (1995-96)
Weight: 265 (1997-99), 230 (1996), 240 (1995)
1999 Media Guide: Steve Wisniewski is the Buckeyes' most experienced tight end with 36 appearances over the last three years and with 15 receptions for 218 yards and two touchdowns. A sore lower back slowed his progress last season, but he is coming off an outstanding spring practice and he will be counted on to provide excellent play at the position this fall. Tight ends coach Bill Conley: "Steve really stepped it up this spring after a tough season, physically, last year. He improved as a blocker and as a receiver." Wisniewski is one of the team's outstanding student-athletes. He has been honored four times as an OSU Scholar-Athlete and is a three-time Academic all-Big Ten Conference honoree.
1998: Sat out spring drills because of a lower back injury and came back slowly in the fall, but did manage to play all 12 games as the backup tight end. Used primarily as a blocker, he did catch three passes for 43 yards (14.3 average) with a long reception of 22 yards against Iowa. He also had an 18-yard reception vs. the Hawkeyes.
1998 Media Guide: A three-time OSU Scholar-Athlete and a member of the academic all-Big Ten team … enters fall camp as the Buckeyes No. 2 tight end behind John Lumpkin …did not compete in spring drills this past year due to a lower back injury … coming off fine sophomore season in 1997 when he developed as a blocker and became a dependable receiver …tight ends coach Bill Conley says Steve "had a very good season for us last year, playing almost 40 percent of the time at tight end … he was probably one of our most improved offensive players … he is a very good blocker, has good speed and has made some big catches" … a veteran of 24 games … plays on special teams.
1997: Played in all 13 games and started vs. Penn State as part of a two tight end alignment … had a fine season blocking as well as catching the football … caught 12 passes for 175 yards and two touchdowns … averaged 14.5 yards per catch … best game was vs. Penn State when he caught three passes for 63 yards, including a key reception that set up an OSU touchdown … longest catch of the year was a 33-yard reception vs. Minnesota … hauled in his first collegiate reception against Bowling Green and his first TD grab (eight yards out from Michael Wiley) against Indiana … also had a TD reception of nine yards against Illinois.
1997 Media Guide: Good, young prospect who should see more action this year with the loss of D.J. Jones and Bob Houser … is a fine receiver and good blocker … has added 15 pounds since last year in an effort to be more physical … played in 10 games last season, much of his playing time coming with the special teams … longest stint was seven minutes against Rice … hopes to haul in his first career reception this year … also named to the Big Ten's All-Academic team … grew up wanting to play for Ohio State and quickly accepted Coach John Cooper's offer to become a Buckeye.
1996 Media Guide: Promising young tight end prospect … did not see any game action last year as a true freshman, but was impressive during fall camp and was actually on the depth chart early in the season before the coaching staff made the decision to hold him out … added weight over the winter and had a good spring … figures to play this fall in a backup role has exceptional hands, good size and runs well … has improved as a blocker and is a hard worker.
1995: Redshirted.
High School: Had 28 receptions for 336 yards and four TDs as a senior to earn second team Division I all-state and first team all-district honors … also named to several All-America teams … caught 24 passes for 293 yards and three touchdowns as a junior … graded out to 93 percent in blocking efficiency as a senior … played tackle on defense, and recorded 12 tackles for loss last fall … North was 8-2 each of his last two years … also earned three letters in basketball as a starting forward.
Personal: A great uncle, Kiki Cuyler, played for the Cincinnati Reds and is in the Baseball Hall of Fame … chose Ohio State because he "always wanted to be a Buckeye."
Offense
| Season | Team | G | GS | Tgt | Rec | Rec Yds | Rec TD | Lng | KR | KR Yds |
| --- | --- | --- | --- | --- | --- | --- | --- | --- | --- | --- |
| 1996 | Ohio State | 12 | 0 | 0 | 0 | 0 | 0 | 0 | 0 | 0 |
| 1997 | Ohio State | 13 | 1 | NA | 12 | 175 | 2 | 33 | 2 | 9 |
| 1998 | Ohio State | 12 | 0 | NA | 3 | 43 | 0 | 22 | 0 | 0 |
| 1999 | Ohio State | 12 | 10 | 10 | 6 | 91 | 1 | 24 | 0 | 0 |
| Total | - | 49 | 11 | 10 | 21 | 309 | 3 | 79 | 2 | 9 |