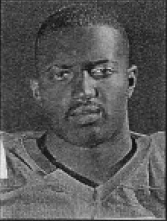 Nationality

United States

Position

TE

Birthday

12/31/1975

Hometown

Dayton, OH

High School

Trotwood-Madison

Height

6'8"

Weight

260

Current Team

Ohio State

Seasons

1994, 1995, 1996, 1997, 1998
Major: Business Marketing (1997-98), Electrical Engineering (1995-96), Unknown (1994)
Weight: 260 (1997-98), 270 (1996), 260 (1995), 253 (1994)
1998 Media Guide: Veteran and experienced tight end with 33 games played and 14 starting assignments … has 29 career receptions, six touchdowns and a 16.5 yards-per-reception average … started for the first time last year and really came into his own, developing into one of the most versatile tight ends in the Big Ten … has a chance to win postseason honors this year if he continues to show the same kind of improvement … is an excellent blocker and fine receiver … really improved in the latter area last season … has the speed to get down field and, with his size
and reach, is an excellent target …has become an important cog in the OSU arsenal …tight ends coach Bill Conley says "we expect plenty of leadership and performance from John this year …he is an athlete, he has good hands and he makes big plays … plus he can block."
1997: Displayed all his skills last year, starting all 13 games and catching a career-high 17 passes with a very respectable 18.8 yards per catch … showed that he can catch in a crowd and take a hit … made a difficult reaching grab in the Sugar Bowl, somehow managing to stay on his feet and fight his way into the end zone for a 50-yard touchdown …had three catches for 79 yards against Indiana and three for 42 vs. Bowling Green … had touchdown receptions against Indiana (10 yards from Joe Germaine) and Minnesota (25 yards from Germaine) in addition to his grab in the bowl game … played basketball after the season and was used as a reserve center by new basketball coach Jim O'Brien.
1997 Media Guide: Will be in his first year as a starter … has been a key reserve the past two years … saw extensive action last year behind D.J. Jones, playing in all 12 games and recording his first career start at Iowa … is a fine blocker and was the No. 2 tight end when the Buckeyes used a double set … also a sure-handed receiver with the speed to get downfield … an excellent target because of his size, reach and leaping ability … stayed healthy for the first time last year and showed dramatic improvement over the course of the season … joined the Buckeye basketball team after football was over (he flew from Pasadena to Detroit on Jan. 2 for the Big Ten opener with Michigan) and wound up starting 13 of the 18 games he played in and averaging 4.7 points and 3.2 rebounds per game.
1996: Had 12 receptions for 159 yards and three touchdowns … scored the Buckeyes' first TD of the season on his first career reception — a two-yard grab against Rice … later added scores at Iowa and at Illinois … his diving 25-yard catch at Notre Dame set up an OSU touchdown, and his 25-yarder against Penn State (on which he took a vicious hit) kept another OSU scoring drive alive … blocked a field goal against Wisconsin with the Badgers threatening to widen a 7-3 lead in a game eventually won 17-14 by the Buckeyes.
1996 Media Guide: Has a chance to be an excellent football player, but has to stay healthy, something he could not do last year when he missed five games because of a stress fracture in his right foot … had made significant strides, especially as a blocker, before being hurt the second time and was seeing increased playing time when the Buckeyes used two tight ends … came through spring practice with flying colors and is being counted on this year … has excellent hands and should develop into a top-notch receiver once he gets some experience … also plays basketball for the Buckeyes, lettering as a true freshman during the 1994-95 season … did not play basketball last year because of his injury, but did attend practices and plans to play this winter.
1995: Had surgery on the foot in August and sat out last year's opener with Boston College … returned to action in game two against Washington and played in the next eight games before re-injuring himself at Minnesota and sitting out the final four games of the year, including the bowl game.
1995 Media Guide: Highly regarded prospect who will figure prominently this fall … has good hands, excellent size and surprising speed for a player his size … redshirted last year … played well in the spring and will be the second tight end… played basketball last year for the Buckeyes, joining the team in January and starting six of the 18 games he played in (averaged 2.8 points and
3.1 rebounds per game) with highs of nine points and 12 boards against Indiana … plans to play basketball again this year.
High School: A football and basketball standout at Madison High caught 22 passes for 292 yards and scored three touchdowns as a senior … earned honorable mention all-district and special mention all-area honors … was also being sought by several major colleges to play basketball, and may play that sport at OSU once football season is over … selected all-conference and all-district in basketball … played in the Big 33 and Ohio North-South all-star grid games last summer … career totals were 82 receptions for 1,127 yards and 10 TDs … an honor student who was vice president of the National Honor Society and a four-year academic letterman … high school coach was Bill Dennis.
Personal: Lists graduating with honors as his top priority at Ohio State … plans to major in electrical engineering … enjoys playing video games and coaching youth basketball teams in his free time … his father, John Sr., played professional football with the Chicago Bears and a cousin, Phil Lumpkin, starred at Miami, O. and played in the NBA (Phoenix) … another cousin, Ben Espy, played football at Ohio State and is currently a state senator in Ohio … a member of the Big Ten All-Star Basketball Team that toured Japan last June.
Offense
| Season | Team | G | GS | Tgt | Rec | Rec Yds | Rec TD | Lng | Fum | Lost | FR | KR | KR Yds | KR TD |
| --- | --- | --- | --- | --- | --- | --- | --- | --- | --- | --- | --- | --- | --- | --- |
| 1994 | Ohio State | 0 | 0 | 0 | 0 | 0 | 0 | 0 | 0 | 0 | 0 | 0 | 0 | 0 |
| 1995 | Ohio State | 8 | 0 | 1 | 0 | 0 | 0 | 0 | 0 | 0 | 1 | 1 | 4 | 0 |
| 1996 | Ohio State | 12 | 1 | 19 | 12 | 159 | 3 | 25 | 1 | 1 | 0 | 0 | 0 | 0 |
| 1997 | Ohio State | 13 | NA | NA | 17 | 320 | 3 | 50 | NA | NA | NA | 1 | -2 | 0 |
| 1998 | Ohio State | 12 | 11 | NA | 17 | 278 | 4 | 41 | NA | NA | 0 | 0 | 0 | 0 |
| Total | - | 45 | 12 | 20 | 46 | 757 | 10 | 116 | 1 | 1 | 1 | 2 | 2 | 0 |