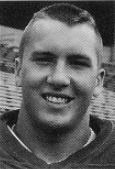 Nationality

United States

Position

ST, TE

Birthday

8/3/1975

Hometown

Westlake, OH

High School

Westlake

Height

6'4"

Weight

230

Current Team

Ohio State

Seasons

1993, 1994, 1995, 1996
Pronunciation: HOWZ-er
Major: Interpersonal Communications (1995-96), Unknown (1993-94)
Weight: 240 (1994-96), 230 (1993)
1996: Was the Buckeyes' third tight end, used mostly in blocking situations … played in all 12 games … had his lone reception of the year at Illinois … wound up his career playing in 50 games … three career starts all came in 1995 … five catches in '95 was his best year … six career receptions for 44 yards.
1996 Media Guide: A possible starter at tight end … has been a key reserve the past three years and is one of four candidates for the job this year … backed up Rickey Dudley last season … played in all 13 games and started the Washington, Wisconsin and Minnesota games when Ohio State opened with two tight ends … has been used mostly as a blocker throughout his career and did not have a reception until last year … finished the 1995 season with five catches, including two against Washington (his first career grabs) … had career long 16-yard reception at Minnesota … has been used as the "H" back because of his blocking ability and has even spent some time at fullback … has played in 38 games the past three years … team player in every sense of the word … also plays on the special teams.
1995 Media Guide: Moved from tight end to fullback last spring to help shore up a lack of depth at the latter position, but will probably move back to tight end in the fall because of the unexpected loss of starter D.J. Jones, who will miss the 1995 campaign due to illness … has played in 25 games the past two years, almost all of that coming as a tight end … did play fullback at Michigan State last year, so he has experience at both positions … played in all 13 games last year, logging a total of 84 minutes, including 17 at Michigan State and 13 at Indiana … smart player who learns quickly … will be an asset wherever he plays.
Other: Named to the Big Ten's All-Academic team in 1994 … still looking for his first collegiate reception … played a total of 61 minutes as a true freshman in 1993 … 31 of those minutes (11 vs. Rice, 8 vs. Washington and 12 vs. Pittsburgh) came in the first three games when Jones was sidelined with an injury … longest stint was 12 minutes against Pitt … has been a regular on the kick return unit the past two years … his father, Tom, was a reserve lineman for the Buckeyes (1969-72) and both of his parents are Ohio State graduates … hobbies include basketball and golf.
1994 Media Guide: Impressive athlete who will see more playing time as a backup tight end this season … got his feet wet last fall and performed admirably for a true freshman … an intelligent player who works hard and learns his assignments quickly … has a fine pair of hands … coaching staff believes there will be no drop off in talent at the tight end position when he enters the game.
1993: Played in all 12 games for a total of 61 minutes … longest stints were 12 minutes against Pittsburgh and 11 vs. Rice … did not catch a pass, but performed well in his blocking assignments … also a member of the kickoff return unit.
High School: A three-year starter who played tight end and defensive end at Westlake… caught 16 passes for 308 yards as a senior and made 92 tackles, including eight for loss and four sacks … earned special mention Division II all-state honors from AP… served as team captain, was named team MVP and earned first team all-league and district honors… played just three games his junior season before breaking his leg in three places … caught four passes that season for 85 yards and had 28 tackles… played basketball and threw the shot put and discus in track, and was all-conference and captain in both of those sports … high school coach was Vern Long.
Personal: His father, Tom, was a reserve lineman at Ohio State from 1969-72 and his brother Kevin was part of the 1996 Ohio State recruiting class … mother is also an OSU grad … an honor student who won a Presidential Academic Award … lists swimming, golf, volleyball, ping-pong and riding go-carts as his hobbies.
Offense
| Season | Team | G | GS | Tgt | Rec | Rec Yds | Rec TD | Lng | Fum | KR | KR Yds |
| --- | --- | --- | --- | --- | --- | --- | --- | --- | --- | --- | --- |
| 1993 | Ohio State | 11 | 0 | 1 | 0 | 0 | 0 | 0 | 0 | 0 | 0 |
| 1994 | Ohio State | 13 | 0 | NA | 0 | 0 | 0 | 0 | 0 | 1 | 5 |
| 1995 | Ohio State | 13 | 0 | 7 | 5 | 43 | 0 | 16 | 0 | 0 | 0 |
| 1996 | Ohio State | 12 | 0 | 2 | 1 | 1 | 0 | 1 | 0 | 0 | 0 |
| Total | - | 49 | 0 | 10 | 6 | 44 | 0 | 17 | 0 | 1 | 5 |
Defense
| Season | Team | G | GS | Tkl | Solo | Asst | KR | KR Yds |
| --- | --- | --- | --- | --- | --- | --- | --- | --- |
| 1993 | Ohio State | 11 | 0 | 0 | 0 | 0 | 0 | 0 |
| 1994 | Ohio State | 13 | 0 | 1 | 1 | 0 | 1 | 5 |
| 1995 | Ohio State | 13 | 0 | 1 | 1 | 0 | 0 | 0 |
| 1996 | Ohio State | 12 | 0 | 1 | 1 | 0 | 0 | 0 |
| Total | - | 49 | 0 | 3 | 3 | 0 | 1 | 5 |