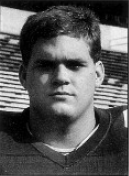 Nationality

United States

Position

TE

Birthday

8/15/1974

Hometown

Lebanon, OH

High School

Lebanon

Height

6'4"

Weight

260

Current Team

Ohio State

Seasons

1992, 1993, 1994, 1996
Major: Operations Management (1996), Unknown (1992-95)
Weight: 260 (1994-96), 250 (1993), 260 (1992)
1996: Started all 12 games and finished the season with 10 receptions for 139 yards … scored his first collegiate touchdown at Notre Dame and his second at Illinois … two catches against Pitt, Notre Dame and Michigan were his season highs … 45 yards against Pitt was his best effort in that category … named to the CoSida/GTE District IV All-Academic Team.
1996 Media Guide: Will be one of the most closely scrutinized players of the 1996 college football season as he tries to come back from open-heart surgery and a battle with histoplasmosis that threatened to end his football career … started 11 games at tight end in 1994 and caught 18 passes for 254 yards … developed histoplasmosis following the season and sat out spring ball … when the condition worsened, he underwent open-heart surgery in June to remove the pericardium (the sac around the heart) which had hardened and was restricting the heart during exercise … the surgical procedure required cracking the sternum … began lifting weights in October and took part in spring drills last April, eventually being cleared for full contact … is now anxiously looking forward to resuming his football career … has worked hard to get himself back into shape … was a fine football player before becoming ill and is confident that he can return to that form this year.
1994 Media Guide: Should take over the starting tight end position with the graduation of Cedric Saunders … performed well for the second season in a row as Saunders' backup and playing in OSU's two tight-end formation … a fine blocker who also is very athletic and can make the tough catch.
1993: Played in nine games for a total of 75 minutes, and started against Illinois, Wisconsin and Michigan when the Buckeyes opened in a double tight-end alignment … caught passes against Northwestern, Purdue and Penn State, including a career-best 22-yarder in the latter contest … missed the first three games after breaking his right ankle during preseason camp.
1993 Media Guide:  Had an outstanding freshman season and will continue to fight for the starting tight end position … will likely play behind senior Cedric Saunders again, but still should see plenty of action and will be utilized in the two-tight end formation … a fine talent who will only get better … gives the Buckeyes an excellent one-two tight end punch, perhaps the best in the Big Ten … had a 27-yard reception in the spring game … was forced to see action early last season when senior Joe Metzger broke a leg in fall drills … had three starts (Northwestern, Minnesota and Michigan) when OSU opened with two tight ends … developed into a fine blocker who improved as he gained more experience and confidence … lone reception was an 11 yarder in the fourth quarter against Michigan during a Buckeye drive which led to a field goal, cutting the Wolverine lead to 13-6.
1992 Media Guide: An All-America selection by SuperPrep magazine as a senior and an honorable mention selection by Street & Smith's … a first team all-Ohio Division II pick on defense … caught 22 passes for 306 yards and two touchdowns at tight end, and on defense had 107 tackles while playing mostly linebacker … as a junior, had 97 tackles and two interceptions and caught 14 passes for 214 yards and four touchdowns … was named the Southwest Ohio District Defensive Lineman of the Year … played in the Ohio North-South All-Star Game … started all four years of high school and was a four-year track participant … a four-year scholar-athlete … high school coach was John Reed … parents both graduated from Ohio State … was born in Greensboro, N.C. … would like to major in pre-medicine, with a career goal of working in sports medicine or physical therapy … born 8-15-74.
Offense
| Season | Team | G | GS | Tgt | Rec | Rec Yds | Rec TD | Lng | KR | KR Yds |
| --- | --- | --- | --- | --- | --- | --- | --- | --- | --- | --- |
| 1992 | Ohio State | 12 | 0 | 1 | 1 | 11 | 0 | 11 | 0 | 0 |
| 1993 | Ohio State | 9 | 3 | 4 | 3 | 37 | 0 | 22 | 0 | 0 |
| 1994 | Ohio State | 13 | 13 | NA | 18 | 254 | 0 | 43 | 0 | 0 |
| 1996 | Ohio State | 12 | 12 | 20 | 10 | 139 | 2 | 27 | 0 | 0 |
| Total | - | 46 | 28 | 25 | 32 | 441 | 2 | 103 | 0 | 0 |