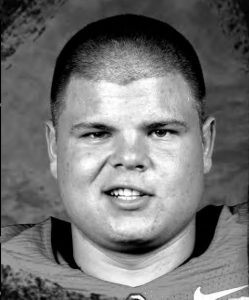 Nationality

United States

Position

OG, OT

Birthday

8/6/1985

Hometown

West Chester, OH

High School

Lakota West

Height

6'8"

Weight

329

Past Teams

Ohio State

Seasons

2004, 2005, 2006, 2007, 2008
Major: Graduate (2008), Family Resources Management (2006-07)
Weight: 335 (2008), 329 (2005-07), 315 (2004)
2008 Media Guide: Enters his third year as the starter at left guard… big, strong, powerful and surprisingly quick and agile … earned his bachelor's degree in March.
2007: Started every game at left guard for the Big Ten champions … 23 career starts … Jim Parker lineman of week: Kent State … third-year letterman.
2007 Media Guide: In his fourth year at Ohio State and will be in his second year as the starter at left guard… played in all 13 games in 2006 and started the last 10 games at left guard … strong, powerful and surprisingly quick and agile … plays with a great deal of maturity.
2006: Moved into the starting lineup in the Penn State game and started all nine games to end the season … named team's offensive lineman of the week the week before vs. Cincinnati … team averaged 348.2 yards of total offense when he started … protected quarterback Troy Smith and helped the Buckeyes average 229.7 yards passing per game in 2006 … Buckeyes also ran for 180.1 yards per game for an average of 409.8 total yards per game… offensive line allowed just 12 sacks in the regular season.
2006: Big, talented and versatile are the adjectives that best describe this standout, who returns to action this year after missing the last nine games of the 2005 campaign after contracting pneumonia … was playing quality minutes before becoming ill … his loss, coupled with the loss of Kirk Barton at Penn State, left the Buckeyes without two of their better young lineman during the first half of the Big Ten season … took part in spring practice and appears to be fully recovered … played well in the spring and showed noticeable improvement in terms of pulling.
2005: Played in the first three games of the season, including 18 minutes in the season opener against Miami (Ohio) … became ill before the Iowa game and was hospitalized at the Ohio State Medical Center … lost 30 pounds during his illness and went home to recover after he was released from the hospital … returned to school in time to complete his coursework for Fall Quarter.
2005 Media Guide: Heads into the fall listed as the No. 2 left tackle, but could easily be the starter, depending on how the offensive coaching staff chooses to deploy its personnel … lettered last year as a true freshman … appeared to be headed for a redshirt year in 2004, but improved so steadily that the coaching staff decided to play him even though the season was half over … played in the last six games and made his first start at Michigan State … certainly wasn't playing like a freshman at the end of the year … is the Buckeyes' biggest player and is surprisingly mobile for his size … has excellent footwork and is a powerful blocker at such a young age …should become a real force  on the edge as he continues to mature … is a very confident player.
2004: Enrolled at the start of Winter Quarter in January and took part in winter conditioning and spring drills … moved into the No. 2 spot at left tackle behind Robbie Sims once the coaches took off his redshirt … made his college debut in week seven against Indiana … played significant minutes the next two weeks against Penn State and Michigan State and started the latter for the injured Sims … his development allowed Sims to move inside to guard from time-to-time depending on the Buckeyes' needs … third among the freshman in playing time behind Ted Ginn Jr. and Antonio Pittman.
High School: Talented and mammoth young offensive lineman, who graduated from high school in December and enrolled at Ohio State at the beginning of Winter Quarter … took part in winter conditioning and spring practice … has made a smooth transition from high school to college and clearly benefited from going through spring ball … is the biggest of Ohio State's offensive lineman, but is surprisingly mobile for his size and has impressed the coaches with his agility and footwork … very difficult to get around due to his size and quickness … has noticeably improved his strength and technique in the short time he has been at Ohio State … could be in the hunt for some playing time this fall … rated as the 15th-best prospect in Ohio by The Ohio Football Recruiting News … Rivals.com ranked him as the 29th-best offensive tackle prospect in the nation and as the 15th-best overall prospect in the state of Ohio … SuperPrep listed him as the 48th-best prospect in the Midwest.
Personal: Is the son of Bob and Eileen Rehring … has one older brother, Joe … if he didn't play football, he would like to play college hockey … favorite food is spinach … favorite subject is Caribbean Literature … says "some really big guy" would play him in a movie … favorite former Buckeye is Doug Datish … favorite old-school TV show is Married with Children.
Offense
| Season | Team | G | GS |
| --- | --- | --- | --- |
| 2005 | Ohio State | 3 | NA |
| 2006 | Ohio State | 11 | NA |
| 2007 | Ohio State | 13 | 13 |
| Total | - | 27 | 13 |