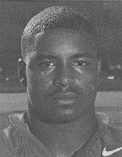 Nationality

United States

Position

TB

Birthday

6/8/1976

Hometown

Robbins, IL

High School

Oak Lawn Richards

Height

5'11"

Weight

216

Current Team

Ohio State

Seasons

1994, 1995, 1996, 1997, 1998
Major: Sociology (1997-98), Communication (1995-96), Unknown (1994)
Weight: 216 (1998), 220 (1997), 225 (1995-96), 201 (1994)
1998 Media Guide: Joe Montgomery has made a valiant effort to come back from a career threatening injury to his right knee, suffered against Minnesota during the 1996 season … his recovery continues to improve each day due to determined rehabilitation efforts … practiced all spring – after appearing in six games last year and then having additional surgery on his right knee and right patellar tendon after the season – and has worked his way back into the playing time rotation … running backs coach Tim Spencer says "Joe is a different style of a runner than our other backs … he is a power runner and his style is a nice compliment … we are looking forward to Joe helping us this year … his knee is ok … his confidence is ok … and he had a decent spring" … he is the Buckeyes' most physical tailback and most effective runner between the tackles … can bowl over a linebacker and then run away from a safety … has become a favorite of Buckeye fans because of his determined running style …has rushed for 565 yards in his career.
1997: Progress was slowed due to the knee surgery a year prior, but he managed to play in six games and gain 105 yards on 30 carries … top game was 47 yards against Indiana.
1997 Media Guide: Hopes to battle back from a career-threatening (right) knee injury, suffered in the first quarter of last year's Minnesota game … had reconstructive surgery following that game and has since undergone countless hours of painful rehab … was playing superb football before being hurt and had established himself as the Buckeyes' No. 2 tailback and most effective inside runner … finished his abbreviated 1996 campaign with 460 yards and two touchdowns on 68 carries … his average of 6.8 yards per attempt was tops on the team for those players with 25 of more carries … picked up most of his yardage between the tackles, but does have the speed to get outside … a hard runner, who became a favorite of the Ohio State fans because of his determined running style and ability to pick up extra yards after being hit … somewhat of an unknown going into last year, but quickly showed his stuff with 109 yards against Pittsburgh in the second game of the season… top effort of the year was an impressive 160 yards on 15 carries at Iowa, one of those carries a season-long 50-yard run … has a tremendous work ethic and is determined to return to the form that he displayed last year before being hurt.
1996 Media Guide: In his second season with the Buckeyes, but still looking for his first game action … played well last spring and hopes to make a contribution this fall … has divided his time between tailback and fullback, but really prefers the former and has probably taken his last handoff as a fullback … good runner with fine speed … inconsistency has been his biggest shortcoming thus far, but after a productive spring, the coaching staff is hopeful that he has turned the corner … boosted his stock with a solid showing in the spring game when he rushed for 65 yards and a touchdown on nine carries.
1995 Media Guide: Reported to fall camp as a freshman, but was not cleared for eligibility by the NCAA clearing house and wound up sitting out the 1994 season … was impressive during the short time he was able to practice last year and the OSU coaching staff is anxious to get a better look at him this fall … was recruited as a tailback, but has the size to be a fullback and will probably be tried at both positions during pre-season camp … worked hard last year to stay in shape and should bolster the depth at running back.
1994 Media Guide: Regarded as one of the top running hacks in the Chicago area as a senior … rushed for 1,676 yards on 247 carries (6.8 average) and scored 26 touchdowns last fall … scored 180 points to set a school record … earned All-America honors from Tom Lemmings Prep Football Report … did not play in the second half of four games in which the outcome was already decided … rushed for a state playoff record 328 yards and six touchdowns in Richards' first 1993 postseason game … gained 855 yards and scored nine TDs as a junior … only began playing organized football his sophomore season … also participated in track and enjoys playing basketball in his spare time …  nickname is "Showtime" … high school coach was Gary Korhonen … plans to major in history.
Offense
| Season | Team | G | GS | Rush Att | Rush Yds | Rush Avg | Rush TD | Tgt | Rec | Rec Yds | Rec Avg | Rec TD | Lng | Fum |
| --- | --- | --- | --- | --- | --- | --- | --- | --- | --- | --- | --- | --- | --- | --- |
| 1995 | Ohio State | 0 | 0 | 0 | 0 | 0 | 0 | 0 | 0 | 0 | 0 | 0 | 0 | 0 |
| 1996 | Ohio State | 8 | 0 | 68 | 460 | 6.8 | 2 | 1 | 0 | 0 | 0 | 0 | 50 | 0 |
| 1997 | Ohio State | 6 | 0 | 30 | 105 | 3.5 | 0 | NA | 2 | 7 | 3.5 | 0 | 28 | NA |
| 1998 | Ohio State | 12 | 1 | 118 | 766 | 6.5 | 7 | NA | 2 | 0 | 0 | 0 | 80 | NA |
| Total | - | 26 | 1 | 216 | 1331 | 6.2 | 9 | 1 | 4 | 7 | 1.8 | 0 | 80 | 0 |