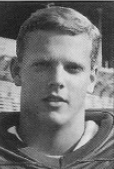 Nationality

United States

Position

ST, QB, TE

Birthday

2/9/1975

Hometown

St. Henry, OH

High School

St. Henry

Height

6'4"

Weight

221

Current Team

Ohio State

Seasons

1993, 1994, 1995, 1996, 1997
Major: Marketing (1997), Business (1995-96), Undecided (1994), Unknown (1993)
Weight: 250 (1997), 221 (1994-96), 210 (1993)
1997 Media Guide: Back-up tight end who should see a lot of playing time … played quarterback his first three years at OSU, but was moved to tight end in the spring of 1996 … made the switch
willingly and spent the summer bulking up and working on pass routes and blocking techniques in preparation for the 1996 campaign … but his time at tight end was short lived because of a knee injury to Mark Garcia in late August that left OSU with just two scholarship quarterbacks … as a result of that injury, Hoying moved back to quarterback last fall and was the No. 3 signal caller,
completing three of five passes for 34 yards, including a 28-yard touchdown strike to Michael Wiley against Minnesota … also played on the kick coverage unit and appeared in 10 games for a total of 40 minutes … his older brother, Bobby, was a three year starter for the Buckeyes between 1993 and 1995 and now plays for the Philadelphia Eagles .
1996 Media Guide: Has seen limited action the past two years as a reserve quarterback behind his older brother Bobby who graduated last year after setting numerous passing records during his three years as a starter … moved to tight end in the spring … has the athletic ability necessary to be a good receiver, but needs to add weight to be an effective blocker … will work hard to get better, learn the position and help the team … played in five games last year for a total of 16 minutes … completed just two of seven passes for 19 yards, but both completions were for touchdowns (against Boston College and Pittsburgh) … part of a record-setting day at Pitt, where the Buckeyes threw for seven touchdowns (five by Bobby and one each by Tommy and Stanley Jackson)… he and Bobby each had TD passes against Boston College, believed to be the first time in school history that brothers have thrown scoring passes in the same game.
1995: Played in five games and completed a pair of passes for 19 yards and two touchdowns (against Boston College and Pittsburgh) … he and Bobby each threw TD passes against BC, thought to be the first time in school history that brothers have thrown scoring passes in the same game … part of a record setting day at Pitt, where three OSU quarterbacks threw for seven touchdowns.
1995 Media Guide: The younger brother of OSU starting signal caller Bobby Hoying … played behind his brother and Stanley Jackson last year and saw brief action in three games for a total of 15 minutes … completed one of four passes for 29 yards (all against Houston) … also carried the ball three times for a net of four yards … has a strong arm, a fine deep touch and keeps his
composure in the pocket … began last year in a three-way battle with Jackson and Mark Zban for the No. 2 quarterback spot and finished second to Jackson in a very competitive race (Zban transferred at the end of the regular season) … hard worker who makes very few mistakes … a good athlete whose biggest short coming is a lack of experience … had a good spring and is still very much in the picture for the backup spot.
1994 Media Guide: One of three redshirt freshmen who is battling for the backup quarterback position … has the potential to follow his brother's footsteps and become a standout quarterback for the Buckeyes … a big, strong player who puts a lot of zip on the ball … needs to gain more experience, but the ability is there … may have shown the most improvement of any OSU quarterback
in spring drills.
1993: Redshirted.
High School: Tom Hoying led St. Henry to the Division V state championship as a senior when the team finished 14-0 … completed 101 of 201 passes for 1,796 yards and 23 touchdowns and had just four passes intercepted … a first team all-Ohio and USA Today honorable mention All-America selection … Hoying also rushed for 200 yards and added three more scores … played strong safety on defense and had 122 tackles and three interceptions … team captain as a senior… helped St. Henry go 35-3 his last three seasons and win a pair of stale crowns … also was a two-year all-league selection in basketball at St. Henry … high school produced former Buckeye Jim Lachey, currently an all-pro with Washington … high school coach was Tim Boeckman … brother of current Ohio State quarterback Bobby Hoying, who directed St. Henry to the state title in 1990 … ranks second in school history behind Bobby in career passing yards (2,662), completions (167) and TD passes (30)… has another brother besides Bobby and three sisters … grandfather, Wally Post, played with the Cincinnati Reds … high school teammate Jeff Hartings plays football at Penn State … an honor student who plans to major in business.
Offense
| Season | Team | G | GS | Comp | Pass Att | Pass Yds | Pass TD | Pass Int | Skd | Skd Yds | Rush Att | Rush Yds | Rush TD | Tgt | Rec | Rec Yds | Rec TD | Lng | Fum | Lost | FR | Def TD | KR | KR Yds |
| --- | --- | --- | --- | --- | --- | --- | --- | --- | --- | --- | --- | --- | --- | --- | --- | --- | --- | --- | --- | --- | --- | --- | --- | --- |
| 1994 | Ohio State | 3 | 0 | 1 | 4 | 29 | 0 | 0 | 1 | 5 | 3 | 4 | 0 | 0 | 0 | 0 | 0 | 11 | 0 | 0 | 0 | 0 | 0 | 0 |
| 1995 | Ohio State | 5 | 0 | 2 | 7 | 19 | 2 | 0 | 1 | 16 | 2 | -9 | 0 | 0 | 0 | 0 | 0 | 7 | 0 | 0 | 0 | 0 | 0 | 0 |
| 1996 | Ohio State | 12 | 0 | 3 | 5 | 34 | 1 | 0 | 0 | 0 | 4 | 13 | 0 | 0 | 0 | 0 | 0 | 6 | 1 | 0 | 1 | 0 | 1 | 8 |
| 1997 | Ohio State | 12 | 0 | 0 | 0 | 0 | 0 | 0 | 0 | 0 | 0 | 0 | 0 | NA | 1 | 29 | 0 | 29 | 0 | 0 | 0 | 0 | 0 | 0 |
| Total | - | 32 | 0 | 6 | 16 | 82 | 3 | 0 | 2 | 21 | 9 | 8 | 0 | 0 | 1 | 29 | 0 | 53 | 1 | 0 | 1 | 0 | 1 | 8 |
Defense
| Season | Team | G | GS | Tkl | Solo | Asst | FR | Def TD | KR | KR Yds |
| --- | --- | --- | --- | --- | --- | --- | --- | --- | --- | --- |
| 1994 | Ohio State | 3 | 0 | 0 | 0 | 0 | 0 | 0 | 0 | 0 |
| 1995 | Ohio State | 5 | 0 | 0 | 0 | 0 | 0 | 0 | 0 | 0 |
| 1996 | Ohio State | 12 | 0 | 2 | 2 | 0 | 1 | 0 | 1 | 8 |
| 1997 | Ohio State | 12 | 0 | 5 | 3 | 2 | 0 | 0 | 0 | 0 |
| Total | - | 32 | 0 | 7 | 5 | 2 | 1 | 0 | 1 | 8 |