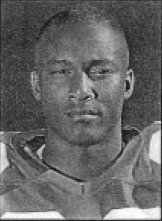 Nationality

United States

Position

TB

Birthday

12/11/1975

Hometown

Euclid, OH

High School

Euclid

Height

5'10"

Weight

206

Current Team

Ohio State

Seasons

1994, 1995, 1996, 1997
Major: Social Work (1996-97), Undecided (1995), Unknown (1994)
Weight: 206 (1996-97), 193 (1995), 175 (1994)
1997 Media Guide: Will be in his second year as the Buckeyes' starting tailback … ran for 1,443 yards and 17 touchdowns last year … both totals led the team and his yardage figure ranks as the sixth best one-season figure in Ohio State history … finished third in the Big Ten and 11th nationally in rushing yards per game with an average of 124.82 (based on regular-season games only) … has been timed electronically at 4.4 in the forty-yard dash, the best time ever by an OSU back … also has the raw power to run inside … stronger "mentally and physically" than he was a year ago and much more confident.
1996: Carried the ball 299 times (24.9 per game) and averaged an even five yards per carry … his total number of carries is the third most in OSU history and included a career high of 37 at Indiana … rushed for 100 or more yards 10 times last year, including a season and career best 173 at Notre Dame, where he also scored two touchdowns … other top performances included 141 yards vs. Penn State, 165 at Illinois and 111 vs. Arizona State in the Rose Bowl … had a 76-yard run against the Illini and a 62-yard scamper against ASU, the latter coming when the Buckeyes were pinned down on their own three-yard line late in the fourth quarter … scored three touchdowns against both Rice and Pittsburgh … his 165 yards at Illinois put him over 1,000 — making him the 12th OSU back to top that figure … ranks 11th on the all-time Ohio State rushing list with 2,166 yards, but can leap frog into third place by equaling his output of last year … also OSU's third leading receiver last year with 19 catches … earned second-team all-Big Ten honors last year and should be a candidate for even greater postseason laurels in 1996, including the Doak Walker Award as the nation's top collegiate running back.
1996 Media Guide: Takes over for Heisman Trophy winner Eddie George at tailback … has big shoes to fill, but is a very talented runner and should maintain the high level of play that has been characteristic of OSU tailbacks in recent years … has added weight since last year and is a solid 206 pounds … combines that size with a dynamite start, breakaway speed and excellent vision … also a fine pass receiver … can run inside or out and gives the Buckeyes an element of speed that they have not had the past three seasons … has been George's backup the past two years … carried the ball 83 times for 385 yards and three touchdowns last year … Was second to George in rushing and was the only other tailback besides George to score a touchdown … had an impressive four-game stretch between Iowa and Indiana in which he carried the ball 48 times for 277 yards and all three of his TDs … 79 yards on 14 carries against the Hoosiers was his top individual effort … longest run was 24 yards against Iowa … had five pass receptions for 95 yards, including a 44-yard catch-and-run against the Hawkeyes … had an excellent spring and really separated himself from the other tailback candidates … the type of player who will work diligently in the fall to maintain that edge.
1995 Media Guide: Finished last year as the No. 2 tailback behind Eddie George and was the Buckeyes' second leading rusher with 338 yards on 85 carries … also had two touchdowns, one against Houston and the other vs. Purdue … slashing runner with breakaway speed … took over for the injured George (ankle sprain) late in the first quarter at Penn State and responded with 57 yards on nine carries … top game in terms of yardage was 65 yards against Houston … longest run of the year was a 25-vard jaunt in the Buckeyes' win over Wisconsin … also caught three passes and had one kickoff return (33 vards) … appeared in 11 games (he did not play against either Washington or Northwestern) … won the No. 2 spot tailback spot midway through the season after a tough battle with another true freshman, Jermon Jackson … good young prospect … has added 15 pounds since last year.
High School: Honorable mention All-America by USA Today, and All-America by Tom Lemmings' Prep Football Report … a first team all-Ohio selection at running back and the district co-offensive player of the year … a two-time Cleveland Plain Dealer All-Scholastic Team pick … selected to the Detroit Free Press' Best of the Midwest top 20… rushed for more than 1,500 yards and averaged 7.6 yards a carry as a senior, when Euclid went 11-1, won the Greater Cleveland Conference and advanced to the state playoffs … rushed for over 4,300 yards during his career … top games were 289 yards against Bedford as a sophomore and 263 yards vs. Barberton as a junior … gained 1,527 yards and scored 18 touchdowns as a junior when he was second team all-state … competed in the National AAU Junior Olympics in track as a junior, and placed in two relays at the 1994 state track meet … also played basketball … high school coach was Tom Bane.
Personal: Attended the same high school as former Ohio State back Robert Smith, now with the Minnesota Vikings.
Offense
| Season | Team | G | GS | Comp | Pass Att | Pass Yds | Rush Att | Rush Yds | Rush Avg | Rush TD | Tgt | Rec | Rec Yds | Rec Avg | Rec TD | Lng | Fum | Lost | FR | KR | KR Yds | KR TD | PR | PR Yds | PR TD |
| --- | --- | --- | --- | --- | --- | --- | --- | --- | --- | --- | --- | --- | --- | --- | --- | --- | --- | --- | --- | --- | --- | --- | --- | --- | --- |
| 1994 | Ohio State | 11 | 0 | 0 | 0 | 0 | 85 | 338 | 4.0 | 2 | NA | 3 | 21 | 7.0 | 0 | 25 | 0 | 0 | 0 | 1 | 33 | 0 | 1 | 8 | 0 |
| 1995 | Ohio State | 13 | 0 | 0 | 0 | 0 | 83 | 389 | 4.7 | 3 | 7 | 5 | 95 | 19.0 | 0 | 44 | 2 | 0 | 1 | 4 | 59 | 0 | 0 | 0 | 0 |
| 1996 | Ohio State | 12 | 12 | 1 | 1 | 21 | 299 | 1484 | 5.0 | 17 | 31 | 19 | 218 | 11.5 | 0 | 0 | 3 | 2 | 0 | 0 | 0 | 0 | 0 | 0 | 0 |
| 1997 | Ohio State | 13 | NA | 0 | 0 | 0 | 192 | 869 | 4.5 | 10 | NA | 9 | 104 | 11.6 | 0 | 47 | NA | NA | NA | 0 | 0 | 0 | 0 | 0 | 0 |
| Total | - | 49 | 12 | 1 | 1 | 21 | 659 | 3080 | 4.7 | 32 | 38 | 36 | 438 | 12.2 | 0 | 116 | 5 | 2 | 1 | 5 | 92 | 0 | 1 | 8 | 0 |