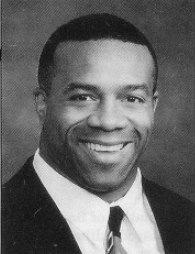 Nationality

United States

Current Team

Ohio State

Past Teams

Ohio State
College: Ohio State, 1993
OSU Coaching History:
1994-01: Running Backs Coach
1999 Media Guide: Heisman Trophy-winning running back Eddie George once said of Tim Spencer: "On a scale of one to 10, I'd rate him an 11 as a coach. He's a great motivator. He's a great teacher. He knows the philosophy of football from a running back's point of view. He played the position. He went to the next level and played the position."
1997 Media Guide: Tim Spencer is in his fourth year as a member of the Ohio State coaching staff. He coaches the Buckeyes' tailbacks and fullbacks.
Last year, under Spencer's tutelage, tailback Pepe Pearson rushed for 1,484 yards and 17 touchdowns in his first year as a starter.
1996 Media Guide: Tim Spencer is in his third year as a member of the Ohio State coaching staff. He coaches the Buckeyes' tailbacks and fullbacks.
Spencer, a former star tailback for the Buckeyes, has had an immediate impact at his alma mater. Under his watchful eye, tailback Eddie George ran for 1,442 yards in 1994. Last year, George exploded for 1,927 yards and scored 25 touchdowns en route to winning the Heisman Trophy as college football's top player.
1994 Media Guide:  Tim Spencer is in his first year as a member of the Ohio State football staff. He was named last February to succeed Frank Falks as the Buckeyes' running backs coach.
The 33-year-old Spencer played tailback and fullback for the Buckeyes between 1979 and 1982 and still ranks as the second leading ground gainer in OSU history with 3.553 yards, He also played professionally for nine sears, including six seasons with the San Diego Chargers. He was the Chargers starting fullback for four years.
Spencer retired from the professional ranks following the 1990 season. He returned to his alma mater in 1992 to complete work on his undergraduate degree, which he received at Winter Quarter Commencement exercises in 1993.
Spencer spent the 1993 season as a volunteer assistant with the Buckeyes strength and conditioning program. When Falks accepted a position with the San Diego Chargers, OSU Coach John Cooper quickly elevated the popular Spencer to full-time status.
Spencer is a native of St. Clairsville, Ohio. A high school All-American, he was a three-year starter and two-time All-Big Ten pick at Ohio State. The Buckeyes' starting fullback as a sophomore, he moved to tailback as a junior and led the team in rushing with 1,217 yards. As at senior. he ran for 1,538 yards and was the Buckeyes' MVP. He was also MVP of the Holiday Bowl that year, rushing for 167 yards in a 47-17 win over Brigham Young.
In addition to ranking second in career rushing, Spencer is second in career rushing attempts with 644 and third in career rushing touchdowns with 36.
Following his senior year, Spencer was the second player taken in the first-ever USFL draft (by Chicago). He played a year each with Chicago, Arizona and Memphis before going to San Diego.
Tim and his wife. Gilda, an attorney, have two sons, Cole (8) Evan (1).