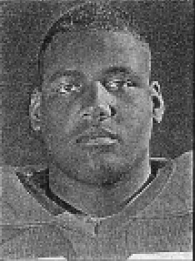 Nationality

United States

Position

DT

Birthday

7/24/1976

Hometown

Riverdale, IL

High School

Thornton Township

Height

6'6"

Weight

305

Current Team

Ohio State

Seasons

1994, 1995, 1996, 1997
Major: Technology Education (1997), Industrial Technology (1996), Engineering (1995), Unknown (1994)
Weight: 305 (1996-97), 310 (1995), 330 (1994)
1997 Media Guide: The lone returnee on the defensive line … big, strong, quick player who is capable of dominating the line of scrimmage … did not get a lot of credit last season playing alongside the likes of Luke Fickell, Mike Vrabel and Matt Finkes, but clearly played a major part in the success of the OSU defense, which allowed just one runner all year long to top the 100-yard plateau … should be one of the defensive leaders this year.
1996: Played well in his first year as a starter, finishing the season with 27 tackles, including five tackles for loss, a pair of sacks and two passes broken up … played extremely well in OSU's come-from-behind win over Wisconsin, collecting a season-high five tackles.
1996 Media Guide: Expected to take over for Matt Bonhaus at defensive tackle … gives the Buckeyes a dominating physical presence inside and has the potential to be an impact player … has the OSU coaching staff excited after a very impressive spring showing … played in 11 games last year, with most of his playing time coming in short-yardage situations … wound up the year with nine tackles, including three for loss and a sack and, at times, seems unstoppable … tackles for loss came against Boston College (a sack), Washington and Pitt … two tackles at Minnesota was
his top game in terms of number of tackles … longest stints were 11 minutes against Boston College and 10 vs. Pittsburgh … got almost all the reps in the spring and should benefit greatly from that individual attention … ready to come into his own.
1995: backed up Matt Bonhaus at tackle and appeared in 11 games for a total of 72 minutes … saw most of his action in short-yardage situations.
1995 Media Guide: Highly thought of player who is being counted on to provide depth on the defensive line … will play behind Matt Bonhaus at tackle … big, strong, talented athlete with a bright future … began the 1994 season as a defensive tackle, but was switched to offensive guard in August … moved back to defense midway through the regular season … appeared in six games
for a total of 36 minutes (most of those on offense) … longest stint was 17 minutes against Houston … did play six minutes on defense against Purdue.
1994: Played in six games as a true freshman … began the year on defense, was moved to offensive guard for a short spell, and then went back to defense … total playing time was 36 minutes, 17 of those coming on offense against Houston.
High School: Earned All-America honors on offense from Tom Lemming's Prep Football Report … enjoyed a standout senior year on both sides of the ball … in his first season at Thornton Township (Harvey, IL) after transferring from Westchester, IL., St. Joseph, the same school that produced current Buckeye basketball center Gerald Eaker … also a standout high school wrestler who was 32-1 as a junior, and was on the track team as a senor … high school coach was Bill Mosel.
Personal: Hobbies include playing basketball and weight lifting … Likes to relax by spending time with his friends, especially teammates Juan Porter, Eric Gohlstin and John Lumpkin.
Defense
| Season | Team | G | GS | Tkl | Solo | Asst | TFL | TFL Yds | Sacks | Sack Yds | PBU |
| --- | --- | --- | --- | --- | --- | --- | --- | --- | --- | --- | --- |
| 1994 | Ohio State | 5 | 0 | 0 | 0 | 0 | 0 | 0 | 0 | 0 | 0 |
| 1995 | Ohio State | 11 | 0 | 9 | 4 | 5 | 2.5 | 7 | 0.5 | 3 | 0 |
| 1996 | Ohio State | 12 | 12 | 27 | 16 | 11 | 5 | 15 | 2 | 10 | 2 |
| 1997 | Ohio State | 13 | 13 | 47 | 33 | 14 | 10 | 44 | 4 | 29 | 0 |
| Total | - | 41 | 25 | 83 | 53 | 30 | 17.5 | 66 | 6.5 | 42 | 2 |