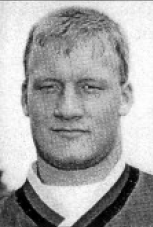 Nationality

United States

Position

DT

Birthday

10/13/1972

Hometown

Cincinnati, OH

High School

Elder

Height

6'5"

Weight

285

Current Team

Ohio State

Past Teams

Ohio State

Seasons

1990, 1991, 1992, 1993, 1994, 1995
Pronunciation: BON-house
Major: Journalism (1994-95), Economics (1993), Industrial Design (1992)
Jersey #: 70 (1990-95)
Weight: 285 (1994-95), 270 (1993), 250 (1991-92), 240 (1990)
1995: Defensive captain … started all 13 games at tackle … finished the season with a career-high 30 tackles, including three tackles for loss and a sack … led the team in fumble recoveries with two and was also credited with a pass broken up … top games were against Penn State and Michigan with seven and six tackles, respectively … received an extra year of eligibility from the NCAA in 1995 after missing the 1993 season due to illness … graduated in the fall of 1995 with a B.A. in journalism.
1995 Media Guide: Shared playing time with Randall Brown last year, but will be the full-time starter this year … started nine games last year and played in all 13 … finished the season with 26 tackles, including six for loss and two sacks (one vs. Fresno State and the other vs. Northwestern) … had a fumble recovery and a forced fumble in the Penn State game … had a season-high four stops against Fresno State … has added 35 pounds since his freshman year and is a good, physical player, who loves to compete and has a great work ethic … was granted an extra year of eligibility this year by the NCAA after missing all of the 1993 campaign because of medical problems brought about by a chemical imbalance … having him back is a real plus for the defense.
1994 Media Guide: Entered the 1993 campaign as a possible starter at nose guard, but then sat out the entire season because of medical problems (a sleep disorder apparently caused by a chemical imbalance) … returned to practice in the spring and moved to tackle, a position he played in 1992 … will battle Randall Brown for playing time this fall … has added 35 pounds since entering Ohio State and is one of the Buckeyes' biggest defensive linemen… has played in 22 games and appeared to be coming into his own at the end of the 1992 season … should be a valuable addition to this year's team … Academic All-Big Ten… enjoys going to the movies (Rocky is his favorite).
1993: Did not play.
1993 Media Guide: Appears to be the leader in a three-way race to fill the vacancy created by the graduation of three-year starter and all-Big Ten performer Greg Smith … the most experienced of the candidates, with 21 games and a start under his belt … played both nose guard and tackle in 1992 and played all 12 games … totaled 45 minutes of playing time, with six minutes against Indiana his season-high … had his first career start against Minnesota at tackle, when Dan Wilkinson was out with a shoulder sprain … four total tackles on the year … played his best football during the second half of the season, and continued to show improvement in the spring … has added 20 pounds since last year and is much more physical.
1992 Media Guide: Promising young player, who will provide quality depth at tackle behind Dan Wilkinson … redshirted as a freshman … played a total of 29 minutes in 10 games last year and had four tackles … coaches like his attitude and work ethic … has good technique and good mobility, but needs to add weight in order to be more physical … should get increased playing time in 1992.
1991 Media Guide: Reserve defensive tackle with a bright future … has added 10 pounds since last year and has also gotten stronger … hard worker who is coming off a strong showing in the spring … should be a very good player … redshirted last year.
1990 Media Guide: Highly regarded defensive lineman… won numerous honors last year, including Ohio Division Lineman of the Year laurels … first team all-state in both wire service polls … second-team pick on the AIl-USA Today team… Super Prep All-American … a four-year starter … played offense as a freshman and sophomore, but moved to defensive tackle for his final two years . . . helped Elder to a four-year record of 36-5-1, including a 10-1 mark last year … 142 tackles last year, including seven sacks … his brother, Andy, plays football at Vanderbilt … hobbies are making art, bike riding and frisbee would like to study computer animation.
Defense
| Season | Team | G | GS | Tkl | Solo | Asst | TFL | TFL Yds | Sacks | Sack Yds | FR | Int | PBU |
| --- | --- | --- | --- | --- | --- | --- | --- | --- | --- | --- | --- | --- | --- |
| 1990 | Ohio State | 1 | 0 | 0 | 0 | 0 | 0 | 0 | 0 | 0 | 0 | 0 | 0 |
| 1991 | Ohio State | 8 | 0 | 4 | 3 | 1 | 0 | 0 | 0 | 0 | 0 | 0 | 0 |
| 1992 | Ohio State | 11 | 1 | 4 | 2 | 2 | 0 | 0 | 0 | 0 | 0 | 0 | 0 |
| 1993 | Ohio State | 0 | 0 | 0 | 0 | 0 | 0 | 0 | 0 | 0 | 0 | 0 | 0 |
| 1994 | Ohio State | 13 | 9 | 26 | 15 | 11 | 6 | 20 | 2 | 13 | 0 | 0 | 1 |
| 1995 | Ohio State | 13 | 13 | 30 | 16 | 14 | 3 | 5 | 1 | 1 | 2 | 0 | 1 |
| Total | - | 46 | 23 | 64 | 36 | 28 | 9 | 25 | 3 | 14 | 2 | 0 | 2 |