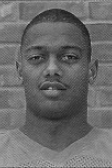 Nationality

United States

Position

ST, TE

Birthday

7/15/1972

Hometown

Henderson, TX

High School

Henderson

Height

6'7"

Weight

240

Current Team

Ohio State

Past Teams

Ohio State

Seasons

1994, 1995
Major: Communication (1995), Unknown (1994)
Weight: 240 (1994-95)
1995: Won all-Big Ten honors in his first year as a starter at tight end … was the Buckeyes' offensive MVP in the Citrus Bowl, hauling in five receptions for 106 yards and a touchdown against Tennessee … also had five receptions against both Penn State (97 yards) and Michigan and caught at least one pass in all 13 games … wound up the year as Ohio State's third leading receiver with 37 catches for 575 yards and seven touchdowns … his reception total ranks as the second highest total ever by an Ohio State tight end – behind John Frank's 45 in both 1981 and 1983 — and his touchdown total was second on the team, behind flanker Terry Glenn's school-record 17 … longest reception of the year was a 41-yard grab against Illinois … had a clutch 32-yard grab against Penn State to set up Ohio State's winning touchdown, and had a 32-yard TD against Tennessee, his longest scoring reception of the year … player four years of basketball, but just two years of football with the Buckeyes.
1995 Media Guide: Has suddenly become the Buckeyes' No. 1 tight end due to the unexpected loss of returning starter D.J. Jones, who will miss the upcoming season because of open heart surgery … was the No. 2 tight end last year behind Jones and played in all 13 games with five starts. had nine receptions for 108 yards and two touchdowns (Houston and Indiana) … his TD grab against Indiana broke open a tight game … long play of the year was a 26-yard grab against Purdue … also caught a two-point conversion at Penn State … came to Ohio State on a basketball scholarship and did not play football until last year … played very well considering he had been away from football for almost four years … is an excellent target because of his size and has the speed to get downfield, adding another dimension to the Buckeyes' passing game … could line up in the slot from time-to-time.
1994 Media Guide: Entered the picture at tight end with his showing in spring practice … came out for football at OSU for the first. time in the spring and impressed the coaches with his athletic ability … had not played football since his senior year in high school (1989) … a co-captain on the Buckeye basketball team in 1993-94 … has played in 81 games during his OSU career, and had 21 of his 30 starts last winter … had his best year statistically as a sophomore, when he averaged 5.1 points and 4.8 rebounds in 27 games (nine starts) … averaged 3.5 points and 3.8 rebounds a game as a junior … twice has scored 13 points in a game, and had a career-best 16 rebounds against Oregon State in the Far West Classic as a sophomore.
Other: Played four years of basketball at OSU and was a three-year starter … His basketball teammates selected him as the recipient of the John Havlicek Award as the most inspirational player last winter … will join the basketball team for his final season once the football campaign has ended but is eligible to compete in football again next fall … was the Texas Class 4A Plaver of the Year in football as a prep senior in 1989, when he played split end and free safety … also earned all-state honors in basketball, averaging 20.5 points and 10.4 rebounds a game … attended Fork Union Military Academy during the 1990-91 academic year and averaged 19 points and 11 rebounds on the hardwood … majoring in communications.
Offense
| Season | Team | G | GS | Tgt | Rec | Rec Yds | Rec Avg | Rec TD | Lng | 2 Pt Conv | Fum | Lost |
| --- | --- | --- | --- | --- | --- | --- | --- | --- | --- | --- | --- | --- |
| 1994 | Ohio State | 13 | NA | NA | 9 | 106 | 11.8 | 2 | 26 | 0 | NA | 0 |
| 1995 | Ohio State | 13 | 13 | 57 | 37 | 575 | 15.5 | 7 | 41 | 0 | 2 | 1 |
| Total | - | 26 | 13 | 57 | 46 | 681 | 14.8 | 9 | 41 | 0 | 2 | 1 |
Defense
| Season | Team | G | GS | Tkl | Solo | Asst |
| --- | --- | --- | --- | --- | --- | --- |
| 1994 | Ohio State | 13 | NA | 3 | 1 | 2 |
| 1995 | Ohio State | 13 | 13 | 0 | 0 | 0 |
| Total | - | 26 | 13 | 3 | 1 | 2 |