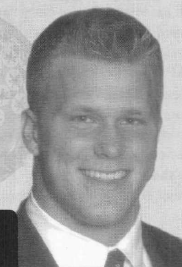 Nationality

United States

Position

FB, ST, TE, OLB

Height

6'3"

Weight

230

Birthday

12/30/1983

Hometown

Baltimore, MD

High School

Gilman School

Past Teams

Ohio State

Seasons

2002, 2003, 2004, 2005, 2006
Major: Graduate Studies (2006), Finance (2003-05)
Weight: 242 (2004-06), 238 (2003), 230 (2002)
2006 Media Guide: Will be in his second season as the Buckeyes' starting fullback … has spent the majority of the time blocking for his teammates, but is a good runner and receiver when asked to perform those duties … also plays on the special teams and is one of those players that just wants to get on the field and help out the team in any way possible … no carries in 2005, but he did have three receptions for 21 yards … his block at Michigan cleared the way for Antonio Pittman to score the winning touchdown in 2005 … graduated at the end of Summer Quarter 2004 and is enrolled in graduate school … like teammate Anthony Gonzalez is a possible Rhodes Scholar.
2005: Locked down the starting position at fullback … played in all 12 games and recorded 10 or more minutes in four of the Buckeyes' last five games … his three receptions came against Penn State, Indiana and Minnesota … his longest catch of the year was 11 yards at Penn State.
2005 Media Guide: Valuable jack-of-all-trades athlete who can play fullback, tight end, blocking back or linebacker … has been used most frequently as the "H" back in short-yardage situations and is an effective blocker who always gets his helmet on the right person … has the speed to play tight end and linebacker and the power and determination to line up at fullback … has played in 22 games the past two seasons … started last year's Marshall game at fullback … was recruited primarily as a linebacker in the class that included A.J. Hawk, Mike D'Andrea and Bobby Carpenter, probably the best four linebackers ever to enter Ohio State in the same class … was moved to tight end as a freshman and has stayed on the offensive side of the ball ever since … does not have any career carries or receptions but does have six career tackles as a member of the special teams … graduated at the end of Summer Quarter 2004 and will be enrolled in graduate school beginning Fall Quarter … could become the school's first Rhodes scholar since Mike Lanese (1985).
2004: Saw action in 10 of the Buckeyes' 12 games (did not play against Indiana or Penn State) … made his first collegiate start against Marshall … had six tackles with the special teams, with two of those stops coming at Iowa … played a season-high nine minutes against Cincinnati … received the team's prestigious John Galbreath Award at the postseason banquet, given annually to the team's top academic performer.
2004 Media Guide: Versatile athlete who can help at fullback or tight end on offense or at linebacker on defense … currently listed at fullback on the depth chart, but that could change in a second depending on the needs of the team … earned his first letter last year, appearing in 12 of OSU's 13 games (all but San Diego State) … has added 15 pounds since enrolling at Ohio State and has greatly increased his strength … good blocker who has played the "H" back position in short-yardage situations … has the hands and speed to be a tight end and the power and determination necessary to be an effective fullback … was recruited primarily as a linebacker in the class that included A.J. Hawk, Bobby Carpenter and Mike D'Andrea, probably the four best linebackers ever to enter Ohio State in the same class.
2003: Saw most of his action with the special teams, but did play some "H" back … logged seven minutes against Michigan State and five against Indiana.
2003 Media Guide: Stan White could become the Buckeyes next two-way player … recruited as a linebacker, but was moved to tight end last fall … played both positions in the spring and is expected to continue in that role during the upcoming season … is a good athlete and an intelligent player … was redshirted last year, but will definitely see action this year … has good speed and will be a fine special teams player … his father, Stan White Sr., played linebacker for the Buckeyes and was a first-team All-Big Ten pick in 1971 … the elder White also wore No. 89 as a Buckeye.
2002: Switched from linebacker to tight end in the fall … redshirted and did not see any game action.
2002 Media Guide: Considered one of the best outside linebackers in the country … named to PrepStar's Dream Team … 153 tackles, 17 tackles-for-loss, 14 pass break-ups, five sacks and three interceptions as a senior … selected as the Baltimore Sun's Defensive Player of the Year … had 21 tackles to help Gilman clinch a fourth-consecutive league title … had 17 tackles against nationally-ranked Brooklyn Poly Prep … rated as the nation's 18th best outside linebacker by Rivals.com … high school coach – Francis Poggi.
Personal: His mother and father both graduated from Ohio State and his father, Stan Sr., played football for the Buckeyes, winning All-Big Ten honors in 1971 before going on to a distinguished career in the NFL … parents are Stan and Patty White … his sister, Amanda, graduated from Stanford and currently competes as a tri-athlete … born Dec. 30, 1983.
Offense
| Season | Team | G | GS | Tgt | Rec | Rec Yds | Rec Avg | Rec TD | Lng | FR | Def TD |
| --- | --- | --- | --- | --- | --- | --- | --- | --- | --- | --- | --- |
| 2003 | Ohio State | 12 | 0 | NA | 0 | 0 | 0 | 0 | 0 | 0 | 0 |
| 2004 | Ohio State | 10 | 1 | NA | 0 | 0 | 0 | 0 | 0 | 0 | 0 |
| 2005 | Ohio State | 12 | 3 | NA | 3 | 21 | 7.0 | 0 | 11 | 0 | 0 |
| 2006 | Ohio State | 13 | NA | NA | 8 | 57 | 7.1 | 0 | 11 | 0 | 0 |
| Total | - | 47 | 4 | 0 | 11 | 78 | 0 | 0 | 22 | 0 | 0 |
Defense
| Season | Team | G | GS | Tkl | Solo | Asst | TFL | FF | FR | Int | PBU | Blk | Def TD |
| --- | --- | --- | --- | --- | --- | --- | --- | --- | --- | --- | --- | --- | --- |
| 2003 | Ohio State | 12 | 0 | 0 | 0 | 0 | 0 | 0 | 0 | 0 | 0 | 0 | 0 |
| 2004 | Ohio State | 10 | 1 | 6 | 5 | 1 | 0 | 0 | 0 | 0 | 0 | 0 | 0 |
| 2005 | Ohio State | 12 | 3 | 0 | 0 | 0 | 0 | 0 | 0 | 0 | 0 | 0 | 0 |
| 2006 | Ohio State | 13 | NA | 1 | 0 | 1 | 0 | 0 | 0 | 0 | 0 | 0 | 0 |
| Total | - | 47 | 4 | 7 | 5 | 2 | 0 | 0 | 0 | 0 | 0 | 0 | 0 |